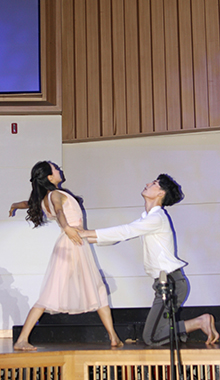 "Romeo and Juliet" directed and staged at Shinchon Presibeterian Church in Seoul by Madam Kim Han, professor emeritus of Dongguk University on May 19, 2018.
The last night's (on May 19, 2018) production of Romeo and Juliet is the creation of a new paradigm in presenting Shakespeare's plays on the stage. It is a beautiful, organic collaboration of film, operatic singing, ballet and the comprehensive interpretation on the work. The production will contribute a lot in that it clears away any kinds of feelings that Shakespeare is not easy to understand or his plays are out of date.One hour and a half felt like an instant moment. The audience could not find any spare moment to take a look around them. They paid their whole attention to the stage anticipating what will happen next. The production seemed quite special particularly to children, which I though was the best merit of the last night.Two elementary girls in front of me were fully immersed in the program. It was apparent that they really enjoyed every performance displayed before them. If Shakespeare were one of those happy audiences last night, he would be greatly delighted and even surprised by the fresh and novel rendition of his plays. We have to reconsider the author did write his plays for the stage not just for reading. Reading Shakespeare in England not as a text for pure reading but as one for the stage, I was a little bit disappointed with the overall flow here in Korea and further not interested in positioning myself in the academic world.However, the completely new approach of the last night is simply enough to light a fire dormant in my mind and heart. Shakespeare is not just for England where almost every night we can enjoy and experience Shakespeare in a creative way touching us.Now is the time we understand Shakespeare's works as texts for the performance on the stage. In that respect, last night's production will be remembered as one precious rare moment of my life. About the Writer:
Lee Young-Ho
The above writer,
Lee Young-Ho
, graduated from Dongguk University's Department of English Language and Literature in Seoul. He went on to England for advanced study in English literature. He earned his master's degree from the Shakespeare Institute of the University of Birmingham. He has now completed the required courses in his Ph.D. program at the Department of English Language and Literature of the Seoul National University. He has been lecturing at such universities as Dongguk and Kookmin in Seoul.