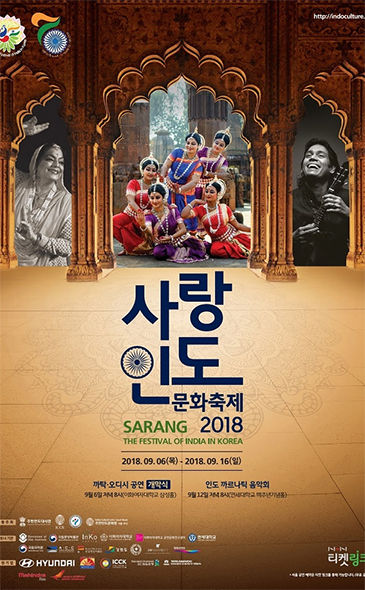 "Sarang: Festival of India in S. Korea 2018"
Two cultural events the traditional Indian dance of Kathak and India Carnatic Concert will be held in the month of September, 2018 in Seoul as part of Indian cultural festival named "Sarang: Festival of India in S. Korea 2018."First, Kathak and Odissi Performance Opening Ceremony will be held at 8 p.m. on Sept. 6, 2018 at Samsung Hall of Ewha Womans University in Seoul for 60 minute run.The second cultural event "India Carnatic Concert" will follow six days later. It will be held at 8 p.m. on Sept. 12, 2018 at the Centennial Hall of Yonsei University in Seoul. The running time is 60 minutes.
Kathak – Uma Sharma Group
Kathak is one of the most important classical dances of India. Kathak is said to be derived from the word katha, meaning "the art of storytelling." The Kathak dance form originated in north India and was very similar to the Bharatnatyam dance form. In ancient India, there were Kathakars or bards who used to recite religious and mythological tales to the accompaniment music, mime and dance.Uma Sharma she became the youngest dancer be conferred upon with the Padma Shri by Government of India,[4] and Padma Bhushan 2001.[5] She was awarded the Sangeet Natak Akademi Award and also the Sahitya Kala Parishad Award. On January 27, 2013, she was honoured with title Srijan Manishi by Akhil Bhartiya Vikram Parishad, Kashi for her great contribution to Indian Kathak Dance.
Odissi - The Rudraksha Dance Company
Odissi is one of the pre-eminent classical dance forms of India which originated in the Hindu temples of the eastern coastal state of Odisha in India. Its theoretical base trace back to 'Natya Shastra', the ancient Sanskrit Hindu text on the performing arts.This dance form includes themes from Vaishnavism and others associated with Hindu gods and goddesses like Shiva, Surya and Shakti.The Rudraksha Dance Company is an Indian Classical Orissa Dance Company founded in the year 2000 at Bhubaneswar by the famous Orissa Dancer and representative choreographer Guru Bichitra Swain.Dancing is one concrete and certain way to liberation or salvation,and Rudraksha.,who is considered a commitment to devoted and sophisticated practice, is today referred to as a performing arts temple.Rudraksha Dance performance team in Korea first Orissa dance, Golden Dancer, presents the essence of Odissi in Korea.
Indian Carnatic music -U Rajesh Mandolinist
U. Srinivas the Mozart of classical music in India, has been making Indian Mandolin music for the last 20 years, and has become popular not only in India but also in the world.U. Srinivas younger brother, Uppalapu Rajesh, is now the most notable Mandolinist in India, the world's largest mandolin festival, the youngest participant of the "Magic mandolin Festival" in Germany, It is considered to be one of the "New Yorker's" selected performances of the year. Introducing the unique melody of India through U. Rajesh's mandolin and the South Indian traditional musical instruments Tabla, Kanjira, and Morsing South Indian classical music-Carnatic concert.
For details or inquiries please leave an Email at
events@indochamkorea.org or visit Indian Chamber of Commerce in Korea (ICCK) www.indocharmkorea.org