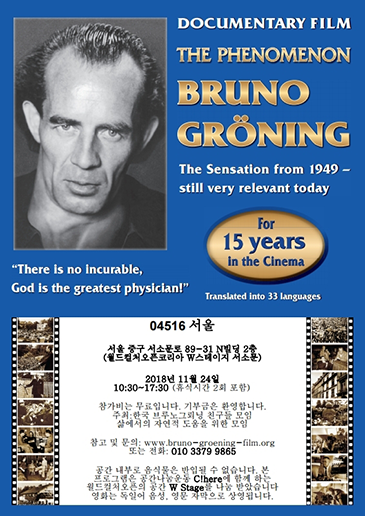 The Phenomenon Bruno Groening
In early 1949, thousands of people streamed to Herford, Westphalia in Germany. In the autumn of the same year up to 30,000 people were drawn daily to the Traberhof – a horse stud farm - in Rosenheim - miserable masses of sick and suffering people. They had only one aim: Bruno Groening. For many he was their last hope. Beaten down by the war, given up on by doctors, those people had only one wish: to get well again, to be free from misery and pain. Could Bruno Groening help them?
And the unthinkable occurred - numerous sick people were healed - the lame could walk, the blind could see again.Why is this film so special? It has been shown for more than fifteen years in many countries of Europe, in Australia, Japan and the USA. Now it comes for the first time to South Korea.More than fifty eyewitnesses tell of their unusual experiences with the man who was described in the media with headlines such as "It's incomprehensible! Bruno Groening heals the lame, blind and mute." (South German Sunday Post, 25.06.1949). It's not only the extraordinary healings and events that occurred while Bruno Groening was still alive that makes this a remarkable document of contemporary history. Viewers worldwide report experiencing healings simply though watching this film.For a year and a half, Silke Maydt (33) suffered from severe pain in the left hip, which radiated to her knee. An orthopedist diagnosed tendonitis. On January 11, 2004, she saw the documentary film about Bruno Groening. On her way home the pain was gone and has never returned.Horst H. from Witzenhausen, Germany reported: "The film really impressed us. I had been suffering from severe spastic bronchitis for more than thirty years, had coughing attacks and was in danger of suffocating day and night. During the film I had a severe coughing attack and had to leave the cinema. Ten minutes later the attack was over. From that time on I have had no more symptoms."Mrs A. from Bad Wildungen, Germany: "I saw the film last year. At first I was worried about the length of the film and how long I would have to sit because I had been suffering from severe back pain for twenty-five years. After the film I went home without any pain. And now I have been without pain for many months."The film "The Phenomenon Bruno Groening" depicts the dramatic events of that time and follows the tracks of an unusual man. The film is the result of nine years thorough research; it brings the events of that time to our attention today and enables us to understand his teaching. Healings are happening today, even as they did when Bruno Groening was alive. These healings are evidence of the truth of his simple teaching. People are even healed of organic illnesses.
Screening details:
Venue: 89-31, Seosomun-ro, Jung-gu, 04516 Seoul (World Culture Open Korea, N Building, 2nd Floor)
서울특별시 중구 서소문로 89-31 N빌딩 2층 (월드컬처오픈코리아 W스테이지 서소문)When: Saturday, November 24 from 10:30 am to 5:30 pm (including 2 intermissions)Admission is free; donations are appreciated.Anyone interested in Bruno Groening can attend.Pre-registration is not required.Further information can be found in the Internet under: www.bruno-groening-film.org
https://cafe.naver.com/brunogf/582Mobile : 010-3379-9865Germany voice, English Subtitle