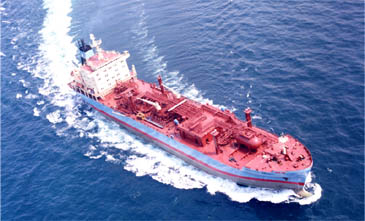 A product of Hyundai Heavy Industries Co.
Down at the dry docks here, where workers are dwarfed by propellers larger than houses, the world's largest shipyard is now so efficient that a new $80 million vessel slips into the water every four working days.Inside the design shops of Hyundai Heavy Industries, naval engineers draw up computer models for a supervessel that could carry 10,000 steel containers, the freight equivalent of 30 million pairs of sneakers or 100 million Barbie dolls.It was only in 2004 that South Korea definitively wrested from Japan the title of world's largest shipbuilding nation. But South Korea is already looking over its shoulder at China, which has embarked on a path toward becoming the world's largest shipbuilder by 2015."When you are being chased, you have to do something that the chaser cannot do," said Han Dae Yoon, chief marketing officer of Hyundai's shipbuilding division, referring to China's ambitions.South Koreans know well that 1,000 kilometers, or 650 miles, from here, a similarly barren shoreline south of Shanghai is undergoing a $4 billion transformation that is aimed at making China State Shipbuilding the world's largest shipmaker.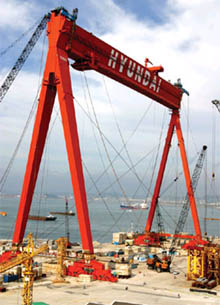 Hyundai Heavy Industries Co. in Ulsan
"The South Koreans are always working to keep three, four, five steps ahead of the Chinese and Japanese," said Peter Bartholomew, managing director with Industrial Research and Consulting, a business consulting group. "Now the South Koreans are moving more toward the Lexus end in order to have an edge over the Chinese." In a testament to its rise, the Chinese economy is behind many of the successes and failures in 2004 of the world's largest shipbuilding company.The explosion in trade in and out of China has created a worldwide shortage of ships. Drewry Shipping, a London-based consultancy, said container shipping capacity expanded by 10 percent in 2004 and predicted it would grow by 12 percent in 2005 and by 14 percent in 2006. With empty hulls in short supply, some shipping rates doubled this year. In response, shipping companies are scrambling to order ships.After receiving record orders in 2004 - for 102 ships worth $8.3 billion - Hyundai can afford to be picky. With more than three years of work already booked, Hyundai can afford to let Chinese yards win contracts for such low-end jobs as simple tankers or bulk carriers. South Korea's other two major shipbuilders, Daewoo Shipbuilding & Marine Engineering and Samsung Heavy Industries, are juggling a similar wealth of orders. The downside of China's boom is that prices of steel plate jumped 70 percent this year, contributing to Hyundai's $30 million loss in the third quarter. With steel accounting for as much as 20 percent of the materials for a ship, Hyundai found itself selling ships built in 2004 for prices contracted in 2002.In 2005, South Korea's three largest steel makers plan to increase their investments in plant and machinery by 52 percent, or $3.7 billion, according to the Korea Iron & Steel Association. Hyundai has responded to the rise in steel prices by raising the average price of its ships by 23 percent and by trying to win more contracts for complex ships such as the dome-shaped carriers that run on liquefied natural gas.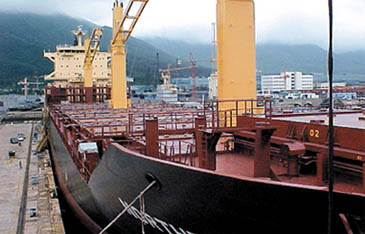 Daewoo Shipbuilding & Marine Engineering
As China and other countries move to this comparatively clean energy source, LNG consumption is forecast to grow by 25 percent a year for the next decade. During this time, the world LNG fleet is expected to double, to around 250 ships. Moving aggressively, Hyundai, Daewoo and Samsung won almost 90 percent of the LNG tanker contracts awarded worldwide this year. But even here, South Koreans feel the technological gap narrowing with China.From a marginal player in the 1990s, China has quietly become the third-largest shipbuilding nation, winning 14 percent of world shipbuilding orders in 2004, as measured by tonnage. Japan comes in second with 24 percent, and South Korea is far ahead with 40 percent, according to the Shipping Intelligence Network of London. The United States, which has seen its share of the world's shipbuilding market decline steadily in the last two decades, can now claim only a share of less than one percent of the world's shipbuilding orders.In Chinese shipyards, labor productivity lags far behind the rates registered in South Korean and Japanese shipyards, which are about even.But this winter, workers near Shanghai are working on something new: China's first domestically made liquefied natural gas tanker. In a contract signed last August, Hudong-Zhongua Shipbuilding (Group) Co. is to build five LNG tankers. Bartholomew, the shipping consultant, said of South Korea, "The Chinese are always trying to nip at their heels, but they are not there yet."
The above article is from The New York Times.