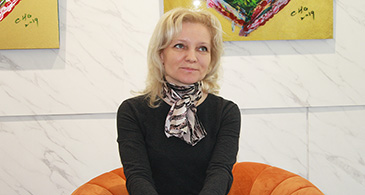 Madam Ruslana Dovzhyk of TechNovator
TechNovator, a Polish technology company specialing in wireless long-distance charging solutions, advances into South Korean markets recently. The Korean representative Madam Ruslana Dovzhyk tells of the Polish-based global tech company's technological edges and why and how TechnoVator is doing here in Korea in a recent interview with The Seoul Times. Here are the questions and answers of the interview and introduction of the company.
Q1: Thank you for this interview and congratulations on your making inroads into the South Korean market. Could you tell us the purpose of your advance into the local Korean market?
A1:
TechNovator – power-at-a-distance charging system, innovative technology that allow to charge different devices at once for a long distance. TechNovator XE is the only wireless charging solution that provides long distance wireless charging (up to 5 m radius in B2C segment and up to 10 m in B2B segment) and is completely safe for humans and animals. During five years technical professionals were involved in process of technology development in Ukrainian R&D center.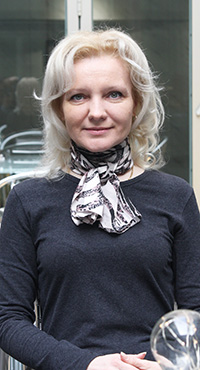 Madam Ruslana Dovzhyk of TechNovator
Now we have a plan to develop our project worldwide. South Korea is one of our key markets. South Korea is the most innovative country in the world, according to a league table covering everything from the concentration of tech companies to the number of science and engineering graduates. Korea is a pioneer in the information and communications and technology sector.Competitiveness of global Korean companies like Samsung Electronics, LG Electronics and Hyundai Motor is built on their ability to maintain and improve their manufacturing processes in a timely and precise manner. The manufacturing capability based on Korea's process innovation provide opportunities for domestic and foreign companies that wish to capitalize on process innovation capability. Here in South Korea we have a good chance and good opportunity to grow our project globally with cooperation with global and local companies.
Q2: Tell us more about your company headquartered in Poland. When was it established? What are the competitive edges of your company?
A2:
We started our project more than five years ago. It was a small R&D center in Ukraine when we gathered best technical talents. The company is led by an experienced team of professionals with vast experience in the sector, proven technological and business expertise. The team is customer focused and technology driven in the way it conducts its business. Product development and its testing are carried out in an innovative laboratory created especially for this purpose. Since 2014, a large number of tests were conducted and five generations of prototypes were created in this laboratory. However, not all the components can be produced in the laboratory, the structures necessary for TechNovator XE development are manufactured at the ZM Progress factory in Poland, as it is equipped with complex CNC machines. For this moment we have R&D center in Ukraine, office and production facility in Poland, corporation in South Korea.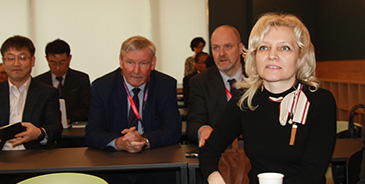 Madam Ruslana Dovzhyk of TechNovator in a Seoul conference
Q3: Can you explain to us about you Seoul branch? When did you open the branch? And why did you open it?
A3:
We established corporation, not the branch last November here in Korea. The main purposes are to organize R&D center for technology integration into different products. Also we are looking for the cooperation with universities and government R&D centers to organize patent and certification process in Korea and also to be involved in related scientific researches to improve the technology. Actually, we have a huge markets of consumer electronics and in-home devices where we can use our technology. As such global companies as Samsung, LG, Hyundai here, we are also planning further cooperation with global companies. We start negotiation process with them and hope we will be successful to launch first product on the market nearest future. We also have some potential investors with good synergy to develop business using our technology.
Q4: We heard about your wireless recharging technology. And your company is cooperating with South Korea's LG company over it. Can you specify about your cooperation with it?
A4:
We have signed NDA and we can not share the details right now.
Madam Ruslana Dovzhyk (center) poses with his staff Managerr Kim Hyun (right). At left is Madam Kim Yun-Ja, a local businesswoman.
Q5: Can you explain more about your role in your company and in Korean branch? What do you plan to do while you are in Korea?
A5:
My role in our project is a Chief Business Development Officer and Co-founder of TechNovator. Here in South Korea I also cover a role of CEO. Last year we successfully passed the first round of K-Startup Grand Challenge supported by NIPA. It was good chance for us for the start. We have received good support from NIPA, accelerator, K-Startup Grand Challenge to grow our project on the Korean market. Especially for us also were very helpful support from Ukrainian and Polish Embassies. Here we received support in cooperation with companies, to learn more about Korea and how to manage business here, how to promote our project, how to be successful. I was involved in all activities and tried to build successful business relations. Now we have potential investors, partners and clients on Asian market.
Q6: What is the level of South Korea's technology in the area your company is involved in? Why do you evaluate South Korea as technologically advanced country compared with other countries?A6: Many universities, institutes and R&D centers try to develop wireless charging technology. Many approaches and different results in such scope. I hope the first product will be on the market soon. Perhaps we will have a good chance to cooperate with them and able to exchange our experience. Many successful companies here in Korea received government support. Mainly success depends of hard work and good collaboration. I evaluate South Korea as technologically advanced country in accordance with some market researches concerning quantity of applied patents and also as good place when innovation growth like seeds in fertile soil.Q7: What are your impressions about Korea and Korean people?
A7:
I have a very positive impressions related Korea and Korean people. I was really impressed that South Korea is a very safe country with a good culture and educated people. I'm happy to admit that I have met people with good life values and their vision to family and work. I like Korean cuisine but sometimes I'm missing for Ukrainian-Polish delicious foods.
Q8: Could you tell us more about you? The educational and professional background of yourself?A8: Well, I was born on the west of Ukraine and have my relatives in Ukraine in Poland. I like that part of Ukraine as a beautiful and soul places from my childhood. I have two higher educations: one in Management of Organization and another – as a Trainer. I have more than 15 years' experience in Human Resources Scope and more than seven years' experience in Business Development. I try to do everything with love and passion with high level of responsibility.
Q9: How different the culture of Ukraine and Poland compared with South Korean culture? Are there any similarities between your culture and South Korean culture?
A9:
I would like to tell we have more similarities than differences in our cultures. Many positive and nice people with good life values. Every Sunday I visit church here and can see as much people trust in God and helpful to each other. That is really nice things.
Q10: What are you hobbies? What do you do to keep you mind and body in shape? What are some of the Korean food you like?
A10:
I like swimming, I was swimming during seven years and I was great in sport in my past. Actually, now swimming mostly as hobby. I like walking, even here in South Korea I try to walk from my home to my working place. I live in Bundang with beautiful nature, parks and rivers. I like sunny days when I enjoy my traveling and can get some energy from the sun. I like a good music to recharge my mind. My favorite Korean dish is gimbap.
TechNovator Offers Wireless Charging Solution
Are you still facing the situations when your device's battery dies at the moments when you need it the most? Now you can forget about such the situation. The number of electronic devices that people use in their daily life is continuously growing. However, it becomes increasingly difficult for people to monitor and timely recharge all the batteries. Even cable, power bank, Qi or inductive charges do not allow us to use our devices effectively during a day.
TechNovatorXE developed by TechNovator Korea, is a remote wireless charger that energizes multiple devices simultaneously within 5 meters, and is safe for people, animals and the environment. The system also has a unique feature that controls the level of battery-charging via constant monitoring and autonomous charging. Possible to estimate the priority of charging devices.The number of electronic devices that people use in their everyday lives is continuously growing. However, it becomes increasingly difficult for people to monitor and recharge all their batteries in a timely manner. The necessity of monitoring the level of charging keeps users on constant anxious. Also, environmental problems are a big issue: with the increasing number of electronic devices, the amount of wires, cords and batteries increases significantly, but they are rarely recycled.TechNovator XE offers a unique long-distance wireless charging solution that enables individuals to create a personal comfort zone without having to continuously monitor and charge the devices. This product also helps business customers provide high-quality services to the refined tastes of customers, while prolonging battery life and decreasing electronic product waste.Using such technology, you can completely forget about cable or special platform connections. Just imagine you entering your home, office and your devices start charge automatically.
The technology can be integrated into various portable electronic devices, such as phones, tablet PCs, cameras, fitness bands, smartwatches, wireless triggers, headsets, wireless keyboards and mice, remote controls and toys. It can be used at restaurants, hotels, airports, railway stations, conferences, exhibitions and other places where large numbers of people gather and require charging. It becomes new convenient solution for all users.In 2016, Technovator XE won first place in the engineering competition Vernadsky Challenge and recently got 'Seal of Excellence' which is a quality label awarded to project proposals submitted to Horizon 2020, the EU's research and innovation funding program.TechNovator http://technovator.co/ is really interested in development in South Korean market. South Korea is one of key markets for TechNovator, where Technovator team would like to open R&D center and organize partnership with Universities and global companies.At this moment, Technovator is taking part in the K-Startup Grand Challenge program, which is supported by the government organization NIPA. TechNovator have passed successfully the first round as Top 40 teams and participating the second round. Now TechNovator is looking for opportunity to grow business in South Korea with potential partners, investor who interests the wireless charging system for better technology development and good cooperation.