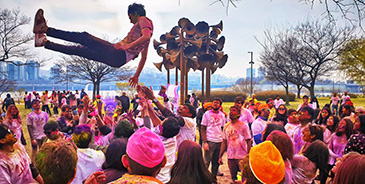 Indians in Korea (IIK) celebrates Holi in Seoul.
Hundreds of participants from India, Korea, and many Western and Asian countries joined the festival to welcome spring by splashing safe (eco-friendly) colors on each other on March 31, 2019 dancing on Bollywood music and most of all sending the message of love and harmony to the world. Participants from six different nations comprising of all age groups from kids to elderly people joined this event. It was a sight of sheer joy and happiness. Participants were welcomed by serving the Indian tea and snacks followed by the delicious Indian lunch before closing the event.Holi, an ancient Hindu festival, which later became popular among non-Hindu communities as well and gradually became popular all around the world for its concept of colors and stressbusting fun that it brings. Holi falls in the month of Phalgun (a month in Indian calendar) on a full moon day which is the month of March (sometimes in February) in English calendar. The festival signifies the beginning of spring season. Holi is a festival that is considered as a day where people forget, forgive, make up broken relationships and get back to the happy world again. On this auspicious day, people splash colors on each other and play different games which helps them in forgetting all their worries. It signifies the victory of good over evil and is celebrated as a day of spreading happiness and love.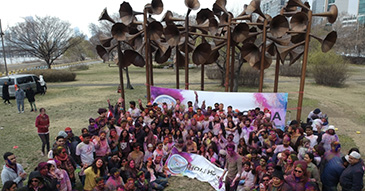 Indian Festival of Colors gets underway at Han River Park in Seoul.
The festival is also celebrated as a thanksgiving for a good harvest but most of the above it is the "sign of equality" everyone is painted in one color irrespective of regional, religious, cultural or lingual barriers. Even if Holi is celebrated in different forms in different parts of India, the core idea is about coloring each other and having fun. IIK organized Holi in 2019 as "Holi Hungama" which commenced its registration process through its website (www.indiansinkorea.com). Holi Hungama received tremendous response and in a matter of weeks maximum capacity was attained. The Indians in (South) Korea IIK's president Dr. Maidul Islam told us that IIK has been organizing several events throughout the year to create a sense of mutual openness and trust between Koreans and Indians as well as other nations. Holi Hungama is one of them which is taking place in Seoul for the past eight years and it will continue to organize it every year in the future at a larger scale. He mentioned that the IIK (Indians in Korea) community is very grateful to the Ichon (Hangang) park authorities for their continuous help and support every year. Also, they welcome people of all nationality to share the bond of love and happiness.