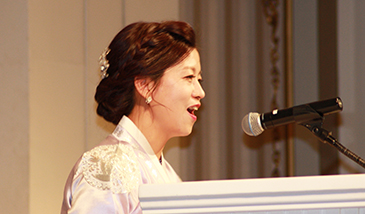 Chairwoman Ryu Hyun-Mi of the Korea-China Food Culture World Forum speaks at forum held at Imperial Palace Hotel in Seoul
Chairwoman Ryu Hyun-Mi of the Korea-China Food Culture World Forum received lots of attention from world's gastronomic and other food-related experts as well as Chinese and South Koreans on April 22 (Monday), 2019. On the day Ryu hosted "The 1st Korea-China Food Culture World Forum" at the majestic Imperial Place Hotel in the affluent Gangnam area of Seoul with some 200 carefully chosen invitees including South Korea's top politicians and cuisine-related authorities and experts from China.Representing South Korea's political area came Rep. Choi Jae-Sung, four-term lawmaker of the ruling Democratic Party. The Chinese came from the committee of "Chengdu Panda Asian Food Festival." A group of official Chengdu TV journalists accompanied the Chinese delegation.From Seoul's diplomatic circle Bangladesh Ambassador Abida Islam was invited to the forum. The forum that included a gala dinner was hosted by Food Culture Global Exchange Association chaired by Ryu.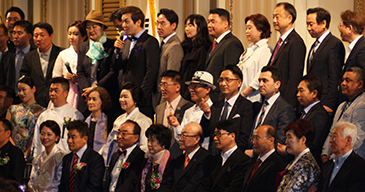 Chairwoman Ryu Hyun-Mi (2nd from left in the front row) of the Korea-China Food Culture World Forum poses with her forum participants at Imperial Palace Hotel in Seoul's Gangnam area.
Earlier on Sept. 18, 2018 Rhy held "Chinese-Korean Food Culture Seminar" in Chengdu, agreeing with the Chinese counterparts to host the first" Korea-China Food Culture World Forum" in Seoul on the past April 22.A renowned centre of gastronomy, Chengdu has kept its original name and location unchanged for over 2,300 years, according to Ryu. It is the cradle and centre of Sichuan cuisine, one of the four references of Chinese cuisine.Through this event Ryu wants to develop contents to export each other's foods and food culture in an mutually beneficial ambiance.The dinner event included cultural performance. In particular a special fashion show of the traditional Korean robe of hanbok infatuated the Chinese delegates and other participants.The annual food forum was just a part of a myriad of events Ryu has been hosting in the past decade or so.In March this year Ryu reenacted "the March 1 Independence Movement" in the form of fashion show with the local university students in the major city of Chóngqìng in western China. The special city of Chóngqìng is famous and meaningful among Koreans when the Korean government in exile was set up there under Japanese rule over the Korean Peninsula. The special event marked the 100th anniversary the pan-national uprising against Japanese."I am being invited numerous culinary events taking place in China," Ryu told The Seoul Times recently. "I just like to lay the foundation for the whole lot of exchanges in the food area of mutual cooperation between Korea and China in the future" Ryu has been dedicating herself to spreading the traditional Korean food and culture to the world.