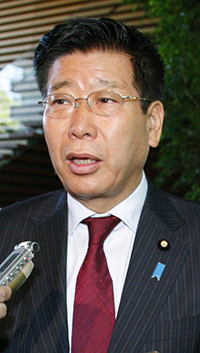 Eto Seiichi (êÛÔö àùìé), special adviser to the Japan's Prime Minister Abe Shinzo
Eto Seiichi (êÛÔö àùìé), special adviser to the Japan's Prime Minister Abe Shinzo, involved himself into a swirl of controversy by calling South Korea "a nation for sex tour" in his private dinner gathering with a goup of South Korean lawmakers on August 1, 2019.The derogatory remark about South Korea was made by the close aide to Japanese premier. The 71-year-old right-leaning lawmaker of the House of Councillors (Upper House) of Japanese Diet belongs to the Liberal Democratic Party (LDP).It was reported on August 6, 2019 by a mass-circulation vernacular daily Chosun Ilbo, which quoted a diplomatic source.
Chosun went on to say that his controversial remark clearly represents a hard-line atmosphere of the Japanese prime minister toward South Korea.The dinner gathering was arranged by a senior Japanese politician Kamei Shizuka (ÏÏïÌð¡úÅ), former lawmaker in his efforts to help ease the frozen ties between Korea and Japan.He was reported to say "Let us open our inner mind and talk" at the dinner gathering.However, Abe's close aide made the stupid verbal mistake, infuriating the five South Korean lawmakers at the dinner.The South Korean lawmers are Kim Boo-Kyum of the ruling Democratic Party of Korea (DPK), Kim Young-Choon of DPK, Kim Se-Yeon of Liberty Korea Party, Kim Kwan-Young of Bareunmirae Party, and Gov. Won Hee-Ryong of Jeju Province.They were visiting Japan to attend an international event of Korea, American, and Japan."I am 71 years old and I visited South Korea many times," Eto was quoted as saying. "In the past Japanese visited South Korea for sex but I did not like it"Eto went on to say that he, as prime minister's special adviser, took part in the investigation into the past comfort women issues and victims of forced labor and he found no evidence of illegal nature of the issues.All the Korean lawmakers' faces were turned rigid with anger by Eto's remarks and attitude that Eto seemed to relate comfort women issue to the sex tour.
"President Moon Jae-In looks an idealist," Eto mentioned. "I do not understand what South Korea wants to do with Japan"Rep. Kim Boo-Kyum warned Eto that his remark can touch off misunderstanding at the dinner table.Kamei, the dinner host, tried to put down the fire by saying "That is Eto's personal opinion, he is always like that.Thanks to Kamei, the situation did not go from bad to worse."The hard-liners around Prime Minister Abe look down on Korea, ignoring its government and people," another participant Kim Young-Choon was quoted as saying.Eto Seiichi (êÛÔö àùìé) is a close aide to the current Japanese Prime Minister Abe Shinzo. He was born Oct. 1, 1947.He is a Japanese politician of the Liberal Democratic Party (LDP), a member of the House of Councillors in the Diet (national legislature).A native of Ōita, Ōita and graduate of Oita University, he had served in the city assembly of Ōita for two terms since 1973 and the assembly of Ōita Prefecture for two terms since 1979.He was elected to the House of Representatives for the first time in 1990 after an unsuccessful run in 1986. In 2000 he lost the seat but was re-elected three years later.He, however, lost the seat again in 2005. In 2007 he ran for the House of Councillors and was elected.