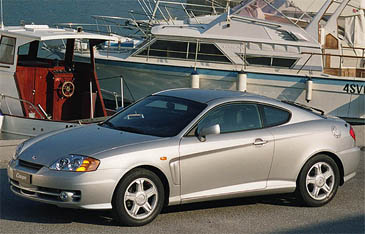 A Hyundai coupe in Europe
The domestic currency's strength against the U.S. dollar is causing Korean carmakers to shift focus from the US to Europe as their top export destination.Industry experts have told a South Korean daily that local carmakers have been enjoying better sales performances in Europe since the fourth quarter of last year as the euro has also gained strength against the greenback. The decline of the US currency has dampened import car sales in the world's largest economy, as a stronger won makes Korean products more expensive there.The newspaper said Hyundai Motor, Korea's top automaker, has this year earmarked 1,778,000 units for export, of which 63%, or 1,121,000 units, will be manufactured domestically and the remaining 657,000 overseas.From the domestic plants that are directly affected by currency fluctuations, 38.4% of the 1,121,000 units will be exported to North America and Europe will receive 420,000 units, or 37.5%, the report said.According to the daily, of the 1,111,143 exported units made in Korea last year, 44.6% went to North America. Europe was the destination for 32.9%, underlining the bigger dependence Hyundai Motor had on the North American market.
| | |
| --- | --- |
| | Hyundai Motor America president and CEO Robert Cosmai (right), and Joel Piaskowski, chief of the Korean automaker's Irvine, California design center, stand beside the HCD8 sports coupe unveiled on Jan. 6 during the North American International Auto Show in Detroit, Mich. |
This year, Hyundai's exports to North America are expected to drop 6.2% to 38.4%, compared with last year's 44.6%. Meanwhile, shipments to Europe this year are expected to rise 4.6% points to 37.5%, compared with last year's 32.9%. Hyundai told the paper 85% of all vehicles reserved for North America would be sent to the United States and the other 15% to Canada.The Korea Herald said Kia Motors has also prepared to shift focus to Europe this year. Of its exports, the carmaker has earmarked 28%, or 287,000 units, for the United States, a drop from last year's 35%, or 301,586 units. But the car company plans to expand export volume to Europe to 40%, or 412,000 units, from last year's 31%, which totaled 267,000 units.The paper noted that a recent survey conducted by professional services group KPMG found that European car manufacturers' ability to increase global market share is being hampered by aggressive expansion by Korean and other Asian car manufacturers.
The above article is from just-auto.com.