A restaurant in Tokyo
Etiquette or behaving in an appropriate or good manner is key for social success. In the world of business, particularly in this global age, a desirable business manner is vitally important in getting ahead and staying ahead. Now more than ever it is extremely important to have at least a basic grasp of cultural relativism to succeed in business internationally. Remember - what is perfectly normal and acceptable behavior in your country may be considered to be in poor taste - or outright rude - in another culture.The following article is from a company report of "do's and don'ts" of global business etiquette, based on the real life experiences of South Korean businessmen operating in all the corners of the Earth.In Japan, it is recommended not to wait until your drinking partner finishes his or her glass before refilling it — pouring additional alcohol into the glass half empty is recommended and polite behavior. However, this virtuous behavior is regarded as a cultural "don't" in Japan's neighboring country of South Korea.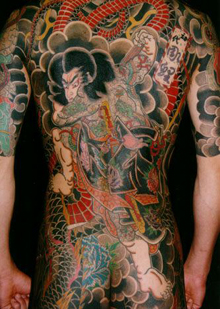 Tattoos on the body of a "Yakuza (organized Japanese gangs)" member
In Japan, passing around shots is shunned. It was the legacy of the "Yakuza's" (organized Japanese gangs) drinking ceremony in which a boss finishes his drink first and then passed around his glass. In some East Asian countries, it is still considered to be a manly manner for reinforcing teamwork. In Japanese culture, if the glass of your guest is filled with less than one third of alcohol, and as a host you still do not fill the glass with more alcohol, he or she might take it as a sign that you want to finish drinking. When the invited one does not want to drink up he or she can just keep sipping.In South Korea, the "downing the hatch" style of drinking is quite frequent, and sometimes recommended. In contrast to the style in Seoul, pouring alcohol with one hand is quite acceptable in Tokyo. In Korea, using only one hand when pouring a glass could be a huge cultural faux pas, and is considered to be disrespectful, so using both hands is always recommended.In Hong Kong, "monetary gifts" are a must when going to any congratulatory party. The sum should increase if family members or friends accompany you. Making reservations in advance is always necessary for any party or occasion.In the "Pearl of the Orient" ,business drinking is not as popular as in Seoul - except for people in marketing. Using connections built thorough associations are quite powerful and effective tools in conducting doing business, as in all areas of the world.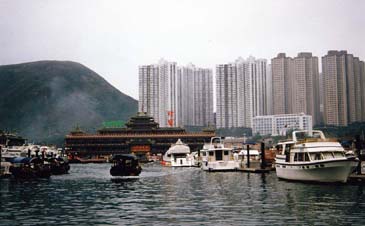 Hong Kong, "Pearl of the Orient"
In the Unites States, skillful negotiations are more import than in any other part of the world. You can either talk down sharply or jack up highly the prices in renting or buying an apartment or a car, depending upon whom you talk with or how skillful your art of negotiation is. Thorough market research is a requirement in renting or purchasing offices and housing.There are several questions you should not ask in hiring employees in the USA - the world's largest market. Off limits are questions about age, nationality, or the reasons of one's handicap. Any private question could be perceived as discrimination of race, gender, and so on in this land of the "salad bowl."When you move to Germany you have to check carefully before you pack up your possessions. Such belongings as washers, TV sets, microwave ovens, and electric shavers are nearly impossible to use due to the difference in voltage.Refrigerators are acceptable in the regular German home, yet as a rule, most homes and apartments have built-in ones - although they are usually small. Over-size South Korean refrigerators are convenient in Europe's largest economy.For South Koreans it may be a quite shocking moment to get a glimpse of German saunas and their annex swimming pools, where totally naked men and women intermingle. In German saunas, male and female tend to be completely undressed.
A sauna in Germany
In stark contrast to South Korean police, law enforcement officers in Germany can be quite tough toward citizens. If one shows any threatening motion in front of a German policeman, he or she will be immediately thrown upon the ground and handcuffed. The same is true with police officers in the United States. One should be very polite towards and in front of them.In the Netherlands, where same-sex marriage is legal, drinking with fellow workers after office hours is kind of a rarity. Normally, they go straight home and spend the evening with their loved ones.In South Korea, although the trend is changing slightly for the positive, a lot of company workers go visit nearby drinking places for the "second round" of their work. Many South Koreans talk business while drinking, considering that drinking is an extension of their work.In Singapore, ones should forget about smoking or drinking unless they are well-to-do. Prices for alcohol and cigarette are several times higher than in South Korea. In restaurants or bars a 1,200 cc pitcher of beer costs 12,600 won (approximately US$12) and a bottle of soju is 17,000 won (about US$16). In this multi-racial and multi-cultural city-state, one should be ready to respect other's cultural customs and values.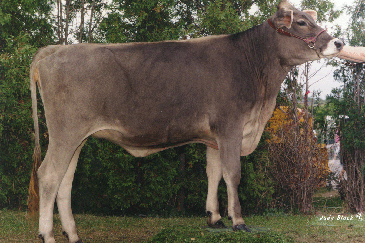 Islamic way of slaughtering called "Hallah"
Singaporeans of Malaysian origins are banned from eating pork, as well as from drinking and smoking. Other meats should be avoided unless they are slaughtered in the Islamic way - called "Hallah." - so, check your menu selection before you invite them over for dinner.Yelling in front of local Thai workers should be avoided, even if they make serious mistakes. Try not to show your true feeling in this South East Asian country where mercenary killing is possible for only a little sum of money.In China, seating position is strictly observed in business dinners or luncheons. Hosts should sit at the center of the meal table from the opposite side of the entrance. No matter how wealthy or high-ranking guests are, they cannot occupy this seat. Hosts should let the most important figure? highest ranking or oldest — be seated to his right and second most important guest to his left. Usually hosts are expected to pick up the bill. Russia has at least one thing in common with South Korea in showing respect senior people in public. Usually Russians give way seats on the bus or subway to elderly or socially weak people, including pregnant women.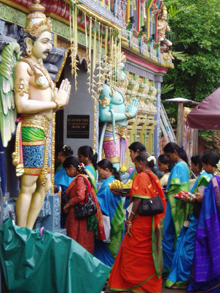 Ladies of the Temple — A Hindu temple just outside of Little India. It shows the temple ladies entering for a sermon for want of a better word from visiting religious Elders. Courtesy Trek Earth
In the land of vodka, you should not refuse to drink offered shots of alcohol - otherwise they would think that you do not respect them. Drinking plays an important role in Russian society - particularly for men - just like in many other countries of the world.
In Dubai, as in other Islamic countries, try not to use your left hand when eating or exchanging gifts or shaking hands. In Islamic society, the left hand is primarily used for cleaning yourself, especially for cleaning the private parts after using the toilet. The right hand is used for just about everything else including shaking hands and eating. It is then not so curious a fact that there are no left-handed people in Islamic nations.Indians are similar to diplomats in that they rarely say no to people. Verbal agreements are seldom kept in business deals so make sure that one should get the signature of the business partner. One also should check if the guest is a vegetarian before inviting the person to a meal. Most Hindi people avoid meats, fish, and eggs.