Shell is taking part, once again in the Environment conference and exhibition. The event is organized by ERWDA and will be held in Abu Dhabi from Jan. 29 to Feb.2, 2005.Shell will have three experts taking part in the exhibition, with its Director of Strategic Planning and Sustainable Development, Mr Adrian Loader, delivering the private sector's keynote speech at the conference opening. Shell will also be represented by two leading experts in the field, Mr Kurt Hoffman, whose speech centers on 'Public Private Partnerships in Sustainable Transport' and by Mr Hans Wolfgang Luke, who will be speaking about 'Future Fuels for Sustainable Mobility.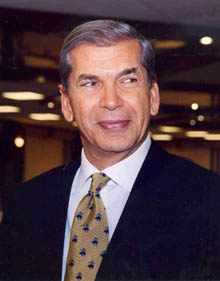 Mr Adrian Loader, in his speech will be focusing on the challenge of sustainable transportation, as
the continued economic growth necessary to raise living standards depends on it. This, in turn, means that fuel suppliers and vehicle manufacturers have a particular role in helping to reduce local pollution and carbon dioxide emissions by developing more efficient engines and cleaner fuels. These fuels will include new components, such as Gas to Liquids and advanced biofuels. Hydrogen fuel cells offer longer term potential. As Loader further explains, there are no magic solutions and many possibilities need to be explored. Energy systems are complex, capital intensive and long-lived. Changing them takes a long time and requires an integrated approach, taking in mind transition. This is particularly important in developing countries, where affordability is key.Quote from Dr. Mohamad Defrawi, Managing Director, Shell Abu Dhabi, 'Shell is proud to support ERWDA in this year's Environment conference and exhibition, and to participate, once again in this event . This year's theme on Sustainable Transportation is very much in line with Shell's leading work, not just in the area of Sustainable Development but in the proven delivery of cleaner fuels, a key component in achieving Sustainable Transportation.'
'We will be well represented at the conference, with three of our leading experts addressing issues of partnership between the private and public sector in the field of Sustainable Transport, as well as a discussion on future fuels. Shell International's Director of Strategic Planning and Sustainable Development will also be delivering the private sector's view on Sustainable Transportion.'
'In addition to our participation in the conference, Shell will have a specially-designed stand to welcome visitors to the exhibition. Shell colleagues will welcome visitors and will be able to highilight our approach and technological advances in the field of Sustainable Transportation.