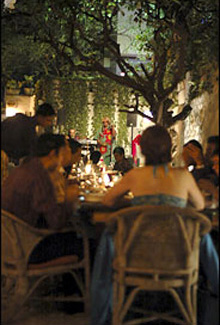 Apoorva Guptay for The New York Times The Olive Bar and Kitchen Courtesy NYT
ANOTHER Thursday night in Mumbai, another celebrity-packed crowd at the Olive Bar and Kitchen. The model-turned-actress Amrita Arora was there, along with her sister, Malaika Arora Khan, the spicy sex symbol of Bollywood. Nearby, the prodigal founder of Hotmail, Sabeer Bhatia, was holding court with several pretty young things in hip-hugging jeans and stiletto heels. Then all heads turned when the television personality Kamal Sidhu sauntered past the proverbial velvet rope, blowing kisses in all directions."Everyone looks like they're somebody," said Jaimal Odedra, 40, a fashion designer from New York, as he scanned the candle-lighted terrace. "The scene is so Los Angeles."Sure, there was valet parking, movie stars and plenty of over-the-shoulder gazing. But Mumbai (the official name for Bombay since 1995) is a megalopolis so grimy and congested that it makes the mean streets of Compton look like Beverly Hills. The air reeks of sewage and burning trash, cows roam the streets at will, and half of the city's 18 million people live in mud-caked slums. And unlike the other filmmaking capital, it is also a city where night life was virtually nonexistent a decade ago."Drinking outside the house was not a part of our culture," said Che Kurrien, 26, a Mumbai-born writer who chronicles the city's night life. "You would never see a woman drinking alone at a bar." Arranged marriages, after all, were a cultural imperative.The upper crust, of course, inhabited a parallel universe. There were five-star hotels for barflies with trust funds, and colonial-era private clubs, like the Bombay Gymkhana and Breach Candy Club, for socialites with an entrée. But for everyone else, going out in Bombay usually meant going to a friend's house.Things began changing in the early 1990's. India liberalized its budding economy, Western media arrived through cable television, and a new middle class emerged with a taste for Madonna and Beastie Boys videos. Nowhere was this social upheaval more pronounced than in Mumbai, India's commercial and cultural vanguard. Soon, the right to party became a badge of upward mobility, in a city pulsating with entrepreneurial swagger. "People lost their inhibitions," said Naresh Fernandes, 35, editor of TimeOut Mumbai, which began publishing last September. "Literature has exploded. We have 1,500 theater productions a month in five languages. There are 60 art galleries. And since we've started TimeOut, there's been a new nightclub every week."The club and bar scene today arguably rivals that of any jet-set city. Door policies are as brutal as at any velvet rope in Manhattan's meatpacking district. Dress codes can be as intimidating as the trendiest disco in Stockholm. And despite an official closing time of 1:30 a.m., an often-venal police force allows some places to stay open until five, even six, in the morning.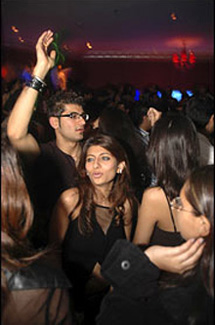 Apoorva Guptay for The New York Times Young people now pack nightspots like Enigma.
Courtesy NYT
"Every night is a party in Bombay," said Suketu Mehta, the author of "Maximum City: Bombay Lost and Found," (Alfred A. Knopf, 2004). "These bars would not look out of place in SoHo. It's like being in a First World bubble."Tourists tend to gravitate toward the southern peninsula of Mumbai, along the vendor-clogged streets of Colaba that are home to the city's best-known landmarks: the Gateway of India, built to commemorate the visit of King George V in 1911, and the Taj Mahal Hotel. An evening out may start at Indigo, a restaurant where recent cameos by Chelsea Clinton and Mick Jagger barely registered with the world-weary patrons.After dinner, the crowd moves downstairs to the long teak bar, or hops next door to Busaba, a lounge where the lighting is dim and the bass is loud. "It's never this crowded in Delhi," shouted Vishesh Chandiok, as he angled his way to the bar on a recent Tuesday. "And it's the beginning of the week."By midnight, the dance floor at Red Light is packed with young hipsters gyrating to the grooves of 50 Cent while sending text messages from their mobile phones. Despite the subtropical climate, many are dressed in hoodies and beanies. Hip-hop has taken Bombay by storm, as have Ecstasy and other club drugs.
A short, bumpy taxi ride away is Polly Esther's on Battery Street, where lines for the 80's disco zigzag down three flights of stairs and peak at around 2 There is even a gay night at the Voodoo Pub, a split-level dive with a well-earned reputation for drawing outcasts, jaded travelers and hustlers of varying sexual persuasions.But style-conscious hipsters joke that south Mumbai has run its course. In the same way that downtown Manhattan no longer monopolizes night life, hot spots that attract a younger, fashion-oriented clientele have sprouted in the former wastelands of north Mumbai.Waterfield Road in Bandra, not far from Mumbai's international airport, is emerging as the city's Marais District, minus the architectural charms. By day, boutiques like Oz and Teen's showcase the work of local designers, who fuse club wear with traditional Indian garb, such as halter tops made from silk saris. By nightfall, the droning beats of trance and techno waft from Zenzi and a beehive of other lounges with pan-Asian names.In Juhu, a few miles farther north, a string of nightspots favored by the Bollywood set now dot the beach. The most raucous party is arguably Saturday nights at Enigma, a huge club at the J W Marriott Hotel, with flaming archways and elephant-size chandeliers reminiscent of Las Vegas. At 1 a.m. the other weekend, a swarm of men with shellacked hair and bulging biceps were clamoring to pay the $23 cover charge. "I came all the way from Delhi," one man yelled to no effect.Inside, Aqeel, the D.J., was spinning an infectious playlist of cheesy Bollywood tunes mashed with hip-hop rhymes and techno riffs. The mood was celebratory. The crowd was young, attractive and eager to connect.Nasim Sidhu, 26, a wedding planner from Bandra, was dancing with a couple of men. "The dating scene is very chilled out here," Ms. Sidhu said, invoking a popular local expression. "I dated someone for two years, but it didn't work out, so I moved on. That's what this city is all about: moving on."
If You Go
Nightclubs in Mumbai often have different cover charges for men and women, and for different nights of the week.
Restaurants
Indigo, 4 Mandlik Road, (91-22) 5636-8999. Open daily for lunch and dinner. Dinner about $28 a person at 44.7 Indian rupees to the dollar; drinks $3 to $9. Olive Bar and Kitchen, 14 Union Park, (91-22) 2605-8228. Lunch and dinner daily. Dinner $26 a person, drinks $4 to $10. Zenzi, 183 Waterfield Road, (91-22) 5643-0670. Lunch and dinner daily. Dinner about $16 a person, drinks $3 to $9.
Nightclubs
Red Light, 145 Mahatma Gandhi Road, (91-22) 5634-6249. Open, for couples and members only, Wednesday to Saturday. Cover $14 to $19 a couple, drinks $3 to $5. Busaba, 4 Mandlik Road, (91-22) 2204-3779. Open daily, drinks $2 to $4.Polly Esther's, Garden House Hotel, 5 Battery Street, (91-22) 2287-1122. Open Tuesday to Sunday, cover $7 to $14, with drink tickets, individual drinks $3 to $5. Voodoo Pub, 2/5 Kamal Mansion, Arthur Bunder Road, (91-22) 284-1959. Open daily. Drinks $3 to $5.Enigma, J W Marriott Hotel, Juhu Tara Road, (91-22) 5693-3287. Open, for couples only, Wednesday to Saturday. Cover $19 to $35 a couple, drinks $3 to $8.
The above article is from NYT