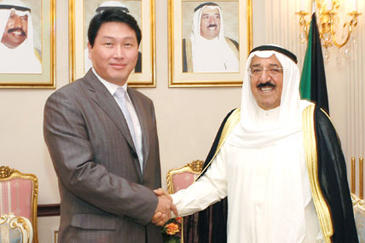 SK Chairman Chey Tae-Won (left) meets with Kuwaiti Prime Minister Al-Sabah.
The scandal-tainted head of SK Corp. won a bitter battle for control of South Korea's leading oil refiner when shareholders rejected a bid to oust him from the board for the second time.Shareholders reappointed Chey Tae-won as a board member at an annual meeting, voting down Sovereign Asset Management's bid to oust him. The Monaco-based investment fund is SK's single largest shareholder with a stake of about 15 percent.The reappointment came from 60.63 percent of the shareholders.Chey, who is on bail while appealing a fraud conviction, virtually controls SK Group, one of the country's top conglomerates. SK Corp. is the group's de facto holding company.The reappointment is seen as reflecting the shareholders' view that SK Corp. has improved its corporate governance and is performing well under Chey's leadership.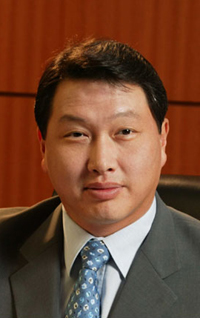 SK Chairman Chey Tae-Won
Sovereign Asset Management failed again to remove the chairman who was convicted of involvement in a US$1.2 billion fraud at affiliate SK Networks Co., formerly SK Global Co. In last year's shareholder's meeting, Sovereign Asset Management lost a vote battle to Chey and his friendly shareholders. SK Networks was found in early 2003 to have misstated its 2001 earnings by 1.5 trillion won. Creditors have rescued the company from bankruptcy through massive debt-equity swaps.Sovereign Asset Management, which holds a 14.96-percent stake, has denounced Chey, saying the chairman's conviction has devalued the top refiner. Chey faces an appeals court on March 30.SK Corp.'s victory in the proxy battle with Sovereign, which has been a factor in the raising of its share price, is notable because the portion of foreign shareholders increased from 44 percent in 2004 to 54 percent this year, analysts said.Chey has endeavored to counter Sovereign Asset Management's efforts and secure his post by replacing its board with mostly outside directors since he was freed on bail in 2003.