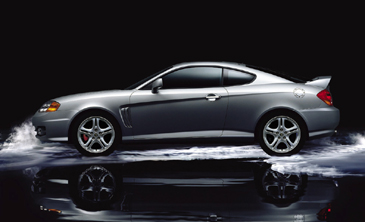 Tuscani Hyundai Motors Tiburon Coupe
Don't look now, Detroit. That's not just Japan on your tail. It's South Korea roaring up in the fast lane.Hyundai and Kia, owned by the same South Korean conglomerate, are investing heavily in the USA. They are adding dealers, introducing an ambitious slate of new vehicles and courting increasingly upscale customers."They are right on the money," says Daniel Gorrell of research firm Strategic Vision.Hyundai trails only BMW as the fastest-growing car brand, import or domestic, in Autodata's listings so far this year. It has set a 15% sales increase in the USA as its 2005 target - and lagged behind its goal by less than a percentage point for the first two months of the year.Kia is also off to a promising start after a solid 13% sales gain last year. Those gains have been in sharp contrast to General Motors and Ford Motor, which were off 9.9% and 7.4% in the first two months of the year. GM dramatically cut its earnings forecast last week.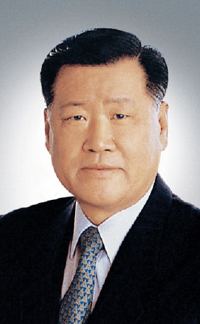 Chung Mong-Ku chairman of Hyundai-Kia Motors Group
Though the Koreans are on a tear, keeping up the pace of their gains won't be easy: Hyundai faces the challenge of maintaining quality and cost advantages as it starts production of its top-selling models at its first-ever U.S. plant. Both Hyundai and Kia still lag behind the industry in name recognition — and lots of buyers are still hesitant to take a bet on an unknown. "You don't have to explain to your neighbor why you're buying a Toyota," says George Peterson, president of automotive consultants AutoPacific. "But you have to have some strong reasons why you're buying a Hyundai or a Kia."Yet having reached fourth and seventh places respectively among import brands, Hyundai and Kia have caught the attention of Japan's Big 3 — Toyota, Honda, and Nissan.
Asked if he's worried about an invasion of Chinese-made cars, Toyota's chief operating officer in the USA, Jim Press, told a Detroit radio interviewer last month that the real threat "in the rearview mirror is Hyundai, the Koreans. They've been learning quite a bit, and they're coming on."At Honda, "We take them very seriously," says spokesman Andy Boyd about the South Koreans. "They're coming up the ladder, no question."
Rival automakers have watched Hyundai and Kia rise from niche purveyors of tinny, problem-plagued cars to world-class automakers sporting full lines.They now have vehicles designed to fit the needs of just about every customer, from college students to executives."There was a feeling at one time that we had the lower end of the market cornered, and that was it," says Bob Cosmai, CEO of Hyundai Motor America. "But as far as I'm concerned, we're appealing to the entire general market."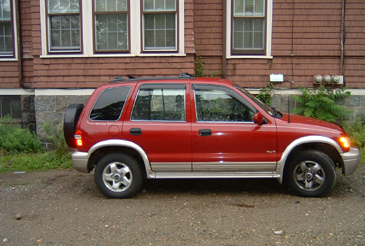 Kia's Sportage SUV
The biggest push is yet to come. Kia, which has gone from two models in 1999 to nine today, plans at least two more by the end of the decade. The brand already has such upscale wheels as the $25,500 Amanti sedan and $25,900 four-wheel-drive Sorento SUV in showrooms. A restyled Sportage SUV was launched March 7.Hyundai has unleashed its "24/7" plan. It's introducing seven models over 24 months, including revamps being unveiled today at the New York Auto Show of the lowest- and highest-end sedans in its lineup. Next month, it starts selling the new version of its flagship Sonata midsize sedan, which it now considers fully competitive against the Honda Accord and Toyota Camry.Both divisions say their buyer bases are moving upscale along with their product lines. Four years ago, the average Kia buyer paid $12,000. Today, the average sale is more than $20,000, says Peter Butterfield, CEO of Kia Motors America.The brands are reaching more customers, such as former BMW and Lexus owner Sandi Weinberg, 40, of Fairfax Station, Va., who raves about her Hyundai Santa Fe. The marketing consultant lauds the sport utility's handling, snow traction, visibility and reliability. Plus, "It was the cutest SUV out there," she says.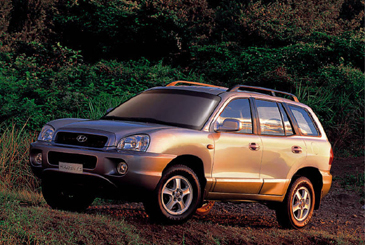 Hyundai Santa Fe
To win such fans, Hyundai and Kia have followed similar paths:
Focus on safety.Hyundai's new Sonata has six air bags, electronic stability control and anti-lock brakes as standard equipment. The new premium sedan being unveiled today will have eight. And Kia plans to achieve the U.S.
government's five-star safety standards on every vehicle within two years.Although safety is a priority, both divisions have a ways to go. The Hyundai Elantra and Kia Spectra were among the 12 small sedans that rated "poor" in recent side-impact crash tests conducted by the Insurance Institute for Highway Safety
Improve reliability.
Both companies say they are working to reverse the poor-quality reputations that have long dogged them. Recently, they have picked up accolades to prove it.The annual reader survey in Consumer Reports magazine recently named Hyundai Sonata the most reliable car in the 2004 model year. J.D. Power reported last year that the South Koreans had cut quality problems more than 57% during the previous six years, outpacing both European and domestic brands.
In their early years, both divisions suffered from allegations of shoddy workmanship. Hyundai's troubles grew out of the introduction of its first car in 1986, the Excel. First-year sales were 168,882, a record at the time for a new auto importer. But the subcompact soon became known for breakdowns and problems. Kia had a similarly rough start with the Sephia sedan in 1994.Improved quality pays dividends. Making better vehicles has allowed Hyundai to cut the costs of repairs under warranty by 35% during the past three years, Cosmai adds.
Provide longer warranties.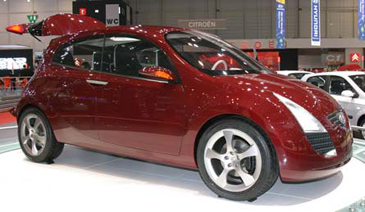 Hyundai HED1 Concept shown at 2005 New York International Auto Show
Hyundai officials credit their breakthrough in customer acceptability to a 1998 decision to offer a 10-year/100,000-mile warranty on every vehicle, which Kia later adopted as well."It shows the confidence they have in their car," says gift-shop operator Dick Smith, 69, of Nashville, Ind. He bought a $17,000 Sonata GLS with a moonroof this month after lots of comparison shopping. "Is it going to be a lemon? Maybe," he says, but at least it will be fixed for free.Even though quality has improved, the divisions say they have no plans to abandon the longer warranties. "A lot of people have long memories, and it takes a while to change perceptions," Cosmai says.
Develop different personalities.
To make sure the two divisions don't become too alike, their corporate parent decided in January that Hyundai will play the older brother. It will have "refined and confident" attributes, the South Korean overseers decided. Kia is deemed "exciting and enabling."Though the two brands have different headquarters south of Los Angeles - Hyundai in Fountain Valley, Kia in Irvine - they had been sharing the same design team in a new $25 million design center.No longer. Recently, the design leaders were split, designated to handle each brand separately. Next, the teams may be divided.
Strengthen dealers.
Hyundai and Kia are trying to get more dealers to sell their brands exclusively, an easier pitch when they have full lines of vehicles.
Butterfield says the number of dealers selling only Kia has risen from 54 to 357 in four years. Cosmai says 38% of his dealers are exclusive, up from 18% in 1998. Exclusive dealers "sell more cars than our dual dealers. They take better care of customers, and they are more profitable," he says.Terry Petersen, a Reno dealer who is investing $4 million to split his Mazdas and Kias into separate locations, has no regrets. "I'm banking it will be worth 100 times over," he says.
Stress value.
Honda Accord
Hyundai and Kia have long undersold the competition. Kia's Optima, for instance, lists for $15,900, or $395 less than the Honda Accord, $2,120 less than the Toyota Camry and $3,300 less than the Nissan Altima, according to auto Web site Carsdirect.com."It's just a good, basic value," says software engineer Joe Duarte, 33, of Phoenix, who paid $12,000 for a Kia Spectra after looking at competing Hyundai and Chevrolet models.Underselling made sense: The companies had a cost advantage by building cars with cheaper Korean labor. But the advantage is starting to disappear as Korean labor rates rise and as Hyundai is opening its first U.S. plant.
The sprawling $1 billion complex in Montgomery, Ala., starts pre-production this week of the new Sonata with a non-unionized workforce of 1,000. Staffing will double next year when full production begins and it also builds the Santa Fe.But keeping costs in line is just one of the challenges Hyundai and Kia face. Another is marketing. Research group NOP World Automotive last June found that 53% of consumers say they are somewhat or very familiar with Hyundai. That's far behind the next lowest, Nissan, at 71%. Only 6% said they had an excellent opinion of Hyundai, compared with 18% for Nissan.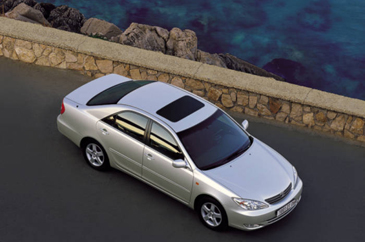 Toyota Camry

"People don't understand what Hyundai is. They are aware of the name, but they don't know the brand," says Ian Beavis, former executive vice president of Mitsubishi Motors, now a consultant.Hyundai and Kia executives say they know many buyers are still discovering them. But they say their own research is encouraging. Hyundai is fourth among major brands in retaining customers for another purchase. And 74% of all Hyundai buyers are switching over from another major automaker, Cosmai says.Kia says it attracts buyers by making sure its imported cars appeal to American tastes.In watching the design of the new Sedona minivan unfold, brand manager Yumi Takayama lugged a baby seat with a 30-pound weight to show Korean engineers the difficulty of reaching the third-row seats. She also made sure that the door handle had a little curve so female drivers don't break a nail, and that the cup holders accommodate supersized drinks.Butterfield says Kia has grown quickly because it is nimble - for instance, still making design changes in vehicles that launch later this year."We're a very young company and a high-growth company. And it is also that our culture is very entrepreneurial," he says.
The above article is from USA TODAY.