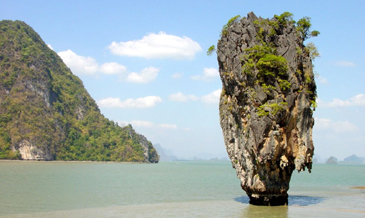 Phuket island
Thailand tourism officials are putting on a brave face in the wake of a powerful earthquake in the Indian Ocean so soon after the 26 December tsunami.
The quake on Monday is a setback for efforts to revive tourism, an industry crucial to the Thai economy. Only Europeans are returning in any numbers, and occupancy rates are down in what should be peak season.
However tourism chiefs say there has been no new surge in cancellations, or travellers trying to leaving resorts. "Our hope is that travellers who have booked do not take flight and will continue to travel," Ken Scott if the Pacific Asia Travel Association told the AFP news agency."I think reasonable people will see this as an extremely rare event and not change their travel plans." However, he said the earthquake makes efforts to attract back reluctant tourists from countries like Japan and South Korea that much harder.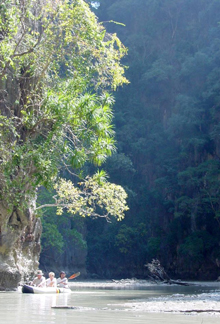 Canoeing in Phuket
Hundreds are believed to have died in Indonesia after an earthquake 125 miles off the coast of the island of Sumatra, late on Monday, triggered tsunami warnings. Indonesia, Sri Lanka, Thailand and India issued tsunami warnings, but fears of a tsunami seemed to subside after about three hours and they were scaled down. Thailand's Prime Minister Thaksin Shinawatra, wary of the need to restore confidence in tourism, said a public tsunami-warning system would be ready soon. Occupancy rates in hotels on the island of Phuket were reported to be about 40% - down on the 75% occupancy of March 2004. "It might have some psychological impact among some guests," said Pattanapong Aikwanich, president of the Phuket Hotels Association. "There have been some cancellations, but nothing significant." Tourism chiefs across the region have been trying to restore confidence in the industry after the 26 December tsunami. "As a direct result of the tsunami there is a risk that 9% of international travellers planning a holiday in 2005 have switched their travel plans to other regions," a report published earlier this month stated.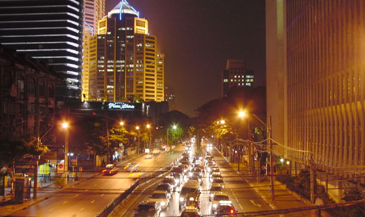 Downtown Bangkok
The "Post-Tsunami global travel intentions" report, commissioned by the intergovernmental World Tourism Organisation (WTO), highlighted how those worst affected by the tsunami have also been the ones hit by the sharpest falls in visitor numbers. "Since the tsunami disaster, there has been a significant drop in international travel to affected tourist destinations such as Phuket in Thailand, Sri Lanka and the Maldives," said James Murray, executive with Visa International Asia Pacific, which co-authored the report.