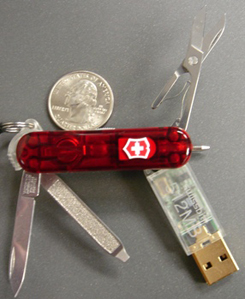 Over the years VICTORINOX's Swiss Army Knife has always been one of the most coveted all-around pocket tool. Synonymous with the proverbial Swiss quality, this versatile and practical mini tool's world-wide presence has been its distinguishing characteristic. Since its establishment in 1884, the company surprises the market every year with new and improved versions to stay ahead as a market leader of pocket knives and multi-tools. Paul Camenzind, Victorinox's Area Sales Manager, Export Department spoke to the Dubai Evening Post during his recent visit to the UAE "Last year we introduced our the 'Swiss Memory," a USB storage in a pocket knife for computer users on the move. This is the first time that an original Swiss Army Knife has been equipped with a USB memory," said Camenzind.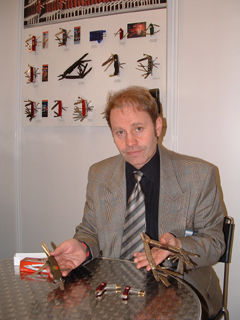 This innovative addition is available with a memory capacity of 64MB - 512MB and enables the storage date of any kind, like business cards, business or family projects, photos, MP3 audio files, video files and can be used with any USB computer connection. It is also available in two versions; one with a stainless steel blade, scissors, a nail file with screwdriver, a ball point pen and a red light, while the other one called the 'Flight Version' includes a red LED light and a ballpoint pen and is especially aimed at people who likes to work in the airplane while travelling.
"Recently, another new high-tech line has just been added to our product for use in the military as an integrated device," Camenzind said. The Victorinox Altimeter is loaded with 17 features precision crafted to the highest standards. The tool, made of high-grade stainless still for durability, calculate the altitude on the basis of atmospheric pressure. It measures temperature in Fahrenheit and Celsius as well altitude in feet and metres.Another new range which has just been recently introduced in the market is called the 'Voyager Lite' and features 23 functional and useful tools with an integrated white LED flashlight, digital clock with alarm and timer.
When asked if they have plans to open factories out of Switzerland, Camenzoid replied: "No we do not, as part of their quality management, we owe it to the reputation of our brand to have all our products be made in Switzerland. With regards to imitations, Camenzind said that although there is an enormous amount of imitations from the Far East, these products will never reach their quality. "Our main aim is the brand protection of our products and all efforts are being exhausted towards limiting these threats with specific brand strategic measures," he added. He concluded that discussions are in the process with the UAE Armed Forces to provide them with their latest products.