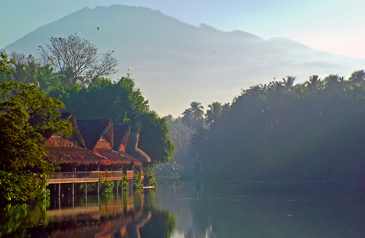 Villa Escudero — Villa Escudero is a resort which showcases daily Philippine life and a museum of its history. At its heart is a serene river where one can stay in huts that jut over it. Photo Courtesy Geodino Carpio
The Korea regional office of the Philippine Department of Tourism (DOT), is gearing up for a dynamic change in the Korean market with new tourism deals. Recently, it has recruited the journalist-turned PR & marketing specialist Maureen Kim as marketing manager of its Korea office in a strategic bid to put new Philippine tourism products on the spotlight. Kim has taken over the job previously held by former Korea Regional Representative Cho Myong-ho who retired on March 31 this year. On April 1, its Seoul regional office moved into the new premise of the Philippine Embassy in Korea located at Itaewon, downtown Seoul. "The international network of Philippine tourism is now under restructuring process and a few overseas offices, including Paris office, are likely to be closed or downsized," she observed.
Calanggaman Island between Cebu and Leyte. The water near the beach is full of corals and fishes. Visited most of the time only by fishermen. Photo Courtesy Benedict Kwok
Korea, along with Japan and China, are emerging as key inbound markets for the Philippines which generated some US$1.99 billion in revenue last year, up 30.7% from the $1.52 billion it booked the previous year with 2,291,352 tourist arrivals, a 20.1% growth from a year earlier. The lion's share of tourism budget of the Philippines is set aside for these three markets because Korea, in particular, is rated as a larger inbound market for the Philippines after the United States.The detailed marketing strategies for Korean market are being worked out in Manila and promotional programs will be launched sooner or later, she said.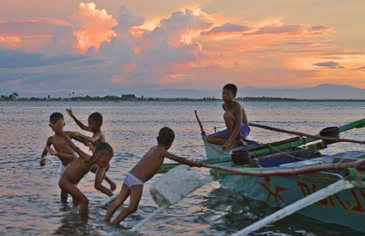 Sundown Swim — Kids are playing with thier dad's fishing boat in a little fishing village in the most northern tip of the Philippine Islands. Photo Courtesy Charles Ed II Aguilar
"Wow Philippines" has thus been used as a metaphor in branding Philippine tourism in Korea and worldwide. The Philippines has recently changed its marketing strategies in Korea by coining new marketing catchphrase for exclusive use in Korea like "More than the Usual Warmth - Feel the Philippines" which eventually lends the message of partaking the experience of how it is to be a part of the islands and the people. The new words represent segmentation of the Philippine tourism resources. DOT intends to launch aggressive advertisement campaigns through Korean TV networks including cable TV outlets this year, Ms Kim said. One encouraging development for the Philippines is the ever-growing number of Korean tourists to the Philippines notably honeymooners who would otherwise be heading for Phuket and other Southeast Asian destinations if there was no tsunami disaster late last year.In the meantime, Tourism Secretary Joseph "Ace" Durano is scheduled to attend Korea World Travel Fair, KOTFA 2005 to be held at COEX in downtown Seoul in June this year. While here, he will unveil detailed market promotion plans here in Korea for the year 2005.
.