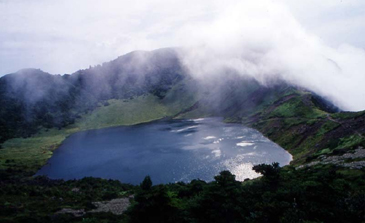 A lake called Baeklokdam on top of Mt. Halla on Juju Island
People in Jeju are happy; they look healthy, content, and generally less bothered with what time it is than the average city bound Korean. Minimal high rises, a cleaner environment, diverse nature, beautiful coastal scenery, a slower pace of life, and grass. I mean who wouldn't be happy?As we looked down on the glimmering ocean, fringed by sun- kissed tangerine groves, it was hard to comprehend that we were in Korea at all. For the few days we spent there, we stumbled around in a dreamlike state, savoring every moment of this precious time away from hectic Seoul.When the time came to depart, we were very reluctant to leave, we had to literally force ourselves on the plane. We had decided we wanted to stay here forever — after all, who would want to get back to the city after experiencing this paradise on planet Korea?
Why go?
Jeju is a beautiful sub-tropical island off Southern Korea — Korean friends will tell you, it's unlike anywhere else in the country. Think palm trees, sun-drenched mornings and juicy orange groves. Jeju is also known as the island of many winds, many stones, and many women. Now do you get the picture?
Where to stay?
Spring flowers in full bloom on e Jeju
Set amongst the tropical landscape in the Southern area of Seogwipo, The Paradise Hotel offers the only Mediterranean style accommodation on the island and is in keeping with the environs. Part of the Relais & Chateaux group of hotels, its tasteful architecture and beautiful cliff side location make it one of the most sought after hotels on Jeju.
Each room is designed with a different style, like African, Scandinavian, American, or Mediterranean, and all have views which look out onto the ocean. A buffet breakfast is served in the Italian restaurant, which includes a smorgasbord of Continental and Korean style cuisine and has a breathtaking view of the tropical gardens lined with palm trees and flowers. The sauna is located in the annex next to the hotel and has two types of saunas — wet and dry. It also has hot and cold baths. The hotel itself has lots of unique attractions like Syngman Rhee's Museum, a cliff top walk, waterfall, gallery, and an antique jewelry shop. The area that the hotel is situated in is truly magnificent with breathtaking views. It's a tourist attraction in it's own right. Check
www.paradisehotelcheju.co.kr
for further information.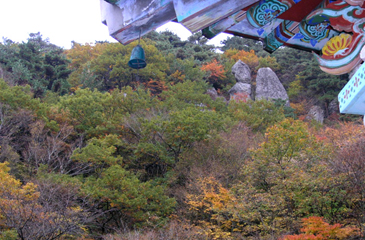 Autumnal beauty of Mt. Halla on Jeju Island
What to see?
There is so much to do on Jeju that you could not write about it all, so here are just a few favorite places. The best way is to make your own itinerary and not just follow the masses. If a place is mobbed with people it can be frustrating, so exploring on your own can often be more relaxing and quite often more of an adventure. Hiring a car is a good option if you want to pack in the tourist sites or just to have your own freedom. Here are a few ideas:
Mount Halla
Undoubtedly the main attraction on the island is Mount Halla. A natural wonder in itself, it juts out from the middle of the island. This is one volcanic mountain to check out at any time of the year as it boosts different colors each season. There are over 1,000 different plants and over 4,000 different species of animal around this area. If you are fit, you can reach the peak and back in one day — where the views of this volcanic island are spectacular. However, it can get windy on up there, so bring a wind sheet and be sure to check whether the mountain is open for trekking first. The views from the top are worth the pain at any time of year.
Jungbang Falls
Jeongbang Falls
Jeongbang Falls is one of the three major waterfalls on Jeju Island. The others are Cheonjiyeon and Cheonjeyeon falls. Jeongbang Falls is some 1.5 killometers southeast of Seoguipo. The 23-meter-high Jeongbang is Korea's only waterfalls whose streams flow directly into the sea.Photo Courtesy The Paradise Hotel & Colin Everett
This waterfall is a great place to relax (so long as it's not peak season) and also a place to catch a glimpse of the female divers doing their thing and drumming up customers for fresh fish. These dramatic falls cascading from a steep cliff into the ocean, are the perfect way to get into nature and unwind.
Jungmun Beach
The beach at Jungmun is slick and sophisticated. Bordered by greenery, its picture-perfect location is hard to beat. It's a shame about The Hyatt sticking out on one side, it's a bit of an eyesore compared to the rest of the landscape. This, however, is a gorgeous, yellow, sandy beach with a crisp ocean just waiting for you to take a dip. The area is where the jet set hangs out with some major hotels around this area including the ultra posh Shilla. Some of them wouldn't look out of place on a hot and steamy Californian coast. The aesthetics here are stunning and it really is a beach you'll want to kick back on.
Harubang
You may notice a few small smiling men on your travels; these are not your average Korean men. They are Harubang! These little grey stone statues are dotted all over the island and were once purported to aid a women's fertility — if you rubbed their noses. Whether that's likely or not, you can't help but feel endeared towards these happy little grinning fellows.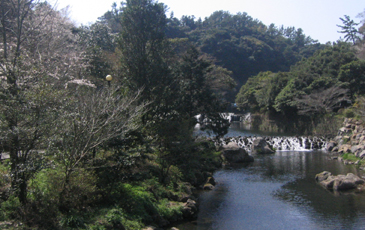 A scene of Jeju Island
Where to eat?
Jeju is famous for its fish — in particular, its scallops. If you see the famed female divers you will no doubt see buckets of fresh fish on display. Often side dishes in restaurants consist of fresh prawns instead of kimchi, and even oysters or scallops.Seogwipo is a small city really but there are plenty of places to sample some good fare. The Seogwipo fish markets are a fine place to start with an abundance of fresh fish (raw) restaurants. Just hit the center and follow the weird and wonderful smells.For barbequed pork, go to The Korean Pantry just off the main street off to your left. The downtown area is so small that you won't miss it. This buzzing restaurant with an intimate courtyard serves excellent samgyepsal (pork) with an astounding array of banchan (side dishes) including mashed potatoes, stir fried vegetables, and fresh prawns or oysters. Just take a taxi to downtown Seogwipo, it won't cost much and there's no fear of getting lost.For coffee, go to Veltro. It is also recommended in Lonely Planet, and the book is actually correct on this one. This little shop lives up to it's reputation. Don't let the exterior put you off; this coffee shop serves a really tasty latte at the right temperature. There is Italian memorabilia and books inside to persuade you that the owner has actually tasted the real Italian stuff. It's great that the owner cares about serving good coffee that's tasty and won't burn your mouth off. They also serve smoothies and have a tempting chocolate selection for those with a sweet tooth.
Oranges are the only fruit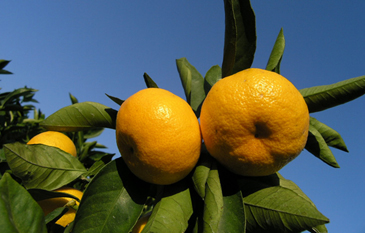 Tangerines on Jeju Island. Tangerines used to be the major sources of income for many farmers on Jeju Island.
Of course it would not be fair if we didn't mention the famous Jeju oranges and tangerines. You'll see the stalls dotted along most roadsides. These little beauties are so delicious that most people end up falling for them and bringing a box or two homes. Take them out and they are tasty indeed.
Take me there
To Gimpo airport: Just take subway line 5 (purple) from any of the connecting stops in the city, the journey takes roughly 40 minutes from Jongo 3 (sam)-ga.By air: Asiana Airlines fly regularly from Seoul to Jeju and the journey takes around one hour. The price can be as cheap as 80,000 won return during special offers. For more information check
www.asiana.co.kr
Airport limousine to Seogwipo: From Jeju airport you can get the limousine number 600 to Seogwipo. The journey takes around one hour and costs 5,000 won for a one-way ticket. You can buy it on arrival, just go to tourist's information.For further information on Jeju and full in-depth listings of all its accommodation and attractions check out
www.tour2korea.com