Ex-Daewoo Chairman Kim Woo Choong
The fugitive ex-boss of Daewoo Group Kim Woo-Choong came back to Seoul June 14, 2005 to turn himself in to the nation's prosecutors.He arrived at Incheon International Airport from Vietnam at 5:26 in the morning on Asiana Airlines' flight OZ 734 which departed from Hanoi.Kim was arrested by prosecution investigators upon arrival at the ariport and taken in a car to the Prosecutors' Office in Seocho-dong in Seoul for the investigation."I will take the whole responsibilities for Daewoon Incident," said Kim. "I feel really sorry for the incident."When he landed Kim was accompanied by four aides — a medical doctor, a lawyer, and two of his former company officials.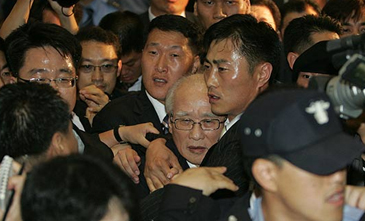 Kim Woo-Choong is surrounded by policemen and civic group members who asked for Kim's punishment at Incheon International Airport near Seoul early in the morning on June 14, 2005. Photo Courtesy YNA
As Kim appeared from the boarding gate scores of civic group members clashed with airport policemen, clamouring for Kim's punishment. Kim Woo-Choong fled to China October, 1999 after Daewoo Group, one of South Korea's three biggest business conglomerates, collapsed with debts of $80 billion.Seven other former Daewoo executives were found guilty of a variety of fraud, and Mr. Kim are facing similar charges. He had been wanted by South Korean government ever since.The Daewoo conglomerate's best known subsidiary, Daewoo Motors, is now owned by US carmaker General Motors. Mr Kim's whereabouts had been a mystery, though there had been reports of him living in Vietnam and Europe. National opinion is sharply divided on the punishment of Kim. There have been strong arguments both for and against the former founder of the then South Korea's third largest business group. Many people argue that Kim should be punished whereas some talk about leniency for him for his contribution to the development of South Korea's national economy.Mr Baik said the 69-year-old tycoon was in poor health.
Forbes' peopleWho Is Kim Woo Choong?
By Marcella Bernhard & Davide Dukcevich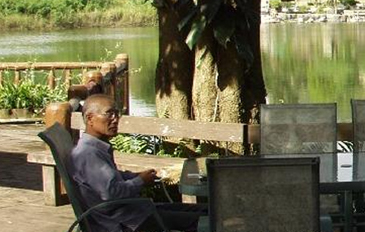 Ex-Daewoo Chairman Kim Woo Choong relaxing in Vietnam while he was avoiding the arrest for Daewoo Incident.
SILICON VALLEY — Is Daewoo Group founder Kim Woo Choong fiddling as his former empire burns? During his 40-year reign, Kim transformed Daewoo Motor into South Korea's third-largest carmaker and a heavy lifter in the national economy. The businessman saw the end of the company's 1978 partnership with U.S. carmaker General Motors (nyse: GM) and went on a spending spree in the mid-1990s, investing in auto factories in India, Uzbekistan, Romania, Poland and Iran. But when the Asian financial crisis hit in 1997, Kim made the big mistake of taking on more debt instead of scaling back operations. His strategy failed badly. The automaker declared bankruptcy in early November, 2000, and is in court receivership. Now Daewoo Motor is $10 billion in debt. Kim, who faces criminal and civil fraud charges related to the bankruptcy, has fled the country and is rumored to be holed up in a luxury estate in France.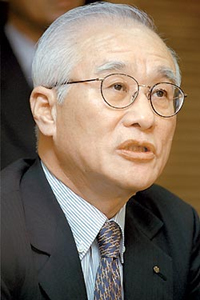 Kim Woo Choong
Meanwhile, Daewoo Motor executives are frantically cutting jobs in hopes that U.S. giant GM and Italian automaker Fiat will acquire the company. Some 2,400 employees have left through early retirement since November, and on Jan. 4, the company announced plans to lay off 6,884 of its 18,000 employees. Daewoo Motor officials say an additional 4,484 employees must leave by the end of January to satisfy the company's creditors.
The news could lead to a strike later this month by the carmaker's union. Members had rejected a proposal last fall to cut 3,500 workers but the union is now faced with nearly twice as many job cuts. A walkout could cripple the Korean automaker's chances for a selloff. Another American automaker, Ford (nyse: F), decided to forgo a nonbinding $7.7 billion agreement to acquire the company after reviewing its finances in September. Former partner GM, which split from Daewoo Motor in 1992, expressed interest, but a slowing American economy and sluggish European sales are said to have dampened GM's enthusiasm. A strike by Daewoo Motor's powerful union could kill GM's already diminished appetite for the deal, says David Healy, an auto industry analyst at Burnham Securities. "Operationally and financially, [Daewoo] is a can of worms," Healy adds. "There was some talk of GM offering $5.9 billion; $5.90 would be a better proposition."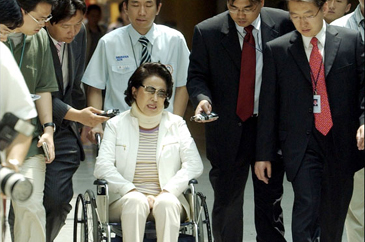 Kim wife Chung Hee-Ja in a wheelchair leaves Seoul for Italy through Incheon International Airport on June 8, 2005. It is not clear if she will meet with her furtive husband.
Other problems for a potential buyer are the mounting charges against Kim and 40 other high-ranking company executives, who are accused of misappropriating overseas funds and could face criminal and civil charges. In an audit of 11 companies under the former Daewoo Group umbrella, including Daewoo Motor, a South Korean team of accountants found an estimated $9 billion missing from the company's overseas business transactions in fiscal 1998 alone, according to the Korea Herald. Meanwhile, there is no word from the company's former champion. Kim left Seoul, South Korea, for a meeting in China in late 1999 and never returned. One report says Kim is suffering from heart trouble and is under the care of physicians in Frankfurt, Germany, but Korean newspapers report he is staying with friends at a mansion in Nice, France, and playing golf. Another rumor is that the former chairman is living in Sudan. No matter what, Kim is asleep at the wheel.