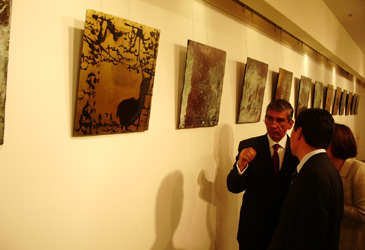 Amb. Jorge Enrique Mora Rangel (left) viewing Luis Luna's works
Ambassador Jorge Enrique Mora Rangel of Colombia held an art exhibition of his fellow Colombian painter Luis Luna at the National Library of Korea in Seocho-dong, Gangnam-gu, Seoul Aug. 25, 2005.A total of 12 of Colombia's new generation painter's works of arte are now displayed under the title of "Chronicles of the Indies" for the local people at the National Library's exhibition room on the first floor free of charge from 10 a.m. to 5 p.m. everyday. The exhibition runs until Sept. 15, 2005.Luna's Seoul exhibition is the fifth on his world tour following New York City, Beijing, Macao, and Hong Kong.Currently, Luis Luna is widely perceived as a modern artist sitting at the forefront of a new generation of Colombian artists. Luna favors to paint on the glass with a particular penchant for using copper and other unique materials.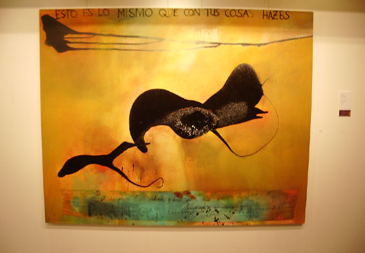 "Black Foot" - Mixed technique on canvas, 160x200cm, 2004
Among his 12 works are two series: "The Silk Route" and "The Rubber Route." The series on "The Silk Route" was born in the 90s while Luna was assimilating all the paths and routes he had followed traveling in Uzbekistan.Another Luna's series was the one he developed in the year 2000 where he was trying to absorb the landscape of the Amazon jungle within the context of the "The Rubber Route."Other works include "Black Foot" - Mixed technique on canvas, 160x200cm, 2004, "Landscape" - Mixed technique on canvas, 60x60cm, 2005, "Ram" - Mixed technique on metal, 1x1m, 2002, and "Mr.Brown's Notebook" - Enamel on glass, 30x60cm, 2005."With this exhibit we want to present, through the universal message of art, the affect and respect for the Korean people, and our interest in showing the work of one of the most important artists in Colombia," said Amb. Mora in an opening ceremony held at 5 p.m. Aug. 25, 2005.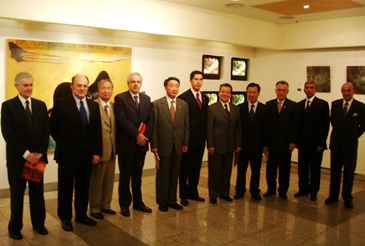 Amb. Jorge Enrique Mora Rangel (second from right) poses with other foreign ambassadors at Luis Luna's exhibition in Seoul.
The exhibition drew a number of guests from both local people and diplomatic corps members particularly from the embassies of Latin American countries.Among the diplomatic VIPs were Amb. Rodolfo Ignacio Rodriguez of Argentina, Amb. Adolfo Carafi Melero of Chile, Amb. Pedro Goyenaga Hernandez of Costa Rica, Amb. Rafael A. Salazar of Guatemala, Amb Daniel Abrego Echeverria of Panama, and Amb. Jorge Bayona Medina of Peru.In the opening ceremony the top Colombian envoy introduced Luis Luna as the most representative Colombian artist of all to the both local and foreign attendees.According to the Amb. Mora, Luna showed up on the Colombian art scene in the late 1980s after completing his studies in fine art in Germany. He emerged as a prominent artist during a period when artists were experimenting with conceptual art and exploring it as means to express ideas.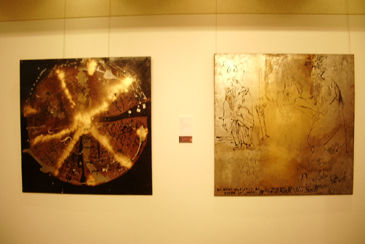 Luis Luna's "Ram" - Mixed technique on metal, 1x1m, 2002
The general-turned ambassador went on to explain that Luis Luna addresses the ancestral vacuum left by an extreme change of course generated by the Spanish Conquest in America.Luis Luna quotes fragments of the Spanish Chronicles of the 17th century, as well as the songbooks of the cathedral in his paintings. The artist makes a graphic art of that period and includes them as ornaments, developing a hermetic code in his work.Amb. Mora also added that in his Seoul exhibit, Luna leaves a testimony of his versatility. He uses different forms of expression and leaves behind rusted metals in bronze that pick up time as it passes by and on which he draws the human condition.Luna's oil paintings contain a variety of elements. Landscapes that roam over different geographies with his unique manner of using color; reds, blues, ochre and black stains that are definite provide gravity to the pictorial surface.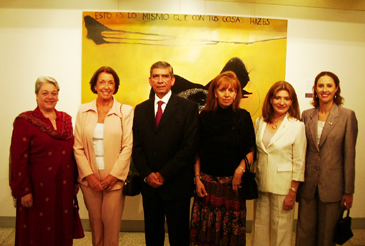 Amb. Jorge Enrique Mora Rangel (third from left) poses with his wife Mrs. Mora (third from right) and the wives of other foreign ambassadors at Luis Luna's exhibition held at the National Library of Korea in Seocho-dong Aug. 25, 2005.

Through this exhibition Luis Luna provides the audience with a personal testimony of the reason for being. His paintings portray a code of his own statements about art, life, philosophy, and history, Amb. Mora said in his congratulatory remarks.
For details about the Luna's Seoul exhibition please contact Embassy of Colombia in Seoul at 82-2-720-1369/1361