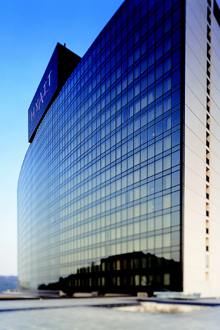 A Young Hispanic farm worker in US
August 29, 2005 — In response to overwhelming demand from Hyatt's Gold Passport® members to "bring back Faster Free Nights!," Hyatt has again teamed up with MasterCard® to resurrect its popular global promotion.For three months this fall Gold Passport members will earn free time while staying at Hyatt hotels and resorts, which they can redeem for stays in Hyatt destinations worldwide."We've received more phone calls and e-mails from excited customers asking us when the promotion would return than ever before," said Amy Weyman vice president of marketing, Hyatt Hotels Corporation. "Our Gold Passport members see great value in earning free nights at a Hyatt hotel."Faster Free Nights returns September 1, 2005 and continues through November 30, 2005. After every two eligible stays Gold Passport members who pay with their MasterCard card will earn a free night at any participating Hyatt hotel or resort worldwide.There is no limit to the number of free nights a member can earn. Gold Passport members can redeem their Faster Free Night awards beginning September 15, 2005 through January 31, 2006. No blackout dates apply."With such a rewarding offer, it's not surprising Faster Free Nights promotion continues to resonate with today's business travelers," said Fred P.Gore, senior vice president of North America Acceptance for MasterCard International. "We are truly pleased to continue working with Hyatt in bringing priceless vacations to our MasterCard cardholders." Hyatt's compelling television advertisement campaign will showcase the pleasure its Gold Passport members take in their free time earned through Faster Free Nights.
Participating Is Simple
To earn free nights travelers must be a Gold Passport member. Current members must register to participate in Faster Free Nights in order to become eligible for the free nights. New members who join Gold Passport during the promotion automatically become registered in the promotion. Registration is available online at goldpassport.com, by calling 1-800-51-Hyatt or through any worldwide reservation center. New Tool On Goldpassport.com Eases Tracking of Free Nights Introduced in early-June as part of the new functionality offered on goldpassport.com, the My Promotional Awards section makes tracking Faster Free Nights Awards as easy as possible. Members can track how many free nights they have earned, redeemed, and the number of stays needed to earn their next free night.The improved functionality and innovative design enhancements of the new goldpassport.com allow Hyatt's most loyal customers to better realize the benefits of Gold Passport membership.
For details please contact Ms. Hyun-Sook Kim, Marketing Communications Coordinator, Phone: 82-2-799-8491, email: hyunsook.kim@hyattintl.com