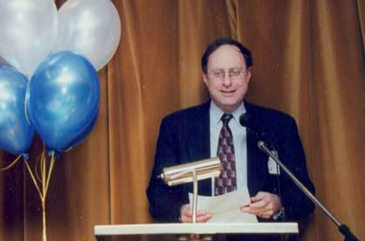 Alexander Vershbow in press conference
Former U.S. envoy to Russia Alexander Vershbow will be nominated as new ambassador to South Korea, Yonhap News quoted as the White House having announced Thursday.The ambassador-designate is a career diplomat and security expert.His nomination needs Senate confirmation.Vershbow's posts include U.S. ambassador to the North Atlantic Treaty Organization (NATO), special assistant to the president, and senior director of European affairs at the National Security Council.He was ambassador to Russia from July 2001 to the end of last year.Thursday's announcement is a routine prelude to a formal nomination, indicating that needed paperwork has been sent to Congress.The formal nomination will be made next week when Congress reconvenes. He is expected to arrive in Seoul withing September if Congressional hearings for his nomination proceeds spidily. The ambassador's post has been vacant since April, when former envoy Christopher Hill, now assistant secretary of state, returned to Washington.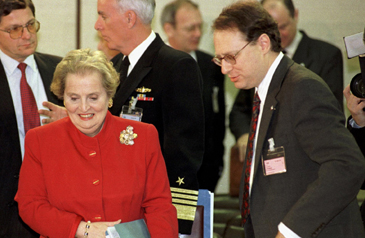 Alexander Vershbow (right) with Madeleine Albright, then US secretary of state
Vershbow has dealt mostly with European issues, especially Russia, and with disarmament and nonproliferation. He was the desk chief for Soviet affairs when the nation and the communist bloc of Eastern Europe collapsed.While serving in Moscow, the diplomat occasionally created tension with his outspokenness on human rights issues and the progress of democracy under Russian President Vladimir Putin."Amb. Vershbow may not have direct experience on Korea, but considering his expertise from NATO years on disarmament and nonproliferation, and from his experience with the former Soviet Union, Amb. Vershbow would know about dealing with North Korean affairs," a diplomatic source here said.The diplomat is said to have close ties with both Secretary of State Condoleezza Rice and Assistant Secretary Hill, who are believed to have recommended him for the Seoul post."Teamwork among them was probably an important element in his nomination," the source said.A passionate drummer often called by his nickname "Sandy," the diplomat is said to have been studying Korea and the Korean language for months.Ambassador Vershbow is a long-time student of Russian and East European Affairs. He received a B.A. in Russian and East European Studies from Yale College in 1974 and a Master's Degree in International Relations and Certificate of the Russian Institute from Columbia University in 1976.He has held a series of assignments since joining the Foreign Service in 1977, including postings to the U.S. embassies in Moscow and London and advisor to the U.S. Delegation to the Strategic Arms Reductions Talks in Geneva.Ambassador Vershbow was director of the State Department's Office of Soviet Ambassador Vershbow was born in Boston, Massachusetts and has long been a resident of the District of Columbia.