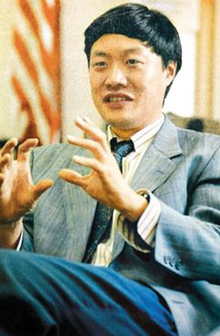 Robert Ogburn. His Korean name is Woo Chang-Jae.
Former adoptee has returned to Seoul as a US diplomat. He changed his job from bank official, author, eiditor, producer, and to diplomat in the United States.South Korean-born US diplomat Robert Ogburn started his duty as a spokesperson at the US Embassy in Seoul Aug. 23, 2005. His Korean name is Woo Chang-Jae.Born in a rural village north of Seoul in 1959 Ogburn was adopted to the US when he was just 10 month old. He grew up in the east coast of the US.Ogburn served as a press and cultural attache to the U.S. Consulate General in Ho Chi Minh City, Vietnam, and as a press officer in charge of foreign correspondents covering US State Department in Washington DC.
He also has been involved in international affairs including the NATO summit and Middle East peace talks.In 1988 Ogburn volunteered to serve at the US Embassy in Seoul. From 1991 to 1993 Ogburn was in charge of American Cultural Center in Daegu, South Korea.When in high school Ogburn was a president of the students club. Ogburn graduated from the University of Maryland at College Park in 1982. He majored in international relations, writing a thesis on "Human Rights Situation in South Korea and How Church Influences the Nation." Ogburn went onto graduate school, receiving master's degree from George Washington University and Johns Hopkins University, respectively.His thesis for M.A. degree at George Washing University was "US Troop Withdrawal from Korea under Carter Administration."Prior to becoming US foreign service office Ogburn worked as an author and producer. He also worked as stock trader for an investment company before he took the break-neck test to become a US diplomat in 1987. The competition ratio was 100 to one.His first novel, "Baltimore Gnostics (1992)," was sold more than 40,000 copies. It was translated as Monggae (멍게) in Korean. In 1993 he wrote "Encounters with My Mother Country."In 2002 he co-authored "After The Morning Calm: Reflections of Korean Adoptees."Ogburn and his Vietnamese wife, Thu-hang, have two children. He married his wife in 1988.