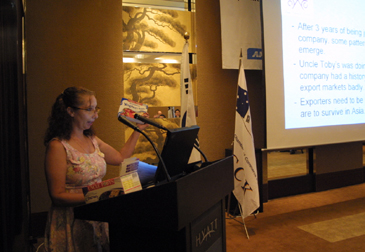 Ms. Adrienna Zsakay, president of Asia Connect Korea,speaks.
ANZCCK Chairman Les Edwards recently hosted a breakfast forum at the Grand Hyatt Hotel for Ms. Adrienna Zsakay, president of Asia Connect (Korea), who spoke on "How Tough Can Business in Korea Be? —Try Being a Foreign Woman Running a Food Import SME!" At the forum held on Sept. 13, 2005, she told the audience how she started her business and the ups and downs of her succsss story as a foreign business woman.The advantages as well as disadvantages of conducting business as a female foreign CEO in Korea were presented in front of scores of ANZCCK members.Her speech included valuable pieces of information on how not to commit cultural faux pas and on different characteristics of business environment in this "Land of the Morning Calm."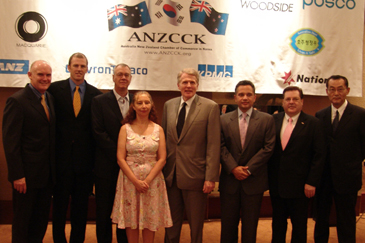 Ms. Adrienna Zsakay (fourth from left), poses with ANZCCK Vice Chairman Glen Feist (second from right), Amb.Colin Stuart Heseltine of Australia (fourth from right), and other VIP guests.
Here is the full text of her speech:The most frequently asked question I get is "Why Korea." The answer is simple: I came looking for more out of my life and I can confidently say that Korea gave me plenty of more.So who is Asia Connect? We are a small Australian company, 75 percent owned by myself with the remaining 25 percent owned by my business partner Willy Riesen, a Swiss national, currently based in the Philippines, with more than 30 years experience in the food industry specializing in food production. Asia Connect has zero market share, and our global strategy is "SELL FOOD!"However for those consumed by that obsessive concept of market share: we have 100 percent market share of fresh southern bluefin Tuna and 100 percent market share of the fruit bar market. In our first full year of doing business, our total sales were: 76,576,896 won. Basically no one wanted to do business with me. As a foreign woman, the Korean purchasing managers (read: men) found it difficult to establish a relationship with me. And at that time my definition of "business relationship was very narrow."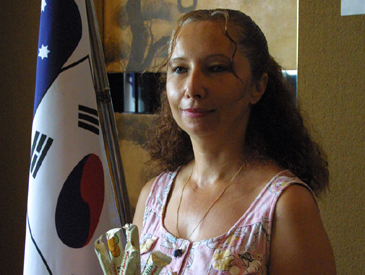 Ms. Adrienna Zsakay, president of Asia Connect Korea
Furthermore to move some portion of their purchases to a company run by a foreign woman who was obviously under-capitalized and destined to fail in such a difficult market as Korea was too risky regardless of the quality or how price competitive we were. But the Asia Connect story does not begin here. It begins one year later after I lost everything. I had just traveled back to Australia with a tight schedule to meet with all my suppliers, many of whom I had not met just brought products from when, after being in Australia just two hours, my Korean secretary called to notify me that I had lost everything. At that time I had a choice to pack up and stay in Australia or keep going forward – somehow. I choose the latter, kept all my appointments with my suppliers but informed them the rules of engagement had changed and would they be prepared to provide me with an open account of 60 days – all said yes. It was at that point that I learnt my first business lesson "Never stop pedaling." No matter how hard the going gets or how steep those hills seem, never stop your momentum and keep pedaling as hard as you can – always.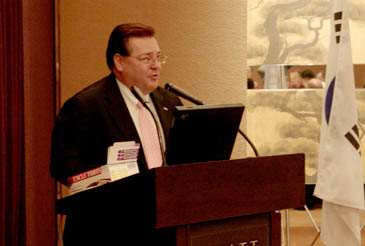 ANZCCK Vice Chairman Glen Feist speaking
Upon coming back to Korea, I arrived in my office with a note from my secretary telling me that as I had lost everything, as there was no way to me to survive she had to think about her own future, which was not with me. So I started 2002 with no money, an extremely small amount of stock that had been left in our office and no staff. From that point onwards, I only concentrated in rebuilding the company and I brought and sold almost any food item that my customers required. And at the same time putting a lot of time and energy into UT's as I firmly believed that it was only a matter of time before the well-being trend would hit Korea. Whereas we did achieve quite good sales, Uncle Toby's proved to be an unreliable exporter with no flexibility and continual problems. It's not that I wish to criticize UT's, however I do believe they represent a good case study of a domestic company who wants to play at being an exporter. In 2004 I also had to take a good hard look at Asia Connect and where we were headed – which was no where really. As a trading company we had no value and were very vulnerable to our suppliers who could stop trading with us at any time or delete products at will.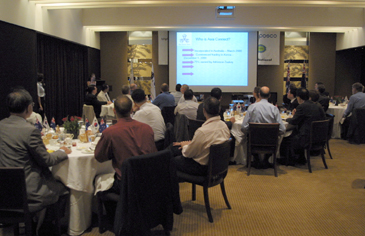 Breakfast forum at the Grand Hyatt Hotel
Furthermore we were selling products made in western countries for westerns tastes in English packaging. All the costs associated with putting a sticker onto each product and getting involved in consumer education was too high. Why couldn't we make a western style product that was formulated for Korean tastes and in Korean packaging? Or could only big company's undertake such projects? To launch Better Life Foods, I had to literally know a lot about everything. — packaging design
— food science
— intellectual property. If you look at one of our fruit bars, you'll see that the brand name is very small, yet on the designers computer it looked OK. I also signed off on the design where the nutritional information is incorrect. Salt: 26 gm instead of 26 milligrams. And finally I didn't know how long it takes for the patent office to check trade mark applications, so when I didn't hear back from them within one month I went ahead and printed our wrappers.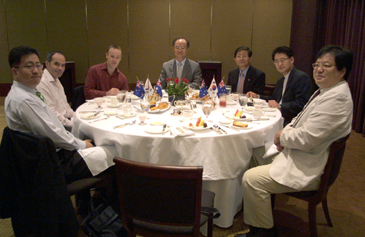 Participants at breakfast forum at the Grand Hyatt Hotel
So in a nutshell, I launched our own product with a brand name you can hardly see, enough salt to apparently kill you and someone else's trademark. Lucky I got the product right.Korean labor laws and small business: if you think that small business is exempt from labor problems you are much mistaken. Earlier in the year I fired one female employee for her continuous volatile and emotional behavior after I had given her three written warnings. Shortly after I received a notice to go to the labor court – which I was extremely confused about. She had been paid, including all her allowances. My crime: as the owner of a small company with less than five employees I am not allowed to make a decision on my own to fire some one – and this does not include consulting my business partner. Quite frankly I'm not sure how that works – but should I need to fire someone these days I will simply make life hell for them until they leave voluntarily. But as you have heard, I have hardly focused on addressing the title of the presentation "How tough can it be being a woman and running a SME in Korea" It's because many of the difficulties that affect my company, such as the tough regulatory environment are the same for company's like Coke, Nestle and all the company's that choose to do business in Korea. This has nothing to do with size or gender.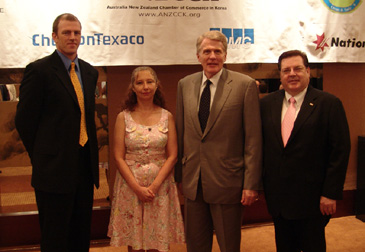 Ms. Adrienna Zsakay (second from left) poess with Amb.Colin Stuart Heseltine of Australia (second from right), ANZCCK Vice Chairman Glen Feist (right), and unidentified person.
There have been very few drawbacks on being a woman in Korea mainly because I chose not to buy into them. But some of the issues have been:1. Perception: in the beginning most businessmen treated me and my business as if I was running a hobby business, like so many ajuma's in Korea. 2. The issue of "the Korean way of doing business" – male bonding in a room salon. I first launched UT's in Korea's largest department store chain (who shall remain nameless) which was very successful. At the end of the promotion it was suggested to me that I take 5 men out dinner and drinking and spend between 700,000 and 1,000,000 won per person. This, I was told, was the Korean way of doing business and assisted with developing a strong and lasting relationship. After a few days of thinking about this, I went back to my potential customer and pointed out, in case they may have missed it, that I was a foreign woman and it was inappropriate for me to take five men out to dinner and then drinking.But more importantly I didn't know where this kind of behavior was to begin and end, how often was I to be asked to provide for this kind of entertainment and what real business was I to secure out of it. And more importantly when did sound business principals actually become part of the equation: such as quality products, good price, reliability and great customer service.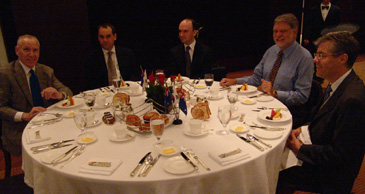 Participants at breakfast forum at the Grand Hyatt Hotel
Their reply: the Korean way or the door. I chose the door and walked straight out of there to their competition where for more than three years I had a great business relationship until I stopped selling UT's. The benefits of being a woman in Korea:
— To import SBT into Korea requires a special document called a statistical document. Last year CX lost this document which meant that I couldn't clear the Tuna and I had two promotions in two different hotels to begin that particular night. I, of course, raced down to the Fisheries Department to persuade them to release my Tuna as we had a history of no mistakes.However after more than two hours, I was getting no where with two older men who were not prepared to allow me to clear my Tuna without a duplicate certificate, which would take three days at least to get. So I played the only card I had left – I cried. 10 minutes later I walked out of there with my Tuna and 3 days later they got a duplicate document – everyone was happy. I can't imagine my male colleagues pulling such a stunt. — Bad debts: After nearly five years of doing business, AC has not one bad debt. Nothing makes a Korean man lose face faster than having a foreign woman turn up at his office with a cut lunch, a blanket & pillow looking ready to settle in for the long haul until the bad debt is paid. I have always been paid within the hour and never lost one customer over my methods – only the rules of engagement have changed from payment at the end of the month to cash on delivery. But the greatest challenges I face are not the business environment but within my own office. Getting my staff to believe in me and my methods day after day, and getting them to understand and implement, what they consider a rather unconventional way of doing business – largely based on gorilla marketing tactics and sheer determination. Their concepts of working for a foreign company did not envision what we get up to.
For questions or other details please contact Ms. Kim Chaffey on behalf of Lyn Griffen, executive director, Australia New Zealand Chamber of Commerce in Korea 112-35 Itaewon-1-dong, Yongsan-gu, Seoul 140-863, KoreaTel: +82 2 790 2205; Fax: +82 2 790 1557Mobile: +82 (0) 11 273 0131Email: exec@anzcck.orgWebsite: www.anzcck.org