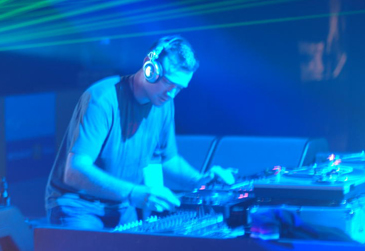 DJ Tall Paul on the turntables at Renault F1 Party
Renault F1 Team and 02 Productions joined forces with Gatecrasher to put on a spectacular dance event at the Walkerhill Hotel in Seoul last Saturday (Oct. 1, 2005). One of the worlds top DJs, Tall Paul was flown in from the UK to headline the event.The theatre at the Walkerhill Hotel was transformed for the Renault F1 Team party. Hundreds of Korean and foreign clubbers paid 25,000 won and crammed into the venue where international guest DJ Tall Paul, voted No.19 in the DJ Magazine 'Top 100 DJ Poll', received a great reception and was accompanied on stage by the Odyssey Dancers and some of Korea's finest young DJing talent including the Pumping DJs (DJ Devil and Jerry M) who recently won the Heineken Thirst national DJ competition.Also on stage was one of the actual Renault F1 Team racing cars as driven by Fernando Alonso who recently stole F1 legend Michael Schumacher's crown by becoming the youngest ever diver to win the F1 world drivers' championship. Renault will be competing in Japan this weekend as they strive for the title double by attempting to win the constructor's championship too.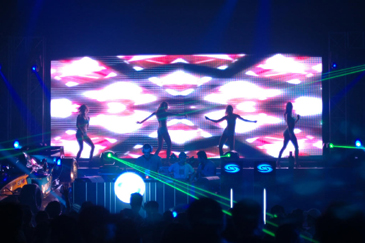 Odyssey Dancers Live on stage
No expense was spared for the joint GodsKitchen and O2 Pro production with an awesome sound system, laser light show and series of video graphic projections onto massive screens behind the stage. Unfortunately Renault F1 Team driver and championship winner, Fernando Alonso who was scheduled to make a guest appearance on stage had to pull out at the last minute due to commitments at the Tokyo Grand Prix.02 Productions are the leading dance music promoters in Korea, "We are trying to bring a variety of international DJing talent to Korea and educate the Korean audiences as their hunger for dance music increases," said Jimo from O2 Productions. "In the past we have brought some of the largest European and American DJs to Seoul such as Amand Van Helden, Fergie, Anne Savage, Ferrie Corsten, and Carl Cox." Jimo also confirmed exclusively to The Seoul Times that Carl Cox is now 100 percent booked to play again on the 10th December at the Walkerhill Hotel. For further information visit the 02 Productions website: www.02pro.com or call them on 02-338-8313.