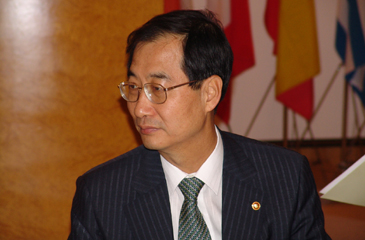 Deputy Prime Minister & Finance Minister Han Duck-Soo
Deputy Prime Minister and concurrently Finance Minister Han Duck-Soo said on Oct. 5, 2005 that the government will limit foreign exchange market intervention to an absolute minimum."Seoul will limit itself to the operation of smoothing out the dollar's sharp movement," Han said. Smoothing operations refer to intervention aimed at preventing hedge funds from artificially affecting exchange rates, which can be detrimental to trade and investmentHe stressed that it is not appropriate for the government to step in to restrict currency transactions over borders.
His comment came following the news that South Korea's foreign reserves came to US$206.73 billion as of the end of September, up $20 million from the end of August.The dollar value of assets denominated in euros and other currencies fell due to a stronger dollar but investment profits increased marginally, contributing to September's increase, the Bank of Korea said in a report.Investment profits tend to advance in February when interests on U.S. Treasuries are paid. South Korea invests the bulk of foreign reserves in U.S. government debt.South Korea was the world's fourth-largest holder of foreign reserves as of the end of September, the report said.Japan had the largest foreign reserves, $847.8 billion as of the end of August, followed by China with $711 billion as of the end of June. Taiwan trailed with $254.1.7 billion as of the end of July.Foreign reserves consist of securities and deposits denominated in foreign currencies along with International Monetary Fund reserve positions, special drawing rights and gold.