America
Prof. Maceri's special column
Tongue-Tied Bush?
Special Contribution
By Domenico Maceri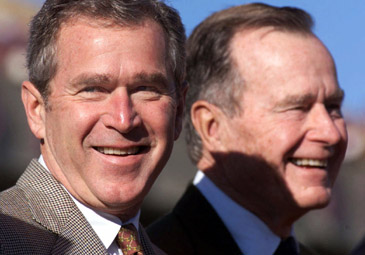 US President George Bush Jr. with his father, ex-US president
In May of 2000, Russ Whitehurst, assistant secretary for Education Research and Improvement, stated that the "No Child Left Behind" law focuses on educational practices reflected in "sound, scientifically-based research."Given the special needs of immigrant kids and the controversy about how to best educate them, the Education Department in 2002 appointed a panel of non-partisan university researchers to take a look at "existing research" on bilingual education. The US Government was supposed to publish the panel's findings and disseminate them.The panel has now finished the work but the government refuses to publish the results.It's not clear why, but a preliminary reading of the findings in draft form indicates that Bush administration officials did not agree with the conclusions. The panel suggests that the conservative English-only methodology of teaching immigrant kids is not effective.That confirms what everyone involved in education has known for years — bilingual education works well.Unfortunately, bilingual education has been hijacked by emotion. It happened in California, Arizona, and Massachusetts, which virtually eliminated bilingual education through the initiative process.In these three states the complex issue of bilingual education was reduced to a very simple choice between English and Spanish. Voters chose English by two to one margins.When experts tried to convince voters that bilingual education works as demonstrated by research, voters did not pay attention and kept focusing on the simplistic notion that English-only worked in the past and will work for today's immigrant kids.When Bush ran for president in 2000, he did not malign bilingual education and consistently stated that educational practices that work should be kept. And that included bilingual education.Texas, in fact, which has significant numbers of limited English speakers, continues its bilingual education programs. In all likelihood, though, emotion has not been much of a factor in bilingual education as a state issue. The Texas constitution does not have an initiative process and voters have not had the opportunity to be presented with the issue as a simple proposition as it has happened in California, Arizona, and Massachusetts. If the initiative process existed in Texas, it's quite likely bilingual education would have also been eliminated by the popular vote.The growth of the English-only movement also points to popular opposition to bilingual education. Twenty-seven American states passed legislation declaring English their official language.These laws have been spurred by the concern that rising immigration, both legal and illegal, might dilute the fabric of American society.The increase of immigrants generates a fear of losing control particularly with regard to language. Passing English-only laws and eliminating bilingual education intend to send a strong signal to immigrants. The US is and will remain an English-speaking country.Although the goals of bilingual education have nothing to do with creating a bilingual society, the average citizen sees in the program only Spanish and no English. Never mind that research clearly states that the best way to educate immigrant kids is through bilingual education, which not only includes English but also all other school subjects.Since the US has been moving to the right, particularly after the events of 9/11, it's inevitable that Bush also became more conservative than he was or claimed to be before his election of 2000.Education is never free of politics and the new conservative climate certainly influences how the kids of immigrants are going to be educated.That is unfortunate because education should be based on what works as demonstrated by research. That applies to American-born kids but also to those youngsters who come from other countries. Research says bilingual education is effective and Bush should go back to his moderate stance of 2000 and direct his underlings to makes sure no child is left behind regardless of what language he or she may speak.

Related Articles
Legal and Illegal Immigration: A Winning Hand ...
World Cup: Beyond the Soccer Field
John Kelly's Fails English and History
Trump's Tiny Heart and DACA's Repeal
Yesterday's Immigrants: Better Than Today's?
Trump's Alternative Reality on Immigration: a ...
Kaine's Español: Not Just Empty ...
Immigration: The Supreme Court Hands GOP a ...
Trump's Tax Returns: Our Business?
Trump's Wall is Full of Holes
Angry Latino Voters Will Deny Trump the ...
Bilingualism and US Presidents
Cruz: A "Canadian" for the US Presidency?
Spanish in the US: Just an Immigrant Language?
US Border Enforcement Bil Too Tough, Unwise
Freedom of Speech in English Only?
The GOP: No Guest Worker Program?
Tancredo: the Ugly Face of the GOP?
Rights for Illegal immigrants?
Healthcare for All?
No English, No Service?
When Language Knowledge Means Security
Enough Undocumented Workers?
Bilingual Principals?
Domestic Workers: Family Members?
Mexico in US
Is Immigration a Local Affair?
Voting Rights in Español
Profiting from Illegal Immigration?
Job Safety for All?
When English Only Discriminates
Border Control with Songs?
Guilty Parents, Innocent Children?
Only One Language for America?
George Bush: Already Lame Duck?
A Comprehensive Immigration Bill That Works
Language as Integration
Driving in English Only?
Illegal Workers Saving Social Security?
Learning Languages the Easy Way?
English-Only Laws: Why?
Arnold Schwarzenegger: Pete Wilson II?
Language Fluency Means Security
Stingy Government But Generous People


Other Articles by Domenico Maceri
Legal and Illegal Immigration: A Winning ...
World Cup: Beyond the Soccer Field
John Kelly's Fails English and History
Trump's Tiny Heart and DACA's Repeal
Yesterday's Immigrants: Better Than Today's?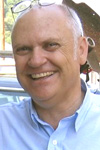 Domenico Maceri, Ph.D., UC Santa Barbara, teaches foreign languages at Allan Hancock College in Santa Maria, CA. His articles have appeared in many newspapers including Los Angeles Times, Washington Times, Japan Times, and The Seoul Times. Some of his stories won awards from the National Association of Hispanic Publications.