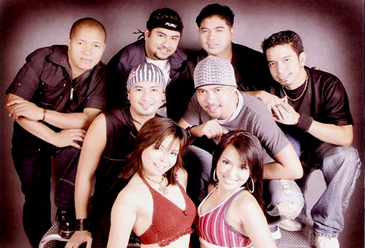 Fusion Band members pose for camera.
Areno, Millennium Seoul Hilton's hottest venue, is pleased to introduce live music to their nightclub atmosphere. Since Wednesday, Sept. 28, 2005 Fusion Band, Areno's new house bandhas been filling the nightclub with their electrifying tunes and catchy rhythms. Fusion Band is an eight-piece outfit, originally from the Philippines. They perform at Areno every Tuesday through Saturday from 7 p.m. to 11 p.m., starting Sept. 28, 2005 After 11 p.m., you can dance to the latest music from their international DJ. Listening to live music is an invigorating experience. Nothing beats the energy and excitement of a live performance. Fusion Band promises to electrify Areno clubgoers for a truly exciting night out! Areno also features six state-of-the-art Karaoke rooms! Fitted with the highest quality sound and video equipment, these rooms have you belting out tunes like your favorite pop star!From Tuesday through Saturday nights, Areno features Happy Hour from 7 p.m. to 9 p.m., when you can save on specially priced drinks in the form of Happy Hour packages. Every Wednesday and Saturday night, from 7 p.m. to 11 p.m., is Ladies Night, when the fairer sex can enjoy free standard drinks! Areno is closed on Sundays and Mondays. There is no cover charge at Areno.
For enquiries or reservations, please call Areno at (02) 317-3244 or visit our website at www.areno.co.kr.