Club Myungwolgan
BOOM! It's 2 a.m. in club Myungwolgan and DJ Beejay has just dropped Timo Mass's remix of 'Dooms Night'. Its twisted grooves and metallic bass line sends the dance floor wild. While outside, drunken revelers stumble from bar to bar in the hope of getting off or getting wasted, the crowd inside are here for one reason only. To dance. Myungwolgan represents everything that is good about the club scene in Seoul. Small, sweaty and full of atmosphere, it's the kind of place house music was invented for.The club scene in Korea is at a turning point. The parties are getting bigger and bigger, the major names are now checking Seoul.House legend Derrick Carter even named a Sickboy party in Seoul as his favorite of last year. Producers, promoters and DJs are emerging, both local and expert, and there is a feeling that the scene is about to blow up big time. The main players point to the enthusiasm of virgin clubbers, the thirst for the big names and the massive potential market that exists here. Whether this potential can be transformed into something more concrete remains to be seen.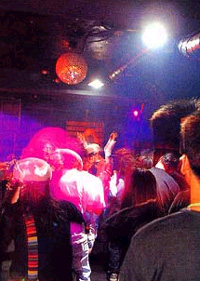 Club Matmata
There are as many minuses as pluses to the scene here; many fixable, many more complex, linked as they are to Korean culture. The transient nature of the clubbers, the Korean love affair with alcohol, the inaccessibility to dance music, the lack of decent radio stations. All of these factors are hindering the development of a real scene here. So it's Saturday night in Seoul and you want to know where to go. The scene here is scattered around the city, with its heart in Hongdae. Hongdae was where the first electronic clubs sprung up in the late 1990s. Robb Hart, aka Sickboy, one of Seoul's leading promoters remembers one club in particular. "There were a few clubs around the Hongdae area that played some electronic music, but only one, Sangsu Do, had a strictly electronic music policy. It was a small underground club that opened at midnight, and filled up at 4 a.m. when all the other clubs were closed. It had a good roster of local and expat DJs that would keep the place full until as late as 10 a.m.Fast forward to 2003 and Hongdae's soundtrack is the kick drum. The monthly 'club day' there cements it's reputation as the place to go in Seoul for those dance floor kicks. Basically it amounts to a club crawl around 12 of Hongdae's choicer night life venues.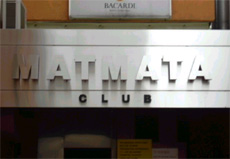 Club Matmata
Fork out 15,000 won and entry is free to all participating venues. Although the transient nature of 'club-day' can leave the atmosphere rather stale at times; for a newbie, it's a perfect introduction to the area. Stompers are another club on the strip; although not involved in club day, and for good reason. The music is resolutely commercial hip-hop and the crowd are made up of wannabes and never will be's posing and strutting. The bouncers wear quasi military uniforms and farting next to the wrong person could start a mass brawl. Avoid.
Aside from Matmata, Joker Red and M.I. are also worth checking. A newcomer on the block is Pink n' Gene. Not tied to any one promoter, they regularly hold original and ground breaking nights. The crowd is mostly Korean and many people still do not know about this place.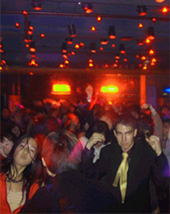 Club Jocker Red
However it's minimal decor and up for it crowd make it the perfect place to banish those midweek blues. Also a fairly recent addition to the scene is Spot. Owned by a married Korean couple, this place is like a metallic, sleazy bat cave. Once inside you will be greeted by hot pant wearing male and female staff that proceeds to strip off to string bikinis as the night wears on. It has been known for the punters to get naked too, so make sure you are wearing clean undoes.
Away from Hongdae and the situation begins to look rather desperate. Down the road from Hongdae is Sinchon, which resembles a massive outdoor brewery on a Saturday night. This is not the place to listen to dance music. Woodstock is a foreign favorite although as you might expect the music is more Bowie than break-beat. There are other venues scattered around Seoul, usually holding irregular events, and not well advertised. Apgujeong does hold some good parties every now and again, mostly advertised through word of mouth. Being in Apgujeong, there are a lot of posers who prefer to sit outside people watching. The area has a got a kick-start recently with some new clubs opening up.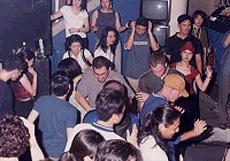 Foreigners dance in a Hongdae club.
Located where Mr. Boston used to be, Cube is the home of Sub-line's different nights, and looks set to become the place to go in Apkuejong. There are other clubs scattered around the area, such as Club Buzz, Club Linda and Club Chancing, but the quality can vary wildly, so it's best to know exactly what night you are going. Seoul's most notorious night life destination has to be Itaewon. Long the playground for the U.S. forces stationed nearby, the area specializes in it's own particular brand of after dark action. In truth, you are more likely to catch an STD than a decent club night there, with it's preponderance of hostess and juicy bars. The assorted losers, GI's, zombies and wasters that frequent the area make for an interesting if unpredictable mix. At times it's like revisiting the 1970s, with its 'saloon' bars, mullet businessmen and kitsch music.
There are signs that Itaewon is improving. The U.S. military curfew, while affecting the night life geared towards the soldiers, has allowed some breathing space to the area with new bars and clubs springing up recently. The old meat market favorite, Hollywood Basement has had a revamp while Limelight and Queen club are bringing a more house flavor to the area.
Helios Pub in Itaewon
Helios, a relatively new bar, is banging on Thursday nights, which may have more to do with the free drinks for the 'lades' rather than the music, which is the usual commercial drivel. So will anyone go to Itaewon to actually dance, rather than to get drunk and pick up cheap women? Hard to say at the moment, but it seems the proprietors and promoters are realizing that the 'spit and sawdust' option isn't too appealing. Of all the new clubs, Queens club will be the most realistic gauge. Will clubbers leave their traditional playground in Hongdae and head across town? Not on the first few weeks evidence. On the Saturday night I was there, 16 punters were present at 1am on a Saturday night. Eminem was blasting from the speakers and the clientele were at the low end of the scale. Ministry of Sound it wasn't. Chastened by the success of Limelight, Hollywood has morphed into Club Spy, and under new management is trying theme nights to win back some of it's lost clientele. This seems to be proving rather difficult and at the moment Limelight seems to be winning that particular battle. The one bright spot in the Itaewon scene is bar NaNa, open for nearly a year now, but only recently getting the recognition it deserves. Located in a basement off the main strip, this place is the best reason to go to Itaewon. The music is top notch, with everything from dub to breaks to soul being played on vinyl and CD's. The vibe is relaxed and the decor is cool without being pretentious. Definitely worth checking out.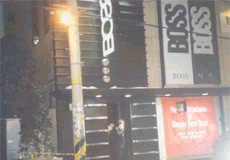 Club Boss in Itaewon
Elsewhere, the club scene is non existent. 'Booking' clubs like Boss and NYLA are glorified meat markets with over priced second rate beer and whiskey. The music is truly awful and the atmosphere is reminiscent of a school disco; giggling, awkward females and comatose males. Dancing is only a means to an end, not an end in itself. These booking clubs are a part of Korean culture, and it is hard to see how habits will change. Sickboy feels otherwise, "I think the 20-30's in Korea are getting bored of the booking clubs and are looking for an alternative. More and more people from the Korean clubs show up at parties now and I think we'll see that trend continue."Another cultural consideration is what Sickboy calls the 'Cinderella syndrome.' That is the curfew phenomenon that seems to grip Korean culture, whereby 20 somethings, and sometimes even 30 somethings have to be home by a certain time. This means Korean clubbers leave early, often in the middle of the headliners set. While this can be put in part to Koreans' curfews, it is also due to the ignorance of many clubbers in the scene. There simply isn't the knowledge of, or love of dance music, that is apparent in other countries. Too many events turn into glorified fashion shows where posers strut around, afraid to break into a sweat.
The Dimities from Paris event last summer was a prime example. Held in the top of the Star Tower in Yeoksam, the atmosphere was more reminiscent of an airport than a club. Glammed up promo girls flogged make up, while greased up gyopos (Korean-Americans) strutted around. The crowd seemed more interested in getting into the VIP room than onto the actual dance floor. This obviously left the atmosphere a bit flat. To fix this problem a dedicated dance music radio station is needed along with some decent record shops. Purple records and City Beat, both in Hongdae, do cater to electronics buffs, but their selection is limited and often out of date.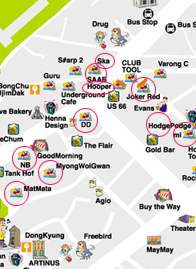 Clubs in Hongdae Area
Another 'problem' when it comes to Korea is the drug use, or lack of it. The story of how four London DJs went to Ibiza in 1988 has been told to death. However, the point is that the modern club scene around the world was created when acid house met ecstasy one warm night in the Balearics. Those DJs brought the idea back to London; acid house mutated into rave, and, well the rest is history. While Sickboy believes the lack of drugs is a good thing, the empty floors at gigs like Sashes tell a different story. While in some parts of the American club scene, the music is secondary to the drugs, in most of the world a crowd on ecstasy will make for a much better atmosphere than a crowd drinking. Korea's drug laws, while not lax, are no stricter than many other countries around the world. Korea just doesn't have much of a drug culture. While teenagers in other parts of the world are losing it on a Saturday night, Korean teens are either holed up in a hagwon or in front of a computer screen. However, for many clubbers while it was the drugs that made those early nights dancing so special, it was the music that kept them in the scene. Dance music wasn't just something to do on a Saturday night, it was a way of life. Unfortunately, the infrastructure just isn't there to support the scene here yet. Where are the decent record shops? Radio stations? Pre-club bars? After parties? Producers? When Sasha dropped 'Rez' (the old Underworld classic) at 4 a.m. in the Walker Hill, the clubbers who had lasted (99 percent experts) went wild. Most Korean clubbers had probably never heard of it. Another downside to the scene here is the reliance on big names and the same small band of local DJs. For a city of ten million, the scene is very small. The choice of music is rather limited too; most clubs concentrating on progressive house and trance. Where are the minimal techno, electro, breaks, chill out and acid trance clubs? Despite this the promoters that do exist here all feel the scene is just about to kick off.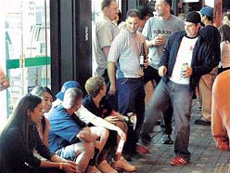 Foreigners in Hongdae Streets
Tommy Kim, a promoter from 02 believes in a few years clubbers will be coming to Seoul, specifically to check the scene out. This remains to be seen. All the major clubbing destinations; New York, London, Miami, Ibiza have something extra to offer club kids, whether it be shopping, restaurants or good old fashioned sun, sea and sex. Seoul is never going to compete on those terms, and geographically, is at a disadvantage. Sickboy agrees. "Will people start traveling to Seoul just for the party scene? I reckon the answer is no." Min, another member of the 02 stable feels otherwise; "If you look at the list of international artists and DJs that come through Korea, you can tell that the scene here now is comparable to that of any country in Asia, or the rest of the world for that matter."While there is no doubt Seoul is able to attract the big names now, the size of the type on the flyer bears no relation to the size of the talent. The reliance on big name DJ's will not create a viable club scene. Whether Korea or Koreans are ready to support one remains to be seen. Will Seoul become the next New York, London or Tel Aviv? Watch this space.