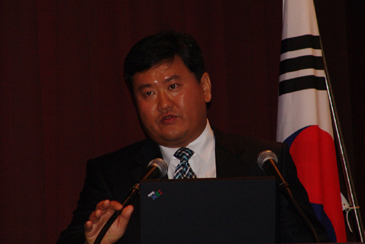 Dr. Kim Ki-Ryung, president of Mercer HR Consulting delivers his speech at ANZCCK breakfast forum held at Hyatt Nov. 8, 2005.
Dr. Kim Ki-Ryung of Mercer Human Resource Consulting delivered a speech on personnel management at ANZCCK Breakfast Forum organized by ANZCCK Chairman Les Edwards.In the breakfast forum at 8 a.m. on Nov. 8, 2005 at Grand Hyatt Hotel's Namsan II Room in Seoul, Dr. Kim gave a speech under the title of "Managing Your Workforce in Korea."Dr. Kim discussed current and important employment issues that affect foreign company employees. He also focused on wage trends for 2006.Dr. Kim addressed his lecture in three sections. The first part was his explanation of Korea's economic index and their product treaties which differ from other countries.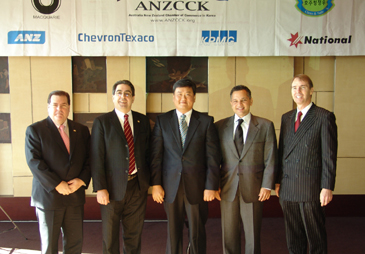 President Kim Ki-Ryung (center) of Mercer HR Consulting poses with ANZCCK Vice Chairman Glen Feist (left), ANZCCK Chairman Les Edwards (second from left), and other VIPs.
The second section was about national competitiveness, overall human resources issues with a particular focus on leadership and talent.At the start of his speech, Dr. Kim analyzed that South Korean government's strict measures which put a break on the soaring real estate prices and the high oil prices are the key factors affecting South Korean economy.While touching on the advantages and disadvantages of the workforce in Korea, Dr. Kim explained the Korea's shift from seniority- and attitude-based old work environment to performance- and competence-based new environment in South Korea.Dr. Kim rounded up his speech with a discussion of key labor issues such as Korean Trade Unions and workplace ethics.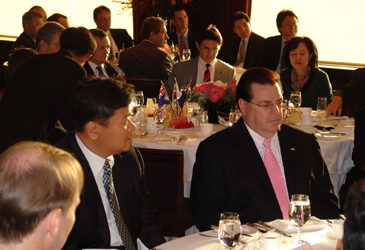 President Kim Ki-Ryung (left) of Mercer HR Consulting sits with ANZCCK Vice Chairman Glen Feist and others.
Scores of ANZCCK and other business leaders operating in Seoul attended the early morning forum.Inquiries about Dr. Kim's speech can be made by contacting his office at 7th Floor, KTB Network Bldg. 826-14, Yeoksam-dong, Kangnam-gu, Seoul 135-769, Korea Tel: 3404-8300 Fax: 3404-8333.For questions or other details please contact Mrs. Kim Chaffey , executive director, Australia New Zealand Chamber of Commerce in Korea 112-35 Itaewon – 1 dong, Yongsan-gu, Seoul 140-863, Korea Tel: 82 2 790 2205: Fax: 82 2 790 1557; Mobile: 82 (0) 11 273 0131; Email: exec@anzcck.org; Website: www.anzcck.org
`