Amb. Mozaffar (center) poses with Nigerian Amb. Abba A. Tijjani, and a local journalist Ms. Lee Jin-Sook in a Seoul gathering.
Iranian Ambassador to Seoul Jahanbakhsh Mozaffar
said that "Korean products were enjoying great popularity in Iranian market." In a recent interview with local daily Chosun Ilbo, Ambassador Jahanbakhsh Mozaffar said that Kia Motors' passengers cars and Samsung Electronics' cell phones were taking largest market share, respectively in the Islamic nation."Iranian people associate Korea with high-quality electronic goods and passenger cars," said Amb. Mozaffari.He said that Iranian people do not know much about Korean culture, although they are aware that Koreans are industrious and sincere.He said that he is worried that Many Korean people
have misunderstanding or distorted view of Iran.He thinks Korean media and text books deal with Middle Eastern affaires on the bases of information provided from the Western countries.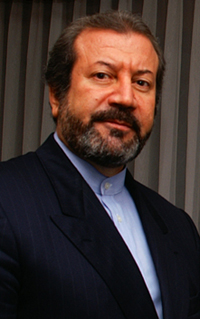 Iranian Ambassador to Seoul Jahanbakhsh Mozaffar

Regarding casualties in iraq, he said that nobody in the Middle East trust US President George Bush
when he said the number of civilian casualties is 30,000.He believes that bilateral exchanges by civilians
between Seoul and Tehran will broaden mutual understanding in the fields of culture, academics, and tourism.He said that Korean and Iranian people's prejudice about each other will disappear with more efforts by both people. He stressed that South Korean and Iran are important countries in Asia.In reference to the Siberian cold fron sweeping Korean Peninsula, the Iranian envoy said that Iranian winter is cold but Korean winter is even colder. This winter is the third one he meets in Seoul.Among the many aspects of Korean culture, Amb. Mozaffar said, South Korea's education is apealing to him.Last year, his 18-yearold daughter chose a university in Seoul, for she wanted live in Seoul. She is now a sophomore at Pharmany Department of Ewha Womans University."I did not have to worry about her academic choice because whe wanted to live with me in Seoul," he said.