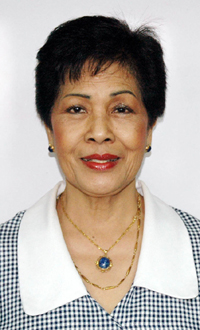 Madam Susan O. Castrence, new Philippine ambassador to Seoul
The Philippine Embassy in Seoul announced on Feb. 3, 2006 that Madam Susan O. Castrence, the director general of the ASEAN office has assumed her post as ambassador of the Philippines to South Korea. The new Ambassador Madam Castrence is a career professional and a veteran in the diplomatic field having 45 years experience since she joined the Department of Foreign Affairs of the Philippines in 1961. Before she was designated Director General of the Office of ASEAN, Department of Foreign Affairs, Manila in 2003, She served as the consul general in Toronto. From 1993 to 1996, she served as official spokesperson of Department of Foreign Affairs.Moreover, after the EDSA People Power Revolution in 1986, she was assigned as minister counselor and consul general at the Philippine Embassy in Washington, D.C for seven years. She was also posted to the embassies in Germany and Thailand. In a meeting with Embassy officials and staff, Amb. Castrence said that she will make every effort to strengthen the friendship between South Korea and the Philippines and to improve service quality for the tourism and cultural exchange. Juan E. Dayang, Jr., consul and head of public diplomacy unit and information officer of the Embassy said that "Ambassador Castrence's years of experience in the diplomacy and strong exposure to media and public affairs is an asset to the Embassy." "I expect her to be in close contact with the media," Consul Dayang added. The lady ambassador obtained her bachelor's degree in Foreign Service from the University of Philippines, and then pursued graduate studies in Public Administration from the same university. She will present her credentials at the Blue House and meet with the President Roh Moo-Hyun on Feb. 17, 2006.
For details or inquiries call the Philippine Embassy in Seoul at 82-2-577-6147.