Fishermen at sunset — Si Phan Don, Laos
Swinging lazily back and forth in my hammock while watching the Mekong ripple languidly around the thousands of islands — 4,000 to be exact — I'm listening to free-roaming livestock go about their business and I'm beginning to see the logic of the Laotian belief that doing or thinking too much is bad for your brain. I am in fact, powerless to resist such ideas, and any way I have no desire to. Travelling to Laos for adrenline-gland milking excitement and wild adventure is like going to Seoul for its beautiful gardens or to Beijing for its clean air and relaxing atmosphere. It's a fool's errand.In the far south of this land-locked nation, tucked in between the tourist mecca of Thailand and fast-developing Vietnam, life in Si Phan Don (Four Thousand Islands) simply goes on, seemingly as it has for the last hundred years.In fact, reading the accounts of French travelers in Laos from the 19th century you realize that things very likely haven't changed too much. The few French who lived in Laos as administrators apparently left most of the work to the Vietnamese civil servants while they made good use of Laos' major export — opium — and lay around having fantastic dreams, or recruited beautiful Laotian consorts to accompany them in their laid-back lifestyles. Such lifestyles earned them the name "lotus-eaters," amongst their kinsmen back in the motherland.Hanging like a Christmas ham in string on the porch of my rustic 1.5-US-dollar-a-night bungalow by the river I think I may just be in a good position to understand those Frenchmen. The quiet splash of a fishing net being thrown at the evening's meal followed by the raucous splashing of the young fishermen seems to confirm my position and I swing lightly back and forth, calm spreading through me. Life is continuing around me and there is no reason for me to move.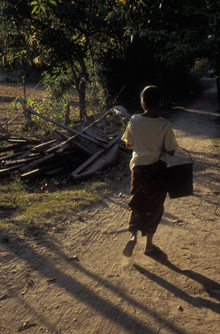 A Laotian village girl carries water home from the river — Don Det
"Falang" — foreigner in Lao — tourists travel long distances in crude public transport that costs a pittance for a chance to experience just such a feeling and for the opportunity to do absolutely nothing. Like the travelers before them they still lay around dreaming and opium is still available for those with the money and desire to spend hours feeling like a strangely, watery balloon.As for the aforementioned consorts, they remain a thing of the past.My particular journey began in the steaming, frantic heat of Bangkok and continued through an uneventful night curled up in a train bunk where I stayed sleeping until the train had already reached Ubon Ratchathani. Bleary-eyed and confused, I let myself be led on a 10-minute stroll through the early morning streets to the bus station where I find a seat amongst the smiling brown-faced old women, vegetable baskets and poultry crowding the bus.
Like storybooks from my childhood the vehicle is full of a lively chaos that draws a wild grin from me.After 40 minutes of smooth sailing I am completely unprepared for the quick change that is forced on me. In the middle of a street outside town I am quickly hurried off the bus and transferred swiftly, bag and all, to a smaller hybrid vehicle. "Songthaew" are the most common form of short-distance transport in Thailand and Laos and resemble cattle trucks for people.Imagine a stretched and roofed utility vehicle with benches against each side and another running up the middle, but filled to absolute capacity with people, food, live animals and packs. Unfortunate late-comers hang off the back step over the streaking tarmac. The guiding principle of these people-movers is that there is always room for one more.Transfer completed we speed towards the border town of Chong Mek and then on to Laos.Looking like an Asian version of the Wild West, the border town of Chong Mek is one of 10 border crossings with Thailand, Vietnam, Cambodia, and China that also offer a 15-day tourist visa on arrival with a cost of 30 US dollars. American dollars, Thai baht, or the local currency, kip, are all accepted in Laos. People flying into the capital, Vientiane, or Luang Prabang's airport on international flights can also get the instant 15-day visa but if you don't arrive with your greenbacks in hand you may as well call yourself Tom Hanks and start filming your airport campsite. If you want to be certain about your entry then 30-day visas can be organized beforehand at Lao embassies.Fifteen-day visa in hand and the prospect of being hammock-ridden by the end of the day I set off on the next songthaew from Vang Tao (the Laos side border town) to Pakse. Two hours and four random customs searches later I quick-change again and start off on the next truck heading for Don Det, my destination. Such customs searches and confiscations are regularly carried out on Lao people returning from Thailand with bulk Thai products they sell for a small fortune in Laos.Don Det, Don Khon, and Don Khong are the main tourist destinations in this 14-km-wide stretch of the Mekong River but the tranquil villages and bungalows of Don Det are where I'm headed.Three dust-filled hours later I'm standing on the banks of the Mekong River looking across the slow smooth waters at my goal while I bargain with boat-taxi drivers. It becomes quite apparent that I'm in their backyard and my options are limited to swimming or paying the one and a half dollars they're asking.Having paid the princely sum of five dollars to get this far from the border I decide I'm willing to pay up and I sling my bag into the long thin motorboat. Twenty minutes later the rich, yellow afternoon light surrounds me as I sip on a Beer Lao — the local brew — and watch tomorrow's dinner scratch around in the dirt for grain.
Farm animals roam free on the islands of Si Phan Don, Laos
Watching farm animals, drinking the local brew and enjoying the almost complete lack of modern conveniences may be just what you came for but these aren't the only things to be done in this quiet southern area of Laos.Don Khong, the birthplace of the current president of Laos, Khamtay Siphandone, offers various beautiful temples, caves containing Buddha images and wonderful scenery. The more adventurous can hire bikes for one dollar a day or a motorbike for 10 dollars a day, and see the entire island in style. There are local festivals throughout the year but during December the most exciting event is held. The boat racing festival in December includes five days of carnival-like activities, with consumption of the local moonshine Lao-Lao at an all time high, and then culminates in the actual races on the eastern shore of the island. A short description and explanation of the culture and consumption of the omni-present liquor, Lao-Lao is necessary at this point for those traveling through Laos. Lao-Lao is found everywhere, offered to people everywhere, expected to be consumed and is perhaps the most viciously strong and unregulated liquor you will have consumed.
Made from rice and distilled by everyone, everywhere, you can buy it in everything from ornate glass bottles complete with giant pickled scorpions or cobras, included for your stamina, to five-liter plastic bags and jars. Unfortunately, because of the widespread production of this fiery grog, its potency is always uncertain. Alcohol percentages as low as 25 percent and as high as 75 percent can be expected so caution is best when called on to drink. Fortunately, a useful Laotian drinking ritual is always observed when Lao-Lao does the rounds. Every time you are offered a drink you must pour some out as an offering to the spirits and ancestors. Of course this affords you the opportunity to pour out as much as you like for the ever-thirsty spirits and allows you to maintain your drinking legs, not to mention your lunch.
Don Det and Don Khon offer similar tourist fare to Don Khong but with a few important bonuses. Downstream from Don Khong, near the Cambodian border, is home to the rare Irrawaddy dolphin as well as a very impressive set of rapids called Li Phi Falls.
In May and June, during the rainy season, the falls are at their most intense and fishermen here can catch up to half a ton of fish in their bamboo traps.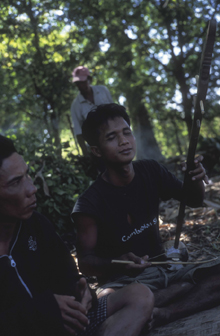 A Laotian musician plays a traditional stringed instrument during a party near Don Khon, north of the Cambodian border in December, 2005.
Another set of powerful rapids, the largest being Khon Phapheng, which stretches for 13 km, lie just south of Don Khong and are best accessed by boat through a guest-house- organized tour that includes the falls and a chance to see the strangely lavender-colored dolphins.These tours usually cost around 10 dollars and sometimes include lunch and a burning glass of Lao-Lao for the brave. For those people who are more curious about the Lao culture and its people a relatively new trend has started on the islands of Don Det and Don Khon. Foreigners and locals have begun to throw daytime barbecue parties on the small, unpopulated islands nearby. A spit-roasted pig, fresh river fish, juicy chicken and plenty of Lao-Lao are culinary features of these parties. Traditional Lao musicians often play adlib and classic Lao tunes while whipping up the party-goers with elegant Lao dance moves.
These parties are well worth the five to seven dollars you will pay for the whole days excursion, but be warned about the Lao-Lao.Whether you are sick of scurrying through Seoul's streets or being constantly crushed in frantic subway surges.Whether you are looking for the exotic and are curious about Lao culture or just want a breath of clean air and a sun tan, Laos is a cheap, relaxing, beautiful and simply outstanding holiday destination for those of you who want to step outside the hustle of life for a time, lie in a hammock and just dream for awhile.
For more information about Laos and Si Phan Don
you can contact the Embassy of the Lao PDR
657-9 Hannam-Dong, Yongsan-Gu, Seoul, Korea
(02) 796-1713/ (02) 796-1714 or visit the Lao PDR Embassy web site at www.laoembasssy.com