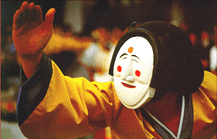 An exhibition of the "2003 Andong Mask Dance Festival" will be held from September 26th through to October 5th at the main stage on the Nakdong River and in Hahoe Village in Andong, where Korea's Confucian tradition is best preserved. A total of 30 local and foreign mask dance groups will stage their performances under the umbrella title of "Soaring Power, Live Excitement." The 10 participating international groups include traditional folk dance teams "Le Nouch" and "Schmeritz" both from Germany and Frence, and five Japanese mask dance teams.All told, an estimated 150 performances will be played throughout this festival. Domestically each participating province will present its own characteristic mask dances.Among the local plays is Hahoe Pyolsingut, a representative mask dance of Hahoe Village and Korea's most acclaimed. Passed down from generation to generation with its origin dating back to the 12th century, Hahoe Pyolsingut will be performed by representatives of this ancient culture, many of whom are natives of Hahoe Village.Composed of three ceremonies, Hahoe Pyolsingut vividly expresses the driving core of its main characters through its use of masks and dramatic dancing. The corruption of a noble man, the slyness of a Buddhist monk, the oppression of an old woman, and the fiendishness of the butcher all come into full relief with the actors' precise gesticulations.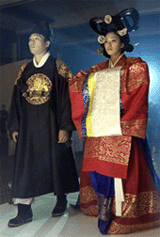 Adding zest to the festival is the "Andong Food Festival," in which the region's traditional dishes such as Jonggaumsik(food of head family), Sikye(fermented rice punch), and Andong Soju(distilled liquor) will be available for sampling. Tourists will also have a chance to appreciate the beauty of hanboks(Korean traditional clothes) in the "Hanbok Fashion Show," when every style of the hanbok since the Chosun Dynasty to the modern will be presented. What makes this festival even more attractive is that spectators will have an opportunity to participate in the events, such as "ink printing of engravings," "'learning basic Korean mask dance techniques," and "woodcarving jangsungs." Jangsung is a tall divine wooden statue villagers set up at the village gates to ward off evil.On the outskirts of the festival, such regional group pastimes as Chajeon-nori for men, Notdaribalkki for women, and traditional fire work Sonyou-julbul-nori, all unique to this host city, will be performed during the festival.Chjeon-nori is a typical male game in which two huge groups fight in an open field carrying long Dongche(a kind of ladder made of wood). And Notdaribalkki is a female group game in which participants form a human bridge by bending over and allowing a "princess" to step across their backs.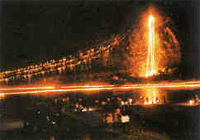 Other traditional games and plays visitors will be able to participate in includes Ssirum, Korean wrestling; Jegichagi, a kind of shuttlecock game played with the feet; Yut nori, a kind of dice game with four sticks; and mask dance painting contest for children.Visitiors will also have about a dozen art exhibitions of Chinese and traditional Korean masks, and all kinds of jangsungs from each village of Andong for the visitors to absorb the region's rich heritage. Andong villagers will volunteer as interpreters for tourists from other countries.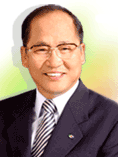 "A total of 120 villagers will serve as volunteer tour guides and among them are 20 volunteer interpreters exclusively for foreign visitors, said Kim Hwi-dong, chairman of the festival's committee and also mayor of Andong, "These volunteers will serve not only in English but also in Japanese and Chinese."Mayor Kim said Andong city will hire foreigners as its employee in order for the city to be better known to the outside world. The city administration will employ
foreigners speaking English, Japanese, and Chinese, respectively.For further details, visit its official homepage:
www.maskdance.com