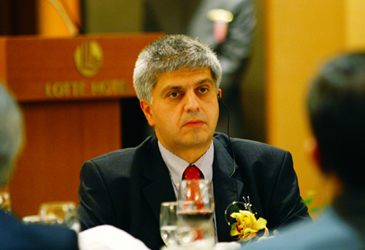 Ambassador Wilhelm Donko of the Austrian Embassy in Seoul
Celebrating the 250th birthday of Wolfgang Amadeus Mozart, Ambassador Wilhelm Donko of the Austrian Embassy in Seoul will support concerts in commemoration of the great composer to be held in various cities of the Republic of Korea. The Austrian conductor Gerhard Lessky will perform in Cheongju Art Hall on April 19, 2006 at 7 p.m. a "Happy Birthday Concert" with the Cheongju Philharmonic Orchestra. On April 20, 2006 at 7:30 p.m. he will conduct a Mozart concert in the Lotte Art Hall in Daejeon with the Pan Philharmonic Orchestra. Lessky worked in Korea as a musician from 2000 to 2003.
These Mozart concerts are being held in the wider framework of the "11th Nine Dragon Heads-Festival," organized by Mr. Park Byoung-Uk.
Biography of Gerhard Lessky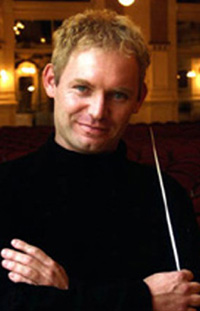 Austrain conductor Gerhard Lessky
Gerhard Lessky was born in 1969 in Austria. He began his violin studies at the age of seven and conducted his first orchestra at the age of 17.He studied Conducting at the Linz Bruckner- Conservatory of Music with professors Hermann Dechant and Nicolaj Zlicar and attended international Master classes given by Peter Gülke, Manfred Mayrhofer, Richard Schumacher. In 1994 he founded the orchestra Ensemble Concerto Austria and an opera company, which has been offering a successful and growing performance series in many important Austrian venues as well as several in Germany and Sweden.In 1996 he was awarded the Helmut-Schiff-Award for Young Austrian Conductors. He also served as a guest conductor with many orchestras during this time, including the South Bohemian Chamber Philharmonic (Czech Republic), Savaria Symphony Orchestra, (Hungary), Bruckner Orchestra Linz (Austria) and Schloß Schönbrunn Orchestra (Vienna), Philharmonic Orchestra Bad Reichenhall (Germany).
In 1997 he appeared at the European Music Summer Festival Aspach. Then from 1998-2000 he was engaged as an artistic-assistant at Wiener Hofmusikkapelle. At the Summer Opera Festival Linz in Austria he conducted productions of Paisiellos "Barber of Sevilla," Cimarosas "Il matrimonio segreto," Haydns "Il mondo della luna" between 1997-2000.
From 2000 to 2003 he went on to work as chief conductor of the Symphony Orchestra of Mokwon University in South Korea.During the 2000/2001 seasons he conducted the Chongju Philharmonic Orchestra and the Chungnam Philharmonic Orchestra. His performances of G. Verdi's opera La Traviata in Woosong Art Hall received the highest acclamation from the audience and national press.In 2002 Maestro Lessky's major productions included working as a guest-conductor with the Bucheon Philharmonic Orchestra, conducting a new production of Mozart's opera "Cosi fan tutte" and performing a very acclaimed "Messiah" (Händel) during the European Concert Festival Aspach.In 2003 he conducted opera performances at the Opera House in Steyr (Austria) and symphonic concerts in Germany and the Czech Republic.
In the 2004 concert-season he gave opera-performances in Austria and symphonic concerts during some well-known European Music Festivals in Austria and Germany.Esteemed international artists collaborated with, include: Marco Cappelli, Otto Sauter, Sung-Won Yang, N. Krysanowsky. He has also made CD productions and performed in TV and Radio broadcastings.Forthcoming appearances:
April 19, 2006, 7 p.m., Cheongju Art Hall
"Happy Birthday Mozart"
Masterpieces of this most famous of Austrian composers:
Ouverture to "Don Giovanni"
Symphony No.35, D-major, KV 385, "Haffner"
Symphony No.36, C-major, KV 425, "Linz"
Cheongju Philharmonic Orchestra April 20, 2006, 7:30 p.m., Lotte Art Hall, Daejeon
Mozart: Symphony No.1, KV 16
Concerto for violin and orchestra, A-major, KV 219
Serenade "Eine Kleine Nachtmusik," Gmajor, KV 525 Divertimento D-major, KV 136
Kim Young-Sang, violin
Pan Philharmonic Orchestra