Tourism Secretary Durano appoints Korean actress Eugene as Philippine publicity ambassadress.
A high-powered travel trade mission from the Philippines arrived in Seoul on June 6 in a bid to sustain the massive influx of Korean tourists to this archipelago in the Pacific region. At the head of the mission is Tourism Secretary Joseph Ace H. Durano, who will be on the center stage of the Korea World Travel Fair (KOTFA) slated at the Convention and Exhibition Center in Seoul on June 7-11.Durano has been invited as a special guest of honor to the KOTFA event for the second year in a row.Secretary Durano is scheduled to meet with his Korean counterpart Kim Myong-kon, minister of culture and tourism, on June 9 to exchange views on ways of promoting two-way tourist traffic between Korea and the Philippines.A spectacular exhibition and performances for the launch of its marketing campaign in Korea is in store for the Seoul event."Our presence in KOTFA 2006 will significantly boost our marketing efforts in Korea to help achieve our total target foreign arrivals of three million this year." With a growth rate of 27.6 percent in the first quarter (of the year) posting 144,768 arrivals, Korea is now the top tourist generating country for the Philippines," said DoT Secretary Joseph Ace H. Durano.To be launched at the June 7 activity at the Millennium Seoul Hilton Hotel is the DoT's new marketing campaign "7,107 Philippines: More Than You Can Imagine" and the conferment of the Tourism Ambassador title on Korean celebrity Eugene Kim as new Philippine brand endorser.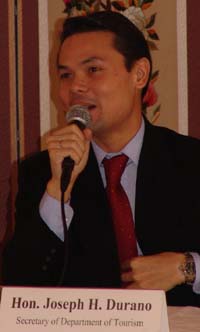 Philippine Tourism Secretary Joseph Durano
Top-caliber delegation representing the Philippines travel trade industry to KOTFA are executives and officers of Philippine Airlines, Southeast Asian Airlines, Philippine Tour Operators Association, Century Park Hotel, Grand Regal Hotel Davao, Hilton Cebu Resort and Spa, Hyatt Hotel and Casino Manila, Hyatt Regency Manila, Island Cove Resort and Leisure Park, Waterfront Hotels and Casinos, Worldwide Resort Philippines, Regent Travel, Mt. Apo Travel and Tours, Travel Village and Tours, DoT, Philippine Convention and Visitors Corporation, Philippine Retirement Authority, Subic Bay Metropolitan Authority, provincial government of Bohol, and the city government of Bacolod.On the eve of the KOTFA Travel Fair due next week, Secretary Durano has given an exclusive written interview with The Seoul Times. The following is gist of questions and answers.
Q1: The Philippines got a 94 percent satisfaction rating in a recent survey conducted among Korean tourists.
This indicates that RP's promotional campaign in Korea is so far so good. The public sentiments are always so changeable. Does DoT have any other strategies to keep Korean tourists from other competitors namely Thailand and Malaysia?
A1:
While we are enjoying 94% satisfaction rating, we are now faced with a "price-war" meaning our competitors are dumping their prices in order to attract the market. They can afford to do this because they have more rooms to fill up, thus, accommodation is almost a give-away. There is a very high demand for accommodation facilities in our various island destinations. Markets other than Korea like Japan have posted positive growth. We will continue to create the awareness of the Philippines in the market through publicity and advertising highlighting our proximity and the variety of attractions that the Philippines can offer to the Korean traveler.
Q2: According to news reports, DoT is reportedly looking with interest at three kinds of Korean tourists to be invited to visit the Philippines to meet the 600,000 Korean arrivals target by the end of the year. What are these all about?
A2:
We will continue to attract the general leisure market (families), honeymooners, SIT's (Special Interest Tours i.e. golfers, divers, sport enthusiasts) and the growing student market. We will also attempt to attract the incentive market and the MICE (Meetings, Incentives, Convention Exhibition). Slowly and together with the Philippine Retirement Authority, we will attract more retirees to the Philippines in order to meet our target arrivals this year.
Tourism promotion event of the Philippines
Q3: I understand that Medical Tourism Philippines (MTP) welcomes tourists from all over the world to visit the Philippines for their medical and leisure needs. What are strong points of the Philippines medical tourism as compared to other Southeast Asian countries, which are also joining this lucrative market segment?
A3:
While the Philippines is a newcomer in the field of Medical Tourism, our strength and edge over our competitor neighbors is the availability of medical practitioners who are experts in their own field. Filipino doctors are highly respected all over the world and care giving from highly trained medical assistants is readily available. In fact, Filipino nurses are welcomed in all continents. Our hospitals are equipped with the latest medical and surgical equipments, which will ensure the safety of every medical tourist.
Q4: Korean travel agents and tourism investors are eyeing Davao City as the site of a high-end Korean residential vacation complex. Please tell us more about Davao's attractive points.
A4:
Davao's attraction as a tourist destination is a well-kept secret. It boasts of a variety of natural attractions. Contrary to popular beliefs Davao is probably the safest, cleanest and most pristine travel destination in the Philippines. There is an abundance of fresh fruits, fish and poultry in the area and has the most number of available flora and fauna in the country. It is a perfect choice for retirees who for the rest of their lives just want to enjoy the natural and unpolluted atmosphere of Davao. Apart from being endowed with a natural environment conducive to retirement, Davao is also a more affordable city, giving the retiree more value for her/his money. It offers the retiree the complexities of a city lifestyle and the simplicities of country life, which we believe, are what high-end retirees seek.
Q5: President has recently inaugurated the Can-Asujan Small Reservoir Irrigation Project (SRIP). Does this project have anything to do with tourism of Cebu on a medium or long-term basis? If not, what kind of new tourism attractions Cebu can offer to Korean tourists?
A5:
With the Philippine government support, the PDOT has continued to prioritize infrastructure development and considers it as the key to developing tourism. A number of tourism projects worth P3.89 billion were endorsed to various government agencies for grant of incentives. May 25, 2006. But above all the H.E. Pres. Gloria Macapagal Arroyo emphasizes the need for prosperity in all strata of our society, particularly the agriculture sector. The SRIP project in the short term will assist in the development of the agriculture sector and in the long run contribute to the welfare of the community which ultimately contributes to a tourism that embraces agriculture as the centerpiece of attraction. The success of UBUD of Thailand, the rice paddies of Bali among others show how agricultural communities are an integral part of a destination offer. The growth of experiential tourism further attests to the value of such focus. It may be noted that the tourism highway, a showcase of infrastructure development, is geared to linking the major cities with outlying cities, which offer alternative attractions. Cebu has been sold as a beach destination with emphasis on the Mactan Island and the Lapu Lapu City. Cebu mainland and outlying islands accessed by these new links has yet to be explored by the Korean travelers. Cebu's latest attractions include: the North Country Side Tour, South Country Side Tour, Diving in Malapascua, Tour of Camote's Island, Beaches in Bantayan Island, the sunbasking in privacy in the Sumilon Island, Eco-tour & Birdwatching in Olango Island