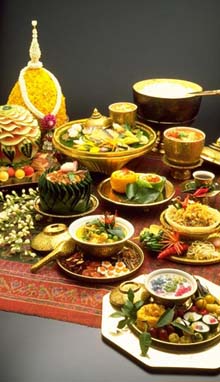 A Taste of Thailand
Sheraton Grande Walkerhill proudly presents "A Taste of Thailand" in cooperation with the Thai Embassy's 2006 Thailand Festival featuring, a two week long showcase of authentic Thai cuisine at its renowned restaurants The View and Four Seasons. Beginning July 14 through July 28, a variety of authentic and famous Thai dishes will be introduced to Korean patrons Each restaurant will be converted from it's usual contemporary decor to a Thai themed wonderland. Walkerhill has gone above and beyond to grace the hotel entrance with a traditional golden Thai carriage measuring over 5 meters in length. After all, what's authentic dining without the proper ambience? Both The View and Four Seasons will display ornate fruit carvings and decorations that are not only art forms, but edible as well.
During the week there will be two set menus for diners to choose from, each featuring an all inclusive 7 course traditional Thai meal starting at a net price of KRW50,000 at The View. Whether you're in the mood for Pad Thai Kung followed by Khao Pad Mu, or perhaps a starter of Papaya salad and finishing with a sweet dessert of Kluay Buad Chee, you'll find it all at The View. On Saturday and Sunday the Four Seasons will be serving up a buffet that inlcudes numerous Thai entrees and dishes from which to choose. Not only will your palette be satisfied by the rich tastes of Thailand, but you'll be immersed in Thai Culture the minute you step into our brightly decorated venues.Whether it's a night out with the whole family, an evening with that special someone or power dining with clients, a satisfying impression is certain to be made. You decide your guest list and Walkerhill will take care of the rest. Afterwards, be sure to leave time for a stroll around our shops or perhaps catch the Walkerhill show after a few winning hands at our Paradise Casino. Taste the best of life. At Walkerhill. Call 02-450-4467 to reserve your table at The View, or 02-450-4466 to reserve your table at Four Seasons, today.
A Taste of Thailand
Dates: July 14 ~ 28
Venue: Sheraton Grande Walkerhill "The View" / Buffet dining at "Four Seasons"
The View Set Menu A
50,000 KRW
Pork and Chicken Satay (Mu & Gai Satay)
Spicy Prawn Soup (Tom Yum Kung)
Sweet and Sour Fish (Pia Sam Ros)
Thai-Fried Noodle with Prawn (Pad Thai Kung)
Thai Fried Rice with Pork (Khao Pad Mu)
Green Papaya salad (Som Tam)
Mango Sticky Rice (Khao Neow Mamuang)
Coffee or Tea
The View Set Menu B
50,000 KRW
Prawn Spring Rolls (Poppia Tod)
Chicken Soup in Coconut Milk (Tom Khaa Gai)
Curry Fried Crab (Poo Pad Pong Kari)
Thai Fried Noodle with Prawn (Pad Thai Kung)
Thai Fried Rice with Pork (Khao Pad Mu)
Green Papaya Salad (Som Tam)
Banana Coconut Milk (Kluay Buad Chee)
Coffee or Tea (All prices exclude taxes and additional surcharges) For Reservations: (The View) 02-450-4467 or (Four Seasons) 02-450-4466