Omegatender Chairman Lee Kyu-haeng, left, and Philippine Minister of Information & Communication Ramon P. Sales, shake hands after signing a contract on the construction of an e-government in the Philippines at the latter's office in Manila,on Oct.20,2006.
.
Omega Tender, a South Korean high-tech company, will build a video networking system for the Philippine government.
Lee Bo-kil, spokesman for the company told reporters that a contract to that effect was inked in a ceremony held in Manila on Oct.20 by chairman Lee Kyu-haeng of the company and Philippine Minister of Information and Communication Ramon P. Sales.
``The Philippine Government will start to build an e-government system and construct a global e-trading network,'' Lee said .
``All the ministries, government offices, local governments and all the overseas consulates and embassies can participate in this project along with companies certified by the Philippine government.''
Omega owns core patents in a lightweight video mailing and video conferencing system, which runs on regular-size PCs without the need for expensive equipment. The company is also cooperating with Korea's Electronics and Telecommunications Research Institute (ETRI) in developing wireless video networking platforms for TV set-top boxes.
Omega has been aggressively expanding its business over the past few months. In July, it struck funding agreement with Highland Partners, a U.S. fund, which amounts to a total of $62 million over the next five years.
It also acquired a National League football club near its research center in Sosan, South Chungchong Province, in September, with a plan to broadcast all the clubs games next year live on the Internet by using its video networking technology.
With the Philippine contract, Omega said it is planning to start a global networking service for the handicapped and is under discussions with the Philippine government about an educational service for preschool children and the underprivileged.
It is also opening a native English teaching service in the Philippines. The interactive English education service is targeting Korean students and adults and it will be exported to China and Japan under a partnership with Korean governmental agencies, Lee added.
Omega Tender Induces $62 mil. from Highland Partners
Omega Tender Co., Ltd, one of the leading Korean IT companies specialized in video wireless networking system, has recently signed a funding agreement with Highland Partners of the United States for $62 million. Since its inception in 1988, Highland Partners have taken a sector focused and stage diversified approach to investing in exceptional companies investing in seed, early and growth stage companies in the information technology, communications and healthcare markets. Highland Partners will make an initial investment in Omega Tender in August after finishing the ongoing process for investment, according to Lee Bo-kil, spokesman for Korean company.In due course, Highland Partners will invest up to $ 50 million in Omega over the next five years.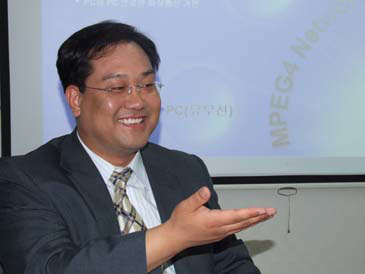 Headquartered in New York Wall Street, Highland Partners has extensive experience in investment activities in IT areas, in particular Highland is set to participate in global marketing of Omega Tender as well when Omega's offshoot in the United States become operational in the latter half of this year. Omega Tender has recently named MURPHY & DURIEU of the United States as lead-manager as part of its preparatory works for eventual listing of Omega Tender on New York Stock Exchange. Murphy & Durieu is one of the leading securities companies in the United States.In the meantime, Omega Tender signed a contract with Electronics and Communications Research Institute (ETRI) for joint R& D development for IP-TV set-top box and wired/wireless integrated moving picture networking platform.
The platform is designed for freely transmitting and receiving the moving picture between wired set-top box and wireless devices.
When this technique is translated into successful commercial application, it would enable the compatible service between PC, laptop, IP-TV, PDA, mobile devices and home-appliances as well as video networking. "We are very proud of having a business partnership with Highland which has over a century of combined experience in venture capital, " said Lee pointing out that great companies are not built in a day and a long term focus on core strengths is the key to building a successful enterprise.
As part of its global marketing drive now in high gear, Omega Tender has recently signed a memorandum of understanding (MOU) with the state-run Vietnam TV network to provide the broadcaster with the new technonology of wired/wireless integrated moving picture networking platform.
Omega is also making a push for a joint venture with business partners from the Philippines.
The business collaboration agreements with Macau Chamber of Commerce and Industry and China were also made last month.
Free software to benefit families of handicapped
The president of Omega Tender, Kim Sang-yong, received a text message from his 13-year old son, Jung-hyo, asking if the whole family could go see a movie.
For most people, a simple text message would not stir up emotions, but for Mr. Kim and his wife it brings an overwhelming feeling. Jung-hyo is mentally handicapped, having the mental capacity of a six-year old.
His brain was partially damaged even before he was born. Although Mr. Kim's doctor told the young couple that their son would not be able to walk or talk normally, 13 years later, Jung-hyo speaks and walks. Moreover, he finds no difficulty in using the computer, which he uses to send text messages to his parents.
Once his son was able to use a computer fluently, Mr. Kim wanted more. He wanted to show his son the world, and this was how the idea for Omega was born.
The company makes software that enables multi-user visual telecommunication. Using a computer, four people can visually communicate simultaneously.
As Jung-hyo wanted to meet his friends via the computer, the development for the software started in 2004. Mr. Kim plans to distribute the software for free to families with a handicapped relative. The software was first introduced to the public on April 20, which is Korea's national day for the disabled.
Mr. Kim hopes that families with disabled members will use his program to communicate with each other.
"I wanted to return what we have received," Mr. Kim said. "Without support from other families, my son would not have grown to be who he is today," he added.
Mr. Kim's daughter, 9, had half of her skull smashed when she fell from the second floor of their house in 1999. Even the doctor gave up hope but other families with disabled members told Mr. Kim and his wife not to give up.
After undergoing three surgeries she lives a normal life.
"When we needed help the most, it was the support of the other families, and not the doctors or experts, that helped us through," Mr. Kim said.
"My son is a blessing," Ms. Kim said. She started her business because of her son and through him she met other families. Ms. Kim says she would give the software to the government and social organizations for free. "I have no other hope but to see other families with a disabled member to unite as one through the service."