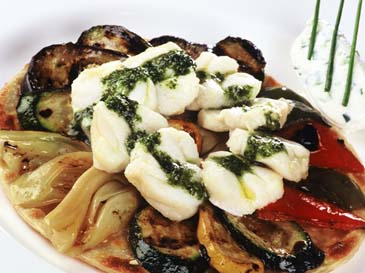 Il Ponte, Millennium Seoul Hilton's popular Italian trattoria
Il Ponte, Millennium Seoul Hilton's popular Italian trattoria, will host a special promotion celebrating the eggplant. During the last two weeks of August, from August 16th through to the 31st, Chef Anita Bidini will add several dishes utilizing these dark purble aubergines to Il Ponte's menu. For hundreds of years, eggplants were only grown in Sicily and southern Italy, but today they are enjoyed worldwide. Grilled, stewed, roasted, baked or stuffed, these jewel-toned vegetables are delicious. A member of the potato family, eggplants have enjoyed their status as a staple in Italian cuisine.
Chef Anita Bidini will introduce seven new dishes to be enjoyed during this promotion. They include Eggplant Croquettes served with Spicy Tomato Sauce; Panfried Breaded Eggplant stuffed with Mozzarella Cheese; Eggplant Lasagne; Linguine with Fried Eggplant in Tomato Sauce, Sicilian Style; Gratine Pasta with Eggplant and Green Peas in a creamy Gorgonzola Sauce; Sea Bream in Tomato, Capers and Oregano Sauce on a bed of Eggplant Piccata; and Grilled Lamb Chops served with Eggplant, Olives, and Celery Caponata. Prices range from KW18,000++ to KW35,000++. Take advantage of this short window of opportunity to delight in these eggplant creations. Also at Il Ponte, every Saturday and Sunday at lunchtime (11:30 a.m. – 2:30 p.m.), your children, the chefs of the future, are invited to explore their culinary and creative talents by making their own pizza! Our Chef will then bake your child's masterpiece to simmering perfection!Il Ponte features the finest Italian cuisine from tempting pasta and wood-fired brick oven pizza to mouthwatering regional dishes. Il Ponte also has an extensive choice of exquisite Italian and international wines. For reservations or enquiries, please call Il Ponte at (02) 317-3270.