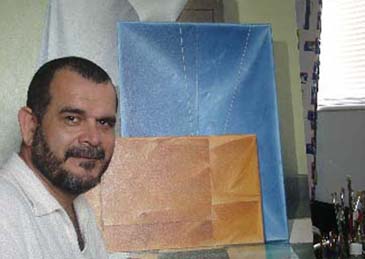 Paraguayan artist Hernan Miranda
Ambassador Federico Alberto Gonzalez Franco of Paraguay Embassy in Seoul hosted an exhibition of Mr. Hernan Miranda on the occasion of the 40th anniversary of diplomatic relations between Paraguay and South Korea on Sept. 1-15, 2006.A total of 20 Mr. Miranda's works of art are on exhibition at Gallery Bellarte (Tel: 739-7333) in Sagan-dong 45, Jongno-gu, central Seoul under the title of "Lo Real y Lo Virtual."Among his "Mixed Media" works is "Tuhon (투혼)" or "Fighting Spirit" in which the Paraguayan artist tried to express the fighting spirit of the Korean soccer players in 2002 World Cup. South Korean players surprised the world by advancing to the quarterfinal during the World Cup game.The painter used various materials including wood, paper, canvas, and net to conceptualize his ideas with such motives as fruits and human body.Through his works of art Mr. Miranda shows the double factors which come from the combination of indigenous Paraguayan culture and Spanish culture, experts say.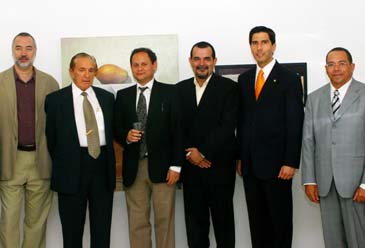 Ambassador Federico Alberto Gonzalez Franco (second from right) of Paraguay Embassy in Seoul poses with his fellow artist Hernan Miranda (third from right) and his diplomatic frends at Gallery Bellarte in Seoul on Sept. 1, 2006.
The exhibition is aimed at helping South Korean people understand modern art of Central and South America, according to the Paraguayan Embassy in Seoul.Paraguayan Ambassador Franco hosted a reception for the exhibition opening at 5 p.m. on Sept. 1, 2006 at the gallery.There will be no admission fee to view the exhibition which will open from 10 a.m. till 7 p.m. Tuesday through Sunday during the exhibition period (Sept. 1 to Sept. 15, 2006).For details or inquiries call the Paraguayan Embassy in Seoul at 792-8335.