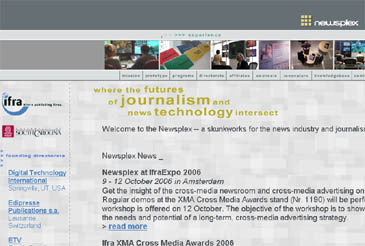 Website of Ifra Newsplex
Cross Media Publishing and Media Convergence have become the most talked about terms for the publishing industry. Newspaper executives and journalists need to equip with the knowledge and skills to successfully develop and implement a media convergence strategy in this competitive environment.Join us for the 2 days workshop in Kuala Lumpur on Nov. 6 - 7, 2006 and learn from our Ifra Newsplex trainers, the 'best practice'examples, models for convergent journalism, process management and organization, change management and the use of new technologies.
Why Attend?
— To identify the major aspects of convergent journalism, publishing and newsroom trends around the world.
— Learn to plan a nedia convergent news flow
— Learn to rewrite a story for the web
— Learn to rewrite and record a script for an audio story/podcast
Change Management in the Newsroom
As your organization moves and changes with the industry's technology. We see a crucial internal changes to publishing houses and particularly concerning organizational structures, systems, processes and ways of working notably in the newsroom. Ifra would like to help the management
who are leading the change, how to get through the difficulties and
stressful challenges facing the newsroom management today.This one-day workshop on Nov. 8, 2006, Kuala Lumpur covers:
Key Topics
— Defining goals and change planning
— Practical tools to help you in the daily business of change
— Working with resistance
— Sustaining positive change throughout the projectPlease sign up before 29 September (Friday) to enjoy the Early Bird fees.Should you need further clarifications, please do not hesitate to contact us at Ifra Asia.