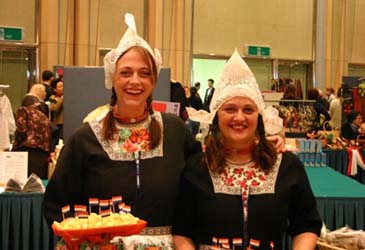 Holland
Sunday, Nov. 26, 2006 will mark the 16th Annual SIWA and Diplomatic Community Bazaar. This popular event has become one of the largest fundraising efforts in Seoul, bringing together the Korean and Expatriate community and industry in order to support a wide range of South Korean Charities. New location and day of the week to attract more Korean families! We are pleased to announce that this year, the SIWA and Diplomatic Community Bazaar will be held at the COEX Convention Center, Hall 12 on a Sunday! This change of venue will give us the capacity to more than double last year's attendance of 4000.The SIWA and Diplomatic Community Bazaar committee includes embassies representing over 50 countries, women's clubs, charity groups, and vendors who promote their goods and services. The goal this year is to make the bazaar much more than a chance to purchase goods from around the world. We want the Bazaar to be an opportunity for people to feel like they are truly traveling the world, while in one place, at one time. The attendees will have a chance to experience the world through all 5 senses; to taste succulent international cuisine, to listen and dance to folkloric music, to see unique art crafts from the four corners of the world, and to discover other cultures through many educational and entertaining films. Come, feel and experience the world in one day!
Uzbekistan and Egypt
The country booths will offer products which are the most associated with each country such as wine from Italy and France, cheese from Holland, art crafts from India, carpets from Pakistan and many others. The Bazaar will provide a unique chance to buy many products which are not available on the Korean market. Further some lucky attendees will be rewarded with Grand Lottery prizes including; airline tickets, hotel stays, jewelry, restaurant gift vouchers, and many other fabulous gifts that have all been generously donated by the Korean and International business community. It will be an exciting day filled with; great shopping opportunities, fashion shows, children's activities, and cultural entertainment. Really a perfect day for the whole family to enjoy! In order to make this a truly successful event we solicit donations from major corporations who generously provide cash and product donations. Corporations already involved with The Bazaar are Dung Suh, Hyundai Shipping, Amway, British American Tobacco and many others. The Bazaar is entirely volunteer driven which ensures that costs are kept to a minimum and thanks to the many corporations, embassies, women's and community groups we are able to provide critical funding to those who are in need. Last year we raised over 270 000 000 KRW, and this year we aim to exceed 0.5 billion KRW! The entire amount will be distributed among many South Korean charities with the main objective of providing food and heating costs throughout the cold winter months. The opening ceremony will be held at 10:00 a.m. with VIP's from various levels of government to welcome guests and cut the ceremonial ribbon including Ms. Kim Yoon-Ok, Wife of Seoul City Mayor Lee Myung-bak. Tickets are 10 000 KRW and are available at the door. Check on line at www.siwapage.com for further information about tickets! Information for the editor:Any questions about the SIWA and Diplomatic Community Bazaar should be addressed to: Cheryl Shuttle, SIWA Bazaar Chairperson
Phone: 02) 324-4451
Mobile: 010-4807-3478
Email: SIWABazaar@siwapage.comMedia interested in setting up an interview with SIWA representatives should contact Mary Clarke (SIWA President) president@siwapage.com SIWA was founded in 1956. It is a nonprofit volunteer organization and is the largest international women's organization in Korea representing over 50 nationalities and having about 700 members
Charities to benefit from the proceeds are selected each year by SIWA's Welfare Committee.
Seoul International Women's Association (SIWA)
321 Sungbuk-dong, Sungbuk-gu, Seoul, 136-823
Ÿ Phone +82 10 4807 3478 Ÿ Fax: +82 2 7411332 Ÿ www.siwapage.com