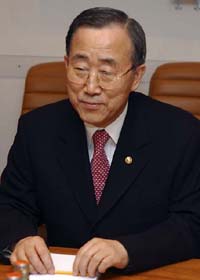 S. Korean Foreign Minister Ban Ki-Moon
There are still a few months to go before his first day on the job. And the man most likely to be the next UN Secretary-General, Ban Ki-moon, already has a crisis on his hands. As the current Foreign Minister of South Korea, Ban Ki-moon has two issues to consider right now; how his own country might have to review its policies towards the North, and how his future role at the United Nations will be affected by Pyongyang's latest move. Yvonne Gomez of Radio Singapore International finds out how he's likely to tackle North Korea's recent weapons test in an interview with Prof. Lee Chung-min from the Lee Kuan Yew School of Public Policy in Singapore.
Question: Professor, can you tell us how Ban's approach to North Korea might change, given that he's a South Korean national, and that he's now likely to head the UN for the next five years?
Answer: I think Mr Ban, or the incoming UN Secretary-General has a very important role to play in the context of resolving the North Korea issue. But I think he also needs to realise that as Foreign Minister, he might be playing a critical role, but as Secretary-General, he has to play a very different role. He has to look into not only what the permanent five will or will not do vis-a-vis the North Korean issue. He's got to have his hand in other critical security problems - the Middle East, Darfur, or whatever the next crisis might be. So I don't think he should promise more than he can actually deliver once he becomes the successor to Mr Kofi Annan.
Q:Some hardliners within the UN Security Council, like American Ambassador John Bolton, are likely to push Ban for swift and harsh measures. And Ban has said that he may look soft on the outside but that he's always been very decisive. How is all this going to affect his job as the new Secretary-General?
A: Well I don't think it's possible for Mr Bolton or anybody else to tell the Secretary-General what to do. That basically depends on the lay of the land once he becomes Secretary-General in January next year. And so as I said, if the Secretary-General makes this an intensely, almost personal agenda of the Secretary-General. The good side is that, of course, he will have the political capital. But the negative side is that he will be tainted if things go wrong. So this is why I think it is crucially important for Mr Ban not to overplay the Korea card, so to speak, because, as I said, there are many other issues that deserve, and rightly so, the attention of the Secretary-General.
Q:What implications will the test have for South Korea's "Sunshine Policy" of peaceful co-existence with the North?
A: This is one of the most wrenching political discussions that are going on in Seoul as we speak. President Roh Moo-hyun and his predecessor Mr Kim Dae-jung were the architects of the so-called "Sunshine Policy" of sustained engagement. The conservatives have basically felt that this was a unilateral policy of appeasement for North Korea, and of course Mr Roh Moo-hyun thinks otherwise. There's been a huge backlash but this is going to be a struggle for the soul of how we approach North Korea. I think basically, Mr Roh Moo-hyun's deep inclination is to proceed with the Sunshine Policy but he can ill-afford to basically upset the Americans and the Japanese and the more conservative population base in South Korea. There will be a struggle but I don't think he will completely disavow the basic tenets of the engagement policy.
Q:Even if they proceed, will there be parts of the policy that will be reviewed, and which parts?
A: Absolutely. For one thing, the whole idea that he will continue to provide aid, whether its cement or rice or food or oil or whatnot, despite the fact that they have contravened and broken every single treaty and law that they've signed with South Korea over the nuclear issue, I think this is politically untenable. So the South Korean ATM machine, which has given money to North Koreans whenever Pyongyang wanted it, is something Mr Roh simply cannot continue. That will be a major change. The second change perhaps, is that the number of South Korean companies that may want to invest in Kae-song or other special economic zones, will also be a lot more risk-averse after the nuclear test. Reports suggest that North Korea's latest weapons test may not have been nuclear in nature at all. But there's no doubt that Pyongyang's move raises serious questions about the future of East Asian security and regional stability.
(Radio Singapore International)