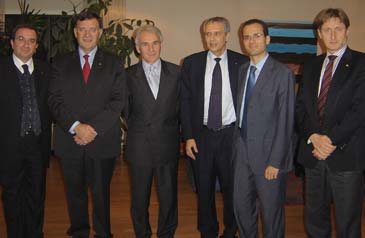 Italian Ambassador to Seoul Massimo Andrea Leggeri (third from right) poses with Italian delegation members from Piemonte.
As every year for six years now The Italian Embassies and THE ITALIAN CULTURAL INSTITUTES all over the world celebrate a week in October dedicated to the Italian language during which not only the language, but also the Italian culture and literature are promoted with various events organized together with the local institutions of the host countries.This year the Italian Cultural Institute in South Korea is trying to qualify even more the Italian presence in this Country and keep up to the interests and expectations of Korean people that on many occasions have proved willing to accept and appreciate the Italian culture and style.The theme this year is "Food and Festivals" and the week the one from October 23rd to 28th, even if some activities taking place in various restaurants in Seoul, like photo exhibitions, music and films accompanying the display of good food will go on until November.Among the serious and scholarly events are three lectures in English by Prof. Gabriella Morini, an expert in Nutritional Sciences and Technologies from the Universita' di Scienze Gastronomiche, Pollenzo (CN), that will update the audience on how to eat in a correct and healthy way. Two lectures will be held in Ewha University, Seoul (Oct.24) and at Keimyung University, Daegu (Oct.26) with the title: "Italian Gastronomy" and one at the Korea Food Research Institute, Seoul (Oct. 25) with the title: "Molecular Aspects of Taste and Chemesthesis." The contacts between the Italian Cultural Institute, Friendship Associations between Italy and Korea, Korean universities and government institutions whose specific area of research is food and its nutritional value have made this event possible and it has to be praised as one example of how mutual efforts towards a closer cooperation between the two Countries can be valid and fruitful.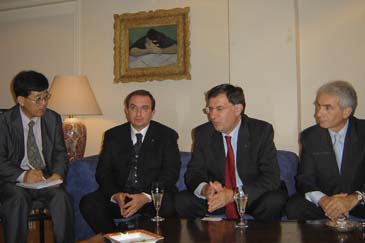 Minister Sergio Deorsola of Italy's Regione Piemonte (second from right) sits with legislators Marco Botta and Luigi Sergio Ricca of Piemonte regional congress at press conference held on Oct. 20, 2006 at Italian Ambassadorial Residence in Seoul. At left is press officer Ghimb Hong-Rae of Italian Embassy.
The other events for the Italian Week have been organized having the students of Italian in mind. DVDs on the history of Italian food will be shown in the Italian Departments in Korean universities, as well as photograph exhibitions of works of art, paintings mainly, that have food as their main theme.Other activities focused on students of Italian will be held at the Sogang University International Institute for Culture and Education where the Italian government lecturer will hold open classes with 'food in situation' as a theme. The famous Italian priest-singer Giosy Cento will also meet Sogang students for a lesson and songs.The highlight for all Korean students of the Italian language, however, will be a contest in which their participation will grant them good prizes. What the Italian Cultural Institute has thought of is launching a contest in which the students of Italian from Sogang University, Seoul National University, the College Music of ChungAng University, the Departments of Italian at Hankuk University in Seoul and Yongin, from Daegu Catholic University, Busan University of Foreign Studies and the Centre of Italian Culture and Cuisine in Daegu can make a Powerpoint presentation or a DVD on "Italian Food and Festivals." Korean young people are famous all over the world for being able to master the computer and all kinds of technology and on various other occasions students of Italian have proved amazingly skilful and creative in using it. The best PPP or DVD, will win a free round flight ticket to Italy, the second a 3-month course in an Italian cooking school in Seoul, and then various vouchers offered by the best Italian restaurants in Seoul, like: Buonasera, Antonio, Sortino's, La Stella, Il Ponte, Le Tre Campane, Parmi Italiano.For more info. please see the Italian Cultural Institute's website: www.iicseoul.esteri.it or contact the secretary office at : 02-796 0634 or 02-797 7792.