Members of foreign diplomatic corps accredited to Korea are seen attending the opening ceremony of Gyeonggi Travel Mart 2006 on Nov. 16 at KINTEX. They are (from left) Turkish Ambassador to Seoul Deniz Ozmen and Tunisian Ambassador Moncef Baati( third from left)
2006 Gyeonggi International Travel Mart was kicked off on Nov, 16 for a four-day run at KINTEX in Ilsan, some 20 km north of Seoul.Attending the opening ceremony for travel extravaganza were Gov.Kim Moon-soo of Gyeonggi Province, members of foreign diplomatic corps including Tunisian Ambassador Moncef Baati , Turkish Ambassador to Seoul Deniz Ozmen and Ilhan Oguz, Cultural and Information Counsellor of Turkish Embassy in Japan . who is responsible for promoting Turkey as a regional director of East Asian countries including Japan , Korea , and Taiwan of the Ministry of Cultural and Tourism of Turkey In his opening speech, Gov.Kim said that the world tourism industry is at a turning point, with the irreversible trends of globalization and liberalization sweeping through the world in the 21 st century.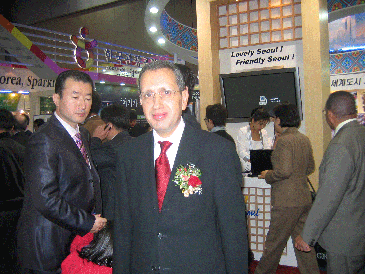 Tunisian Ambassador Moncef Baati is seen at Gyeonggi Travel Mart 2006 on Nov. 16.
Keeping apace with the change, Gyeonggi Province has taken initiatives in establishing itself as the hub of Northeast Asian tourism, the world's biggest single tourism market, he said pointing out that Gyeonggi Province is blessed with a long and illustrious history of civilization and culture namely the UNESCO Cultural Heritage Suwon Hwasung Fortress as well as other legacies and remnants."This travel extravaganza points us to the right direction and will grow into one of the leading tourism exposition in Northeast Asia," he said.In the meantime, foreign countries and cities took part in the travel mart. They included China, Japan and Turkey, to name just a few.In particular, Turkey has taken center stage at KINTEX with the spacious s booth showcasing a diverse tourism attractions of the country which is combining the familiarity of Europe with the intrigue of Asia, Turkey's rich culture and extraordinary value offers a unique destination option for increasing number of Koreans nowadays. A recent International Air Transport Association (IATA) report on airline passenger traffic cited Turkey as being among the top five tourism markets globally, in terms of growth, proving Turkey is internationally becoming one of the worlds most sought after travel destinations. The growth in the number of Koreans traveling to Turkey can be credited, in large part, to the Turkish Ministry of Culture and Tourism's aggressive advertising and public relations tactics here in recent years.According to the latest survey conducted by a leading pollster in Korea, Istanbul was cited as the most popular destination city in Turkey for Korean tourists. The poll was participated in by 2,882 Koreans of which 2,720 turned out to have been to Turkey once or more. When asked how much they satisfied with the trip, 53 % of 2,720 Koreans who have been to Turkey said "very much" whereas 38% "fairly satisfied." Noteworthy was that not a single Korean came out with "not satisfied" answer, an indication that more than 90 % of Korean tourists are positive about their trip to Turkey, a country of fascinating contrasts, where antiquity is juxtaposed with the contemporary.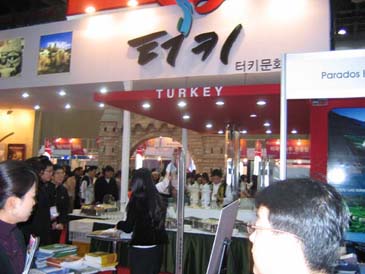 Tourism Turkey booth takes the center stage at Gyeonggi Travel Mart 2006 at KINTEX.
As to what motivated them most to visit Turkey, 54% of respondents cited "tourism attractions" followed by natural environment (16%), pilgrimage to sacred places (11%), and reasonable travel costs (10%). Touching on popular destinations in Turkey, about half of respondents picked up Istanbul (27%) and Cappadocia (19%). Among other destinations Koreans prefer were Ephesus, Pamukkale, Antalya, and Izmir.When asked to single out memorable places of tourist interest while in Turkey, 25 % of respondents named Ayasofya and the Mediterranean, respectively. Some respondents have made clear that Turkey tour products are somewhat expensive. Other discontent factors about trip to Turkey were overcharging at shopping places followed by security problems about which 14 percent of respondents expressed extreme concern. Among those who joined the poll, 82% of respondents expressed hope to visit Turkey enticed by diverse tourism attractions and unpolluted natural beauty of the country. When asked how much they wish to visit Turkey, most of respondents in all age groups said "fairly much" and people in their 30s and below showed stronger intention to visit Turkey as did respondents in their early 40s. However, 3% of respondents who are yet to visit Turkey, came out with negative answer as to their intention to visit the country in the future with "absolutely no intention whatsoever to visit Turkey."Turkey turned out to be most popular destination for Korean backpackers in theirs 20s whereas those in their 30s and 40s choose Turkey as their family tour destination in growing number. When asked purpose of trip to Turkey, 47% respondents said for backpacking tour and 30 % said for family holidays. Noteworthy was that 72% of respondents in the age group of 24 years or younger picked up Turkey as destination for backpacking tour. The comparable ratio dropped somewhat to 57 % for the age group of 25-29 years.Those in their age range of 30 to 34 years and 35 to 39 years preferred to visit to Turkey for family holidays with 41% and 55% respectively while the comparable ratio for those in their 40s or up stood at 64%. Among other interesting results of the poll is that Koreans in their 40s or older prefer to visit Turkey during both weekends and weekdays for pilgrimage to sacred places scattered around Turkey, an indication that pilgrimage is one single major reason why Koreans in all age groups visit Turkey.Koreans in general prefer to join the package tour for reasons of cheaper price tag with 39% respondents in support of group tour. Coming next in the type of tour are customer-tailored tour program (26%) and "airtel" or combination of air tickets with hotel accommodations only basis (21%).When tour price range to Turkey stands at less than 990,000 won, 48 percent of respondents expressed willingness to join the package group. The comparable ratio for the tour price range of 1 million won to 1.49 million won and 1.5 million won to 2.49 million won stood at 45% and 35% respectivelyWhen asked to answer flying time from here to Turkey, 29% of respondents said seven hours while 24% came out with nine hours despite the fact that real flying time is 11 hours and a half.
Only 28% of respondents said it takes more than 10 hours to fly to Turkey. Of the total, less than 50% of respondents said that Turkey is not in European region but in Asia or Middle East.Istanbul was favored by 84% of respondents as the top destination in Turkey followed by Cappadocia (29%). Other destinations in Turkey such as Ephesus, Pamukkale, Antalya and Izmir were also popular among Korean tourists for future visit.Reflective of immense and attractive tourism market potential, 94 % of Koreans who joined the poll said that they would visit Turkey again. Of this group members who have been to Turkey once or more, 54 % said they wish to visit again "very much." As to preferred type of the revisit, 52 % said "backpacking" and 26 % "family tour."When asked to pick up the most favorite place for revisiting, 46 % of repeaters named Istanbul followed by Cappadocia (22 %) and Antalya (11 %). As to the secondary favorite city to visit, Antalya took the most favored destination with 27 % , an indication that Antalya is gaining growing popularity among repeaters after Istanbul.