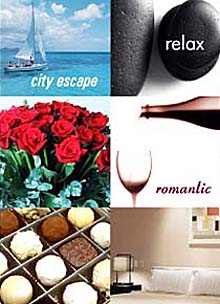 City Escape Package at Hyatt Regency Incheon
Until 12th July 2007, Hyatt Regency Incheon is offering you and your family two premier packages, the 'Luxury Collection Package' and the 'Selection Package.' Included in each package is a range of high-end options from which to choose, each designed to meet your particular needs and better tailor your experience to your desires. If you are planning to make your holiday extra special, Hyatt Regency Incheon has the perfect solution.
The 'Luxury Collection Package' is available from KW268,000, plus 10% tax, and features six choices:1. A 50-minute couples aromatherapy massage 2. One hour's karaoke, including snacks, soft drinks and beer 3. Buffet dinner for two, including a bottle of wine 4. Ferry tickets to Mui Island and a gourmet picnic hamper for two 5. A bottle of Bollinger champagne and a dipping platter6. One dozen long-stem red roses, a bottle of Frescobaldi Spumante and chocolate-dipped strawberries
The 'Selection Package' is available from KW228,000, plus 10% tax, and features four choices:1. An in-room movie with a snack platter2. Vy Bar snacks and cocktails for two3. A 25-minute couples head and neck massage4. One dozen long-stem red roses and a box of nine home-made chocolates
Both packages include spacious accommodation and free access to the swimming pool, fitness centre and sauna. In addition, guests can enjoy a 50% discount on horse-riding, the Sky 72 Dream golf course and miniature golf, all located near the hotel. Late check-out until 2:00pm is available; all reservations must be made at least 48 hours prior to check-in. For more information or reservations, please call 82 32 745-1234 or visit www.hyattregencyincheon.com.