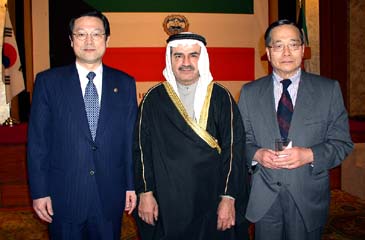 Kuwaiti Amb.Mohammad A Al-Awadhi poses for camera with Korean Construction and Transportation Minister Lee Yong-Sup and Yoon Ik-han, chairman of the Seoul Times.
Kuwaiti Amb.Mohammad A Al-Awadhi hosted a reception on Feb. 26 at Hotel Lotte in Seoul to celebrate the 46th anniversary of his country's national day.More than 300 prominent guests representing a wide spectrum of Korean government, business community and members of foreign community in Korea including diplomats accredited to Seoul joined the function. Among them were South Korean Minister of Construction and Transportation Lee Young-sup, UAE Amb. Abdulla Muhammad Al Maainah, Tunisian Amb. Moncef Baati, Algerian Amb. Rabah Hadid, Minister Ibrahim Al Mansouri at UAE Embassy and Lee Sang-jin, area manager of Emirates Airline.Korea and Kuwait have had long-standing and truly fraternal relations, which could be described as the best model between Korea and Arab world.In his congratulatory speech to mark the 46th anniversary of Kuwait's national day, Korean Minister of Construction and Transportation Lee Yong-sup praised the leadership of the two countries for fostering bilateral ties to the satisfaction and admiration of their peoples. He also paid tribute to the late Emir of Kuwait for laying down the foundations of modern Kuwait.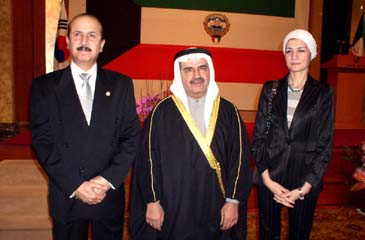 UAE Amb. Abdulla Muhammad Al Maainah and his wife are seen with Kuwait Amb.Mohammad A Al-Awadhi.
The day is marked for national celebrations, which include public meetings and get-togethers, firework displays and a spirit of celebration that imbues every Kuwaiti "As we celebrate this auspicious occasion, I am privileged to extend my warmest greetings and those of H.H. Sheikh Sabah Al-Ahmad Al-Jaber Al-Sabah, the Amir of the State of Kuwait, H.H. Sheikh Nawaf Al-Sabah, the Crown Prince, H.H. Sheikh Nasser Al-Sabah the Prime Minister, the government and the people of Kuwait, to the government, and the friendly people of Korea," Amb.Mohammad A Al-Awadhi said in his speech before 300 plus guests who joined the function.Pointing out that relations between Kuwait and Korea have continued to grow from strength to strength since the two countries opened official relations in 1979, Kuwaiti envoy said that the vibrant bilateral ties have expanded to cover almost all fields of mutual benefits covering from economic and trade activities and technology transfer, to mention just a few."I would like to take this opportunity to convey the deep appreciation of H.H. the Emir of Kuwait, the government and the people of Kuwait to the people of Korea and their government," he said.More recently, state-run Korea National Oil Corporation has signed a deal with the Kuwait Petroleum Corporation to create a joint oil stockpile here amounting to two million barrels. Officials say the deal will enable Korea to have priority over other countries in securing the stockpiled oil in emergencies. Korea has been pursuing the joint stockpile plan since 1999 with countries like Norway and Algeria, and has accumulated around 20 million barrels of oil. It plans to increase its strategic oil reserves to 40 million barrels by 2010, eyeing new partners like Qatar and Saudi Arabia.This is only a part of the ever growing bilateral relations between Korea and Kuwait and the vibrant relations between the two countries are certain to be strengthened further on all fronts in the years ahead, he said.