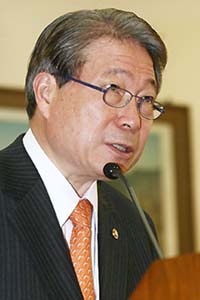 Mr. Yu Myung-Hwan was named on March 13, 2007 as Korean ambassador to Japan.
The Korean government on Tuesday (March 13, 2007) named two former vice foreign ministers to head its diplomatic missions in Japan and Russia and appointed 18 other new ambassadors to countries including Germany, Iraq, and Laos. Former First Vice Foreign Minister Yu Myung-Hwan was appointed ambassador to Japan, while former Second Vice Foreign Minister Lee Kyu-Hyung was named ambassador to Russia, the Foreign Ministry said in a press release. Yu served as a vice foreign minister since July 2005, while Lee was appointed to the office in September of that year. Both were replaced at the end of last year, shortly after Foreign Minister Song Min-Soon took office. Yu is to replace Ra Jong-Yil, who has been in the top diplomatic post in Japan since 2004, while Lee will fill the post vacated by Kim Jae-Sup, who returned to Seoul early this year.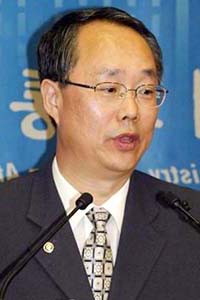 Mr. Lee Kyu-Hyung was named on March 13, 2007 as Korean ambassador to Russia.
Chang Chul-Kyoon, former ambassador to Laos and an international relations professor at Seoul's Yonsei University since March last year, was appointed ambassador to Switzerland, while Ambassador at Large Kim Gwang-Keun was assigned to Panama. Ambassador to India, Choi Jung-Il, was moved to Germany while the ministry's chief of protocol Paek Young-Sun would take up Choi's post in New Delhi. Kim Soo-Dong, deputy foreign minister for planning and management, was assigned to Canada while former ambassador to Ukraine Lee Seong-Joo will take the post of Ambassador to the United Nations in Geneva, Switzerland. Former Vice Minister for Agriculture and Forestry Lee Myung-Soo was appointed ambassador to Denmark, Deputy Minister for Trade Kim Joong-Keun will go to Singapore, and former Consul General in Fukuoka, Japan, Cho Seong-Yong was promoted to ambassador to the Czech Republic. The reshuffle also affected Ha Chan-Ho, ambassador for geographic names, who will now serve as ambassador to Iraq; Kyun Jea-Min, minister at the South Korean Embassy in Russia, will shift to ambassador to Uzbekistan; director-general of the international economic affairs bureau Park Suk-Bum will go to Bangladesh; and former minister-counselor at the Korean Embassy in Chile Oh Dae-Sung will head the embassy in El Salvador. Kim Sun-Kiu, ambassador at large, was named ambassador to Honduras and Rhee Byung-Kook and Ohm Song-Jun were assigned to Sudan and Gabong, respectively. Park Jae-Hyun, deputy director-general of the ministry's multilateral trade bureau, will head the Korean mission in Laos, and Kim Myong-jin, director-general for Asian and Pacific studies at the Institute of Foreign Affairs and National Security, will lead the mission in Bulgaria.
The above article is from Korea.Net.