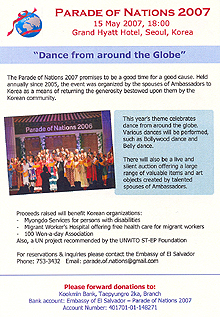 Pamphlet of Parade of Nations 2007
The spouses of Heads of Missions accredited to the Republic of Korea have great pleasure to announce the third "PARADE OF NATIONS," a fund raising event to be held on Thursday, May 15th, 2007, at the Hyatt Hotel, starting at 18:00.The theme of "Parade of Nations 2005" was a fashion show displaying the traditional / national costumes from more than 40 countries, while the theme of "Parade of Nations 2006" was a dinner concert where the Ambassadors themselves and their spouses, representing more than 50 countries, displayed their talents in music and musical instruments.The evening will start with a welcoming reception. Our guests will be served Champagne and soft drinks while they browse through the displayed items for the Silent Auction.During dinner time, we will be entertained by Live Dance Performances on stage, from different regions of the world. We also have a Live Auction, which among other valuable items, will offer art objects by the distinguished artists among the spouses of Ambassadors: the renowned jewelry designer, Mrs. Lisa Vershbow, the wife of the American Ambassador, and the accomplished painter, Mrs. Lee Mine Yuan, the wife of the Belgian Ambassador, just to mention a few.After dinner, the dance floor will be open to our guests who will have a chance to dance to music from all over the world.The goal of Parade of nations 2007 is to raise funds for charity. The two previous successful events allowed us to raise 32 million W in 2005 and, 40 million W in 2006, that we distributed to four associations working hard to supply help for the weakest in Korean society: "100-Won-A Day Movement," "Jagunjari Migrant Workers Center," "Planting Love," and, "Korean Association for Children with Leukemia and Cancer."This year, rich of our experience, we would like to extend our help to other organizations that are in urgent need of funds in order to continue their important work. We will try to be more global, by supporting some United Nations' Institutions in their task aiming at eradicating poverty. Indeed, the raised funds could be used to co finance some development projects in poor areas.
For reservation and enquiries: geethapartha@gmail.com
Geetha Parthasarathi,
Wife of the Ambassador of India
Co-ordinator for "Parade of Nations 2007"