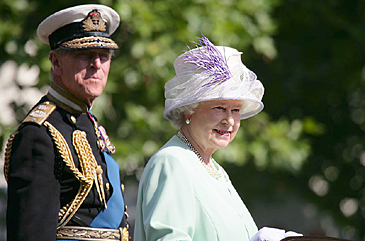 British Queen Elizabeth II with husband Prince Philip
Tickets are now on sale for one of the highlights of Seoul's social scene, the Queen's Birthday Ball, to be held at the Grand Ballroom of the Hyatt Hotel on June 2, 2007.Whilst, guests can be sure that their ticket will buy them entry to one of the most entertaining nights of the year and they can enjoy the party knowing that the proceeds will go to a good cause, the theme of the ball remains shrouded in mystery. The Queen's Birthday Ball is organized every year by BASS (the British Association of Seoul) to mark the birthday of Her Majesty Queen Elizabeth II and has developed a reputation as one of the year's biggest international fund-raising events for Korean charities. Commercial sponsorship of the 2006 Ball raised over KRW 180 million all of which went to local charities. The Ball has long been a firm favourite of the international community and the annual black tie party caters for about 500 distinguished guests from Seoul's local and international community. Dinner will be followed by live music from a British band flown in especially for the night. The band, "The Lightyears," back once again by popular demand, have played at leading venues across the UK, including the famous Cavern Club in Liverpool (home of The Beatles). For many of the growing number of businesses involved in the UK-Korea relationship, hosting tables at the event has become a key component of their corporate hospitality strategies in Korea. Each year the theme of the Ball is one of Seoul's most closely guarded secrets. The theme, which is reflected in the decoration, food and atmosphere of the evening, is kept as a surprise to the attendees until the last moment. In 2006 guests entering the Ballroom discovered a 'Chelsea Flower Show' theme involving lavish floral arrangements which even extended to circles of garden turf sitting in the centre of each table! The theme for 2007 is known to few outside the circle of organisers, although the posters for the event which show a steam train hurtling through the countryside perhaps offer a tantalising hint of what might be in store. Speaking as tickets for the Ball went on sale, Joyce Doran, President of BASS said:"The Queen's Birthday Ball offers an excellent opportunity to raise money to support worthy Korean charities and an opportunity for all our guests to enjoy a wonderful night with their friends, colleagues and business associates." This year the Ball also supports the Think UK campaign. The campaign aims to highlight the many strands of the relationship between the UK and Korea. To purchase tickets for the Ball or for further information please contact BASS at basseoul@yahoo.co.uk
About BASS
BASS was founded in 1977 and is run entirely by volunteers, who raise funds through events and activities. All funds raised are then donated directly to Korean Charities. This amount last year, in 2006, was in excess of181 million KRW. For photos of the 2006 Ball contact basseoul@yahoo.co.uk Each year BASS selects a large project and several smaller ones to support. In 2007 BASS have selected the St.Columban's Nursing Care Facility in Chun Cheon, a home for the elderly. The organisation has plans to build a day room for the residents and to create a large space indoors suitable to use for their Day Care programme. The Nursing Care Facility has space for up to 60 patients and currently have 103 patients enrolled in their Day Care programme.
Last year BASS helped to finance the construction of a new and much needed building for the Myongdo Wellfare Centre in Mokpo for children with multiple disabilities. BASS was also able to donate 2 mini buses, one to the Myongdo Centre and one to the Seton Early Education Centre in Gwangju. Other projects supported included the Emmaus Centre in Gwangju, the Evergreen Centre in Gimpo, the Open Door Welfare Centre in Chungju and the Hanvit School for the Blind, the Chungwoon Home for the Elderly and the Salvation Army all in Seoul.
Tickets are KRW 175,000 for BASS members, KRW 185,000 for those on Corporate Tables and KRW 190,000 for non-BASS members.